Performance Assessment Review (PAR)
MyNewJersey Portal Log-in link
The PAR (Performance Assessment Review) is the performance review system used for all classified employees. PAR provides an excellent opportunity for an employee and their supervisor to communicate about job performance, job satisfaction, and plans for the employee's future performance. Performance management, through the PAR program, is used to define, assess, and enhance employee performance and operational outcomes. It helps employees understand organizational goals and their role in achieving those goals and serving the University.
For the 2019-2020 review cycle, all PARs for Stockton classified employees will be conducted through the NJ state ePAR (Electronic Performance Assessment Review) system. Please follow the directions in the Self Registration document below to gain access to the system.
If you have questions about the ePAR process please contact Tristan Stoltzfus at Tristan.Stoltzfus@stockton.eduor at ext. 5822.
Where are we in the PAR cycle?

ePAR Refresher Slides for Supervisors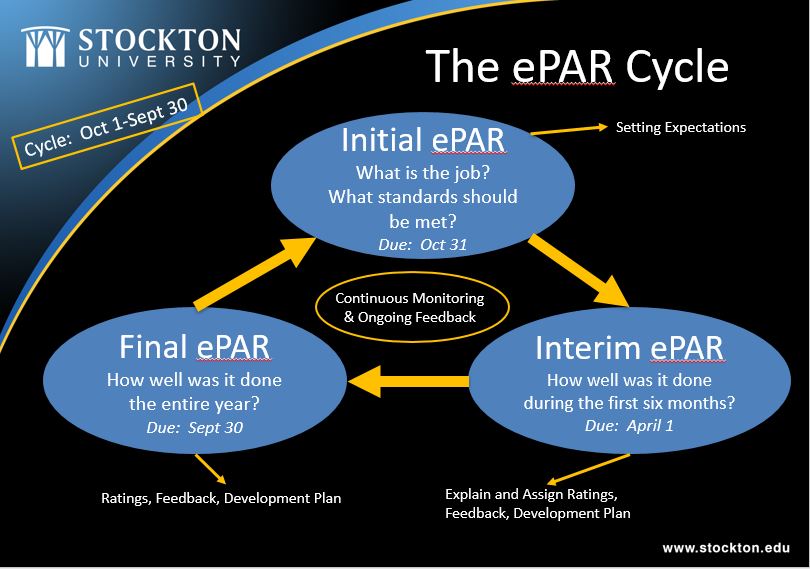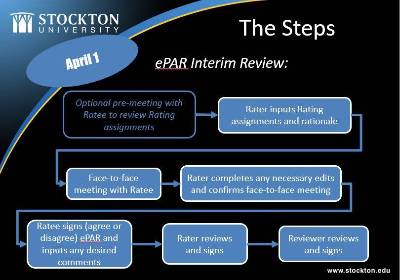 Click here to review the specific timeline and deadlines for initiating ePAR
NJ ePAR system
Classified employees and supervisors gain access to the ePAR system through the MyNewJersey Portal.
2019-2020 ePAR Cycle & Timeline
The ePAR cycle began October 1st and ends September 30th
Trainings on completing the ePAR
ePAR General Training
The Office of Human Resources hosted one hour ePAR training sessions from mid-August through early October. These sessions were for ALL employees involved in the PAR program - both employees being evaluated and supervisors/managers conducting evaluations. Each session reviewed the basics of the PAR program (timeline, cycle, roles, responsibilities, sections of PAR, etc.) and a tutorial of how to access and use the ePAR system. If you missed this training the most important thing you will need to do is to set up your access to the ePAR system. The ePAR Self Registration document will walk you through how to gain access to the online system. Please note: you will need an Employee ID to set up your access - please contact Tristan Stoltzfus (ext. 5822) to get your Employee ID number.
Need Assistance?
Click here to view the full list of HR staff including notes on who can help you with what
Or, call us at 609-652-4384
Or stop by our suite in J-115
We look forward to getting you what you need, answering your questions, and/or connecting you with the HR team member that can best help you.