Graduate Housing

Living on campus is one of the best parts of the Stockton experience. As a residential student, you'll have easy access to classes, clinical opportunities, dining, activities and events.

The Office of Residential Life is proud to offer housing for graduate students. Starting in the Fall of 2022, Graduate housing is located in Housing 5. Housing 5 apartments will provide private bedrooms for up to 4 students per apartment. These specially allocated Graduate Housing apartments will be fitted with a range, making these units have full kitchens. this allows our Graduate Students to opt in or out of a meal plan if they choose. Virtual tours of Housing 5 can be found here.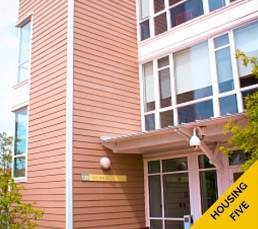 Graduate housing offers a peaceful residential community that focuses on the students completing their graduate education. Graduate students will reside with other graduate students to encourage a cohort experience, which research has shown enhances the graduate academic experience. Graduate students can request other graduate students within or outside of their academic concentrations should they chose to do so and space is available.
Graduate student housing rates are setup per semester, with the option to sign up for Winter and Summer sessions. Details on the rates can be found on the Bursars Office website.
To apply for Graduate housing, please complete a Housing Application for the upcoming academic year, and send an email to Housing@Stockton.edu expressing your interest in applying for Graduate housing.