Nursing - Accelerated BSN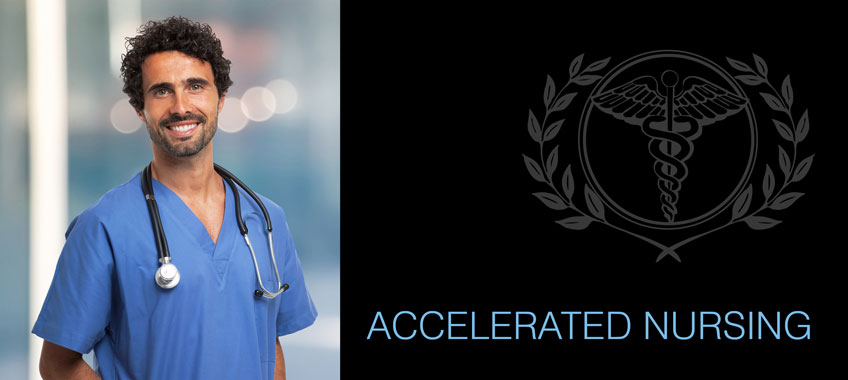 This accelerated, generic baccalaureate Nursing Program (BSN) is designed for the student who has an earned baccalaureate degree or higher in another discipline who wishes to become a registered nurse (RN) with a Bachelor of Science in nursing degree.
---
Admissions Information
There are two entry time points per year for admission to the accelerated nursing program: Fall and Spring. Applications for Spring- entry accelerated program will be accepted until October 15th. Applications submitted after October 15 will be reviewed. However, late applications cannot be guaranteed for admissions consideration. Applications for the Fall-entry accelerated program will be accepted until May 15th. Transcripts for both entry points will be evaluated on an individual basis.
Program Information
Additional Information
The program encourages critical thinking and independent decision making. The roles of advocate, educator and health care provider/coordinator are emphasized. Health promotion and disease prevention within a global society are stressed in the program. The program prepares the graduate to successfully complete the NCLEX-RN and provides a base for graduate education and clinical specialization.
The program focuses on the acquisition of the knowledge and skills necessary to practice as a professional RN. Students build on previously learned theories and concepts from the physical, social and behavioral sciences and the humanities. Concepts such as ethics, altruism and communication are integrated throughout the curriculum. Students are encouraged to take responsibility for their learning experience with guidance from faculty preceptors. The program prepares graduates to participate in a culturally diverse and ever-changing global society.
Admission Requirements
Students with earned baccalaureate degrees*
Students must have an earned baccalaureate degrees or higher and must have earned credits in the following courses:
English I & II
Intro to Psych
Life Span Development
Statistics
Nutrition
Chemistry I - Inorganic
Chemistry II - Organic
Microbiology
Anatomy & Physiology I & II
Ethics (waived for Stockton graduates with a Health Science degree)
Pathophysiology* Recommended
A GPA of 3.5 and no less than a C in all required science courses taken at Stockton are desired for admission. Required science courses taken at schools other than Stockton should be a grade of B or higher. Science courses must be 5 years old or less for transfer. All transcripts will be evaluated on an individual basis.
Students must successfully pass a criminal background check and drug screen prior to enrollment. In addition, students must meet Technical Standards and Functions outlined by the program on admission and throughout the program. Complete COVID-19
vaccination (without exemption) is required for students to attend clinical. Students must also successfully complete a criminal background check in order to be licensed as an RN in the State of New Jersey.
Applications for the Fall-entry accelerated Program will be accepted until May 15th.
Applications for the Spring-entry accelerated Program will be accepted until Oct 15th.
Transcripts will be evaluated on an individual basis.
* Pathophysiology is a recommended pre-requisite course for the accelerated program. Students who do not take Pathophysiology prior to admission into the accelerated nursing program will be required to take the course during their first semester in the program.
All applicants must fill out a transfer application. Transfer Applications are available from the Admissions webpage and from this link: https://stockton.edu/admissions/transfer-students.html
For answers to questions not included in the above information or in the FAQ sheet, please call 609-652-4501 or e-mail: AcceleratedNursing@stockton.edu
Accreditation Statement
The baccalaureate degree program in nursing, master's degree program in nursing and post-graduate APRN certificate program, and the Doctor of Nursing Practice program at Stockton University is accredited by the Commission on Collegiate Nursing Education, 655 K Street NW, Suite 750, Washington, DC 20001, 202-887-6791
Complaint Process
Applicants for admission and current students can submit program complaints to the New Jersey Board of Nursing, a subsidiary of the New Jersey Division of Consumer Affairs. Complaints may reach the Board of Nursing by writing to the New Jersey Office of the Attorney General Division of Consumer Affairs - New Jersey Board of Nursing 124 Halsey Street, 6th Floor, and P.O. Box 45010 Newark, New Jersey 07101