Get FIT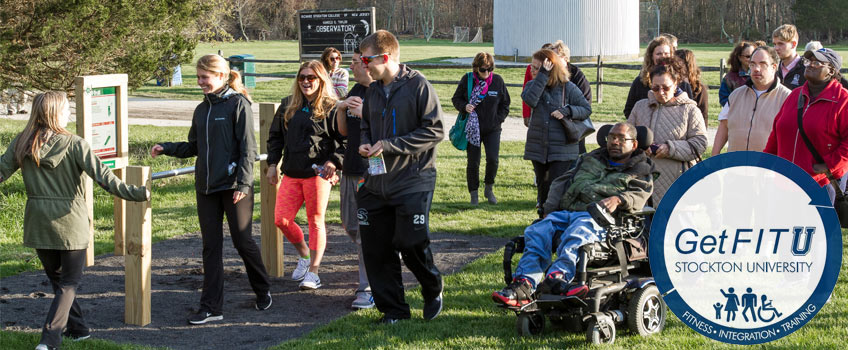 In April 2016,a new 1⁄4 mile fitness trail was completed with 10 stations for stretching and strength conveniently located near Pomona Road by the intramural sporting fields and Free to Be Child Care Center. The trail is available to the public for exercise and recreation.
The trail offers more than just an exercise opportunity for students in the School of Health Sciences,. The students are priveleged to work with individuals with developmental disabilities to help them lead healthy lifestyles.
The fitness trail is part of a 2020 community engagement grant awarded to Alysia Mastrangelo, professor of Physical Therapy, Joan Perks, associate professor of Nursing, and Mary Kientz, associate professor of Occupational Therapy. They developed Get FIT @ Stockton, an exercise and nutrition program that helps individuals with developmental disabilities live healthier lives.
Jillian Maisch, an Occupational Therapy graduate student, said that the trail is "beneficial for students and our partners."
Students are developing inter-professional relationships and gaining real-life experience helping clients who have developmental disabilities, now at a specially designed site with exercise equipment and detailed signage explaining each exercise, she explained. "Health isn't just exercise. It's about nutrition and an overall healthy lifestyle," Maisch explained.
Mastrangelo said that the trail "truly demonstrates what collective impact is. We are making it possible for all to exercise here at Stockton. As a health care provider, I really do believe that exercise is medicine and prevention is the key to a lot of disease and illness, and if we can all just get out there and walk, whether you are walking, running or rolling, you can do it around the trail here." With the collaboration and relationship between the School of Health Sciences, Arc of Atlantic County, and Family Resource Network, the fitness trail has been a welcomed addition for Stockton students, faculty, staff, and the surrounding community.