About the CRSLA Lab
Who We Are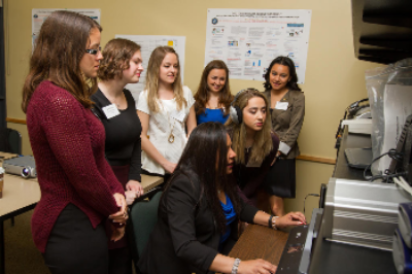 Cross-Cultural Speech, Language, and Acoustics Lab is a research lab in the School of Health Sciences at Stockton University. This laboratory, founded and operated by Dr. Amee Shah, comprises of a team of students and collaborating speech-language pathologists and speech scientists.
What We Do
Dr. Shah and her collaborators conduct research on basic and applied speech and hearing issues, focusing on cultural competency, accents, and dialects. Research projects involve cross-language issues in speech production and perception, with a current emphasis on foreign-accentedness. For further details, please see our Mission statement, Instrumentation & Methodology, Research Interests, and Research Team.
---
Mission
This lab is a space for conducting research, as well as serving as a space of engagement for faculty, students, and clinicians interested in cross-cultural aspects of spoken communication.
We specialize in the study, measurement, and management of dialect and accent variations.
We are committed to helping reduce bias and breakdown in communication across cultural and linguistic differences through our research, education, and training.
Our methods include speech-science based techniques of acoustic analysis, speech editing, audio and video interview, and ethnographic surveys.
We also focus on social and clinical applications of our findings in community outreach, and developing industry-based programs for diversity management.
Director/Principal Investigator:
Amee P. Shah, Ph.D., CCC-SLP
Associate Professor, School of Health Sciences

Location:
West Quad Room 216
View the campus map
Official Mailing Address: 101 Vera King Farris Dr, Galloway, NJ 08205

Contact:
Dr. Amee P. Shah:
amee.shah@stockton.edu
609-652-4929
Click here for link to Facebook group page