Study Abroad - Taylor DuBois
Stockton Students Abroad: Taylor DuBois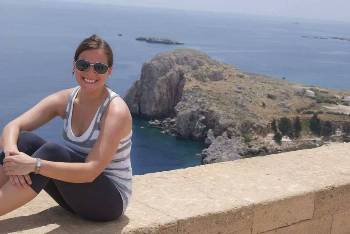 Hi, my name is Taylor DuBois. Living in Woodstown, New Jersey my whole life, I knew I wanted to get out and explore the world. After going to Salem Community College and interning at the Walt Disney World Resort, I transferred to Stockton in the Fall of 2012. During the Summer of 2013, I traveled to Rhodes, Greece to study Greek language for 6 weeks. After returning to Stockton and getting my B.A. in Historical Studies, I decided to go back to Greece to embark on a study tour. In the Fall, I will student teach and complete my second B.A. in Education.
Taylor's Blog Last Updated: May 27, 2014
May 27th, 2014: Week 2
Another week has passed here in Rhodes. We established that the days seem to drag on, but the weeks fly by. Luckily (or unluckily if you are my mom), I still have two weeks left in Greece. Wednesday after I posted my last blog post, we went to our last Byzantine art history class and probably ate Augustinos for dinner. At night, we decided to go to Old Town for a bit to relax and hang out. Once we got through the gates, half the group disappeared and walked the mote. We waited for them to come back for about 30 minutes, and then decided to head back to the hotel. Some people headed to bar street, but I stayed in and talked to people back home.
When I woke up on Thursday, Ilias had emailed everyone going on the study tour informing us that we had culture class with him at 2. We met at the Paideia building, but he had to postpone the class till 4:30 because he did not realize there was an Ancient Greek history class going on at the same time. To kill time, Hayes and I walked around Old Town and did some shopping. Last year, I had purchased a bracelet for Mom-mom which was too big. I brought it back this year to see if they could take some links out since everyone at home wanted to charge $60 or more for 2 links. Ridiculous. The lady was so excited that I came back, she took out the links for no charge and gave Hayes and I incredible deals on more things. We promised we would come back with all of our friends. We walked around some more, bought gelato, and headed back to the Paideia building.
In class, Ilias informed us that the culture classes would cover Greek festivals, history of the Greek language, Greek theatre, and the Greek family. The first class was about an hour and a half and talked mainly about the Olympics. We also found out that we have a certain amount of papers we have to complete. After class, Hayes, Andrea, Nick, and I went to eat dinner at Pueblo, a restaurant that is very Americanized. Last year, we ate there several times. The food is delicious and cheap, the best of both worlds.
The next morning, I went for a walk and hung around the hotel before going to lunch at the cafeteria. After lunch, I planned on doing some more shopping in Old Town. Kevin came with me and we walked around a little before he went back to the hotel and I went to the Paideia building. Class was supposed to start at 4:30, but not everyone knew that so we actually started at 5. To kill some time, Christina, Nick, and I walked around Old Town for a bit. I took them to my jewelry place, that the lady gave them awesome deals too. We eventually went back to the Paideia building for class. On this day, we talked about the history of the Greek language. After class, we all went to dinner at Mezes, since Paideia treats us to that restaurant every Friday. We all went to bed early since we knew the next day we were heading to Lindos and it would be a long day.
Ilias and Kostas picked us up at 9am in the lobby of the Semiramis. The boys went with Kostas in his car and the girls piled into the van with Ilias. Christina's parents are here for the week, so they came in the van with us to. Our final destination was Lindos, but Ilias had a few stops planned along the way. The first stop was the Bee Museum, which is exactly what it sounds like. The exhibit walked through the process of making honey, and at the end there were thousands of bees in the process. There was also a gift shop that sold everything from thyme honey, to honey and olive oil shampoo, to honey flavored liquor. We piled back in the van and headed to the next destination.
Our next stop was Kamieros, one of the three ancient ruins on the island of Rhodes. Kamieros is one of the most impressive, with much of the town still intact. Unlike some of the other ruins, you can still see the foundations of people's houses, baths, and of course the temple. It is really incredible touch the same structures people used over 2,000 years ago. Ilias talked about the history a bit, and we walked around to take pictures and explore. We were there for about an hour, and headed back to the cars to continue. Andrea, Hayes, and I were all getting car sick in the van, so we switched with some of the boys and rode with Kostas for the remainder of the day.
Our next stop was Kritinia Castle, the same place we went last weekend with Kostas. Check out last week's blog post for more information about the castle. We stayed for about 30 minutes, took some group pictures, and walked back towards the cars.
After Kritinia, we stopped at Alexandris Vineyards for wine tasting. The vineyard was right in the middle of the village, and the tasting room right in the garage. We sample 4 different wines, 2 of which were absolutely delicious, and 2 that were dreadful. We said our goodbyes, and it was back in the car for our next stop. By this point, it was about 1:30 and we were all starving. We stopped at a restaurant and all order souvlaki to go. We ate our chicken and pork on a stick in the car and headed to our next destination. Originally, we were to make a stop at another castle, but it was getting too late, so we skipped it.
Another hour later, we were at the southern tip of the island. There is a small island next to Rhodes, called Prasonisi, meaning green island. During high tide, it is an actual island. However, when the tide is low enough, the sand is exposed and you can walk from Rhodes to Prasonisi. This is also the spot where the Aegean and the Mediterranean collide. One side of the beach is Aegean, and the other is Mediterranean. We had about an hour to kill, so the boys Bernadette and I walked over to Prasonisi while everyone else went to the beach. Kostas told us that once we get to the other side, it is good luck to stack rocks. We did this about half way up to the top of the island. Once we got to the top, we all started to crack up when we saw nothing but stacked rocks. There must have been thousands of little stacks. Some with only a few rocks, and some more impressive with more than 20 rocks. The view from the top was also spectacular. You could really see the differences between the two seas; the Aegean far rougher compared to the Mediterranean. We made our way down the island and back to the car, ready for our next stop.
About 8 hours after we left the hotel, we finally made it to Lindos. The view was even more beautiful than I remember. An old acropolis perched on top of a mountain, surrounded by classic white greek houses and the sea. The best part about Lindos is if you do not want to walk up, you can ride a donkey. About halfway up, they stop to take your picture and the view is absolutely incredible. We made it to the top and paid them for the ride, then met up with the rest of the group who decided to walk. I was at Lindos last year, so I knew what to expect.
Its hard to tell the exact origins of the acropolis since it has been under control of the Greeks, Romans, Byzantines, Knights of St. John, and the Ottomans. Over the years, things have been built, torn down, and rebuilt. Regardless, what is left is still amazing. The temple is reconstructed at the top of the castle, looking out over the sea. There are remnants of some administrative buildings, and even the old hospital is still entact. The original walls are still there, which is the most impressive part. When standing at the bottom, you feel so small next to this giant fortress rising above the town.
After the acropolis, we went down in the town for a bit. Ilias took us into a traditional greek house, a one room home with different levels separating the different rooms. On either end, there are two raised platforms, one for the parents bed and one for the beds of the children and grandparents. In the center is a raised hearth around the fireplace and people sit on the ground to eat together. Ilias explained that he grew up in a house similar to that, and his parents still live in the house. Today, Ilias and Maria live in a modern home, similar to what we have in the states.
After we left Lindos, we had about an hour drive to get back to Rhodes Town. I was exhausted from the long day, and knew we were going out that night so I took a nap. I woke up super late, and had only an hour to eat and get ready. We went to bar street around 12:30 and mostly stayed at Dream, where we know the owners and bartenders. I decided earlier that I was going to watch the sunrise, and I was able to convince a few people to go with me. We went to augustinos first and got gyros, then came back to the hotel to change into sweats to go to the beach. We got there just in time, with the sky almost a redish color and you could just begin to see the outline of Turkey in the distance. It was absolutely beautiful and I am so glad I got to watch it again.
We finally went to bed way too late, or early, depending on how you look at it. Hayes and I slept until 12 and went to the beach for about an hour. I came back and showered, and got ready to go to the Rodos acropolis with Ilias and everyone. Since most of us had already been, it was only me, Ivan, Nick, Christiana, and christiana's parents with Ilias. We were there for about 2 hours, listening to Ilias go on and on about the theatre at the acropolis and also the one he built at UCONN for the hellenic center. He also threw in a bunch of cute stories about when he was in high school and he and Maria would sit in the theatre at the acropolis and talk, during a time when boys and girls generally weren't able to talk in public. We headed back around 7:30, and Nick, Bernadette, and I decided to get pronto pizza, one of my favorite pizza places in the world. After we got back, I went to bed pretty early.
The next morning, I read my book and started writing this blog. Around 3, Hayes, Andrea, Christiana, and I headed to Old town to do some shopping. We went to class at 5, and Ilias taught us about modern Greek festivals and holidays. He told us cute stories about him and Maria, and also about Paideia students in the past getting married. After class, we went to the cafeteria for dinner.
That night, we decided to relax and hang out on the beach. Since a lot of kids had a greek quiz the next day, Ari brought her flashcards and we went around in a circle trying to get the words right. After we rolled through those, we played heads up charades on my phone. People slowly started to head back to go to bed, but a few of us stayed. When we were done on the beach, we went and got augustinos, and I got a crepe. When we got back to the hotel, we stayed up a little longer talking. Eventually, we all went to bed.
Today, I am going to go for a walk and then probably finish up my shopping in Old Town before class. Less than 2 weeks until I am home!
Yeia sas,
Taylor
May 21, 2014: Week 1: Yeia Sas! (That means hello in Greek)
I have finally made it to Rhodes. I left Philadelphia airport on Tuesday, May 13th at 6pm. My first flight was to Munich, which was about 7.5 hours long. The nice thing about trans-atlantic flight is they give you a meal and each person has their own TV in the headrest. It was actually rather pleasant. My flight was delayed leaving Philly, so I barely made my next flight to Thessaloniki, Greece. Luckily, Aegean airlines had everything under control and had a bus waiting to take me and a few other destined for Thessaloniki directly to our gate. I slept on that plane, and before I knew it I was in Thessaloniki.
The airport in Thessaloniki was pretty crappy, to be honest. I made it to the gate and was on my way to Athens. Athens airport was completely different from Thessaloniki. They were very organized, the layout of the airport worked perfectly, and everyone was extremely nice. I had about a 5 hour layover in this airport, so I slept for a bit and people watched. It was finally time to board, and I realized I was the only person who spoke English. Since I did the Paideia program last year, I knew a little bit of Greek that I could understand what some people were saying and be polite enough to answer their questions. I slept the whole flight and woke up in Rhodes, finally!
Rhodes airport is typical island airport. It is pretty small, and there are only a few gates. Kostas, the program directors son, was waiting for me with a sign that said "Paideia." I met him last year, but he was only here for one day. Regardless, it was nice to see a familiar face. He took me to his car and we headed towards Rhodes town, about a 30 minutes drive from the airport. He pointed out different things along the way, and I still couldn't believe I was back in Rhodes.
I finally got into my hotel about midnight, Rhodes time, on Wednesday, May 14. The hotel all Paideia students stay at is the Semiramis Hotel. The lobby is bright and open air, with free wifi, a bar, comfortable couches, tables and chairs. When I got to my room, my roommate was out so I unpacked some things and went straight to sleep. The rooms are small compared to American hotel rooms, but they still have everything you would need. Two single beds, night stands, desk, tv, mini fridge, closet, and a bathroom. Each room also has a balcony with a table and two chairs. This year, I was lucky enough to get a room that faces the Aegean Sea. If you're a beach person, this is the place for you; the beach is only a block away from the hotel. If you prefer the pool, Semiramis has you covered too.
My first morning in Rhodes, I was awoken by the phone ringing. It was Maria, my teacher from last year and the program director. She is seriously the sweetest person in the entire world. She welcomed me back to Rhodes and asked me to stop by the school around 1 to go over a few things. I finished unpacking, showered, and headed to Old Town.
The island of Rhodes is situated in the Aegean Sea, only a few miles away from Turkey. Over the years, it has been occupied by many different government and people. If the name sounds familiar, it is probably because this is where the Colossus of Rhodes was, one of the Seven Wonders of the Ancient World. Today, you can see the spot where they think he stood.
The jewel of the island is the Medieval Old Town of Rhodes. Old town is a walled city that contains several historic buildings and castles. Now a World Heritage Site, old town is the center of shopping, eating, and tourism in Rhodes. It is also where I go to school.
Old town, and the Paideia building, is only about a 10 minute walk from the hotel. I walked there and met Maria, who was almost as excited to see me and I was to see her. I also met the rest of the Paideia students who were taking Greek Language course. I talked to Maria about my course schedule, and then we headed to the cafeteria to eat lunch.
As a Paideia student, lunch and dinner at the University of the Aegean cafeteria is included with your tuition. The food can be hit or miss, but if it's free, it's for me! On this day we had chicken with pasta, which is one of the best meals they serve. If you chose not to eat at the cafeteria, there are plenty of other cheap options on the island. For example, you can have the best gyro of your life from Augustinos. There are also plenty of cafes, sandwich shops, and even a McDonalds down the street from your hotel.
On Saturday, the two other Stockton students, a student from URI, and myself headed to the Rhodes Acropolis. This is only about a 15-20 minute hike from the hotel, and well worth the trip. The acropolis is situated at the top of the cliff, with breathtaking views of the Aegean and neighboring Turkey. The acropolis dates back to the Classical Greek period, somewhere between the 5th to 3rd century, BC. Today, there are only 3.5 pillars left, the track stadium, and a theatre. It is open to the public, for free, and there are really no rules. We sat at the stadium for about an hour relaxing and talking. On the way back, we found a few cave sanctuaries which were absolutely amazing.
On Sunday, Kostas took 7 of us around the island. Kevin, a stockton student, is doing a project on castles. He asked Kostas to take us to Kritinia where one castle was. We piled into his car and headed west. Along the way, Kostas had a few surprise trips for us. The first stop was in Filerimos, which had a giant cross that you can climb up the steps to the top. At the top was the most amazing view of the island.
Our next stop was the castle in the village of Kritinia. The view from there was incredible too. You could see tons of other Greek islands, as well as Turkey. We snapped some pictures and hung out enjoying the view. We made a stop in the village of Kritinia because one day back in Rhodes, we met a guy from Kritinia. He told us to stop at the museum and tell the guy that we knew him and he would let us in for free. As it turns out, Manolis was actually at the museum! He took us through the museum and then we sat at the cafe for awhile chatting and learning a few new Greek words.
The last stop on our journey was my favorite...Mussolini's house. The house was built for him while the island was under Italian occupation, but he never made it there. It has been sitting empty for over 50 years. Now, the windows are all broken and graffiti covers the walls. Regardless, it was still spectacular. We spent some time exploring all of the different rooms and floors. The view was my favorite part. The house is situated high on the hill so you can see for miles around. You can also see the Aegean, with Turkey and other Greek islands in the background.
One night, Ilias, Maria's husband the program director, brought us to his village of Soroni for a Greek festival. There was food, dancing, and everything you would imagine when you think of a Greek village festival. Although a group of American students stuck out like sore thumbs when we got there, the people quickly welcomed us. They set us up a table, Ilias bought us soulvaki, and later they taught us how to dance in a traditional Greek way. It was one of my favorite things so far and was amazing to see village life.
This weekend, we have two trips planned. One is to Lindos, another acropolis and town on the island. The other is to Symi, a neighboring island. Stay tuned for updates from those trips!