Welcome to the Office of Global Engagement
---
Join us in the United Nations Sustainable Development Goals (SDGs) Workshop!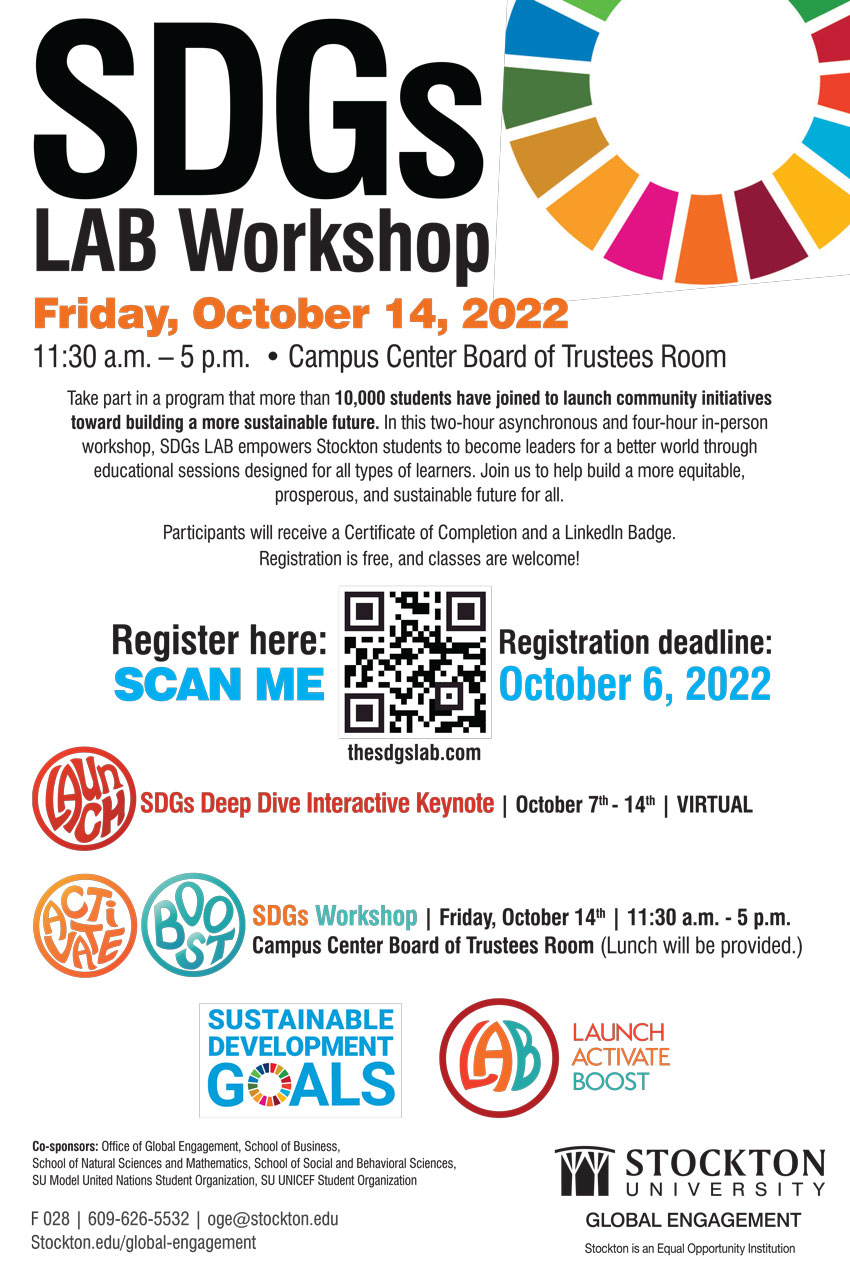 We are excited to announce a campus-wide workshop on United Nations Sustainable Development Goals (UN SDGs) — SDGs LAB.
We invite our students to part in a program that more than 10,000 students have joined to launch community initiatives toward building a more sustainable future. SDGs LAB empowers Stockton students to become leaders for a better world through educational sessions designed for all students. Join us to help build a more equitable, prosperous, and sustainable future for all!
This SDGs LAB workshop has two parts:
Asynchronous 2-hour interactive keynote available on October 7-14, 2022
In-person 4-hour workshop on Friday, October 14, 11:30am - 5pm in Campus Center Board of Trustees Room
Participants who complete both parts will receive a Certificate of Completion and a LinkedIn Badge.
Registration is free (Deadline: October 6, 2022). Please share this event with students and encourage them to join us. Classes are welcome!
During the in-person workshop, we will have the SDGs Fair to showcase Stockton's sustainability initiatives. If your office/program would like to host a table, please let us know at oge@stockton.edu.
---
Education Abroad Fair Fall 2022
We will have the Education Abroad Fair on Thursday, September 15, 10am-6pm at the F-Atrium in front of the Bjork Library. We will have several providers hosting tables here (ISA, TEAN, SAI, API, etc.). Office of Global Engagement will be there to answer your questions as well.
---
Gilman Scholarship for Spring 2023 is Open!
Gilman Scholarship Info Session: Tuesday, September 13, 2022 at 12:30pm in Campus Center Meeting Room 1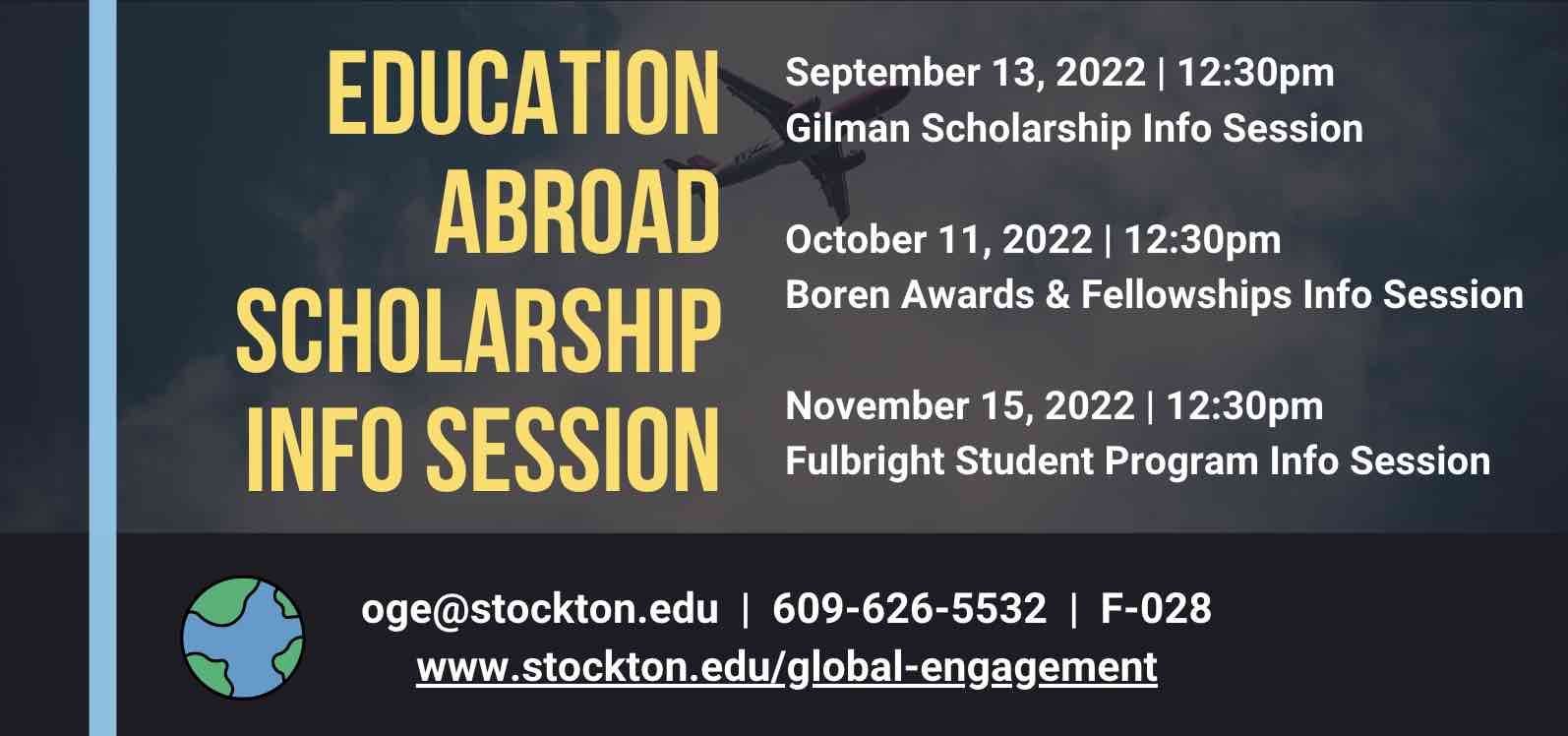 Benjamin A. Gilman International Scholarship Program is a grant program that enables U.S. undergraduate students of limited financial means at two- year or four-year colleges or universities to study or intern abroad for academic credit, thereby gaining skills critical to our national security and economic competitiveness. Awards are granted for fall, spring, summer, and academic year terms of up to $5,000, or $8,000 for students studying a critical need language.
Eligibility: Students need to be U.S. citizen, undergraduate student, and Pell-grant recipient.
Deadline: October 6, 2022 11:59pm Pacific Time
---
National Student Exchange: Studying Away in Other US States
Interested in exploring different cultures but not too far from your home?
Office of Global Engagement is excited to introduce National Student Exchange (NSE): a study away opportunities for Stockton students to study in other US states and territories.
You can study for a semester or a year at over 200 institutions throughout the United States, Canada, Guam, Puerto Rico, and the U.S. Virgin Island, while paying regular Stockton tuition!

---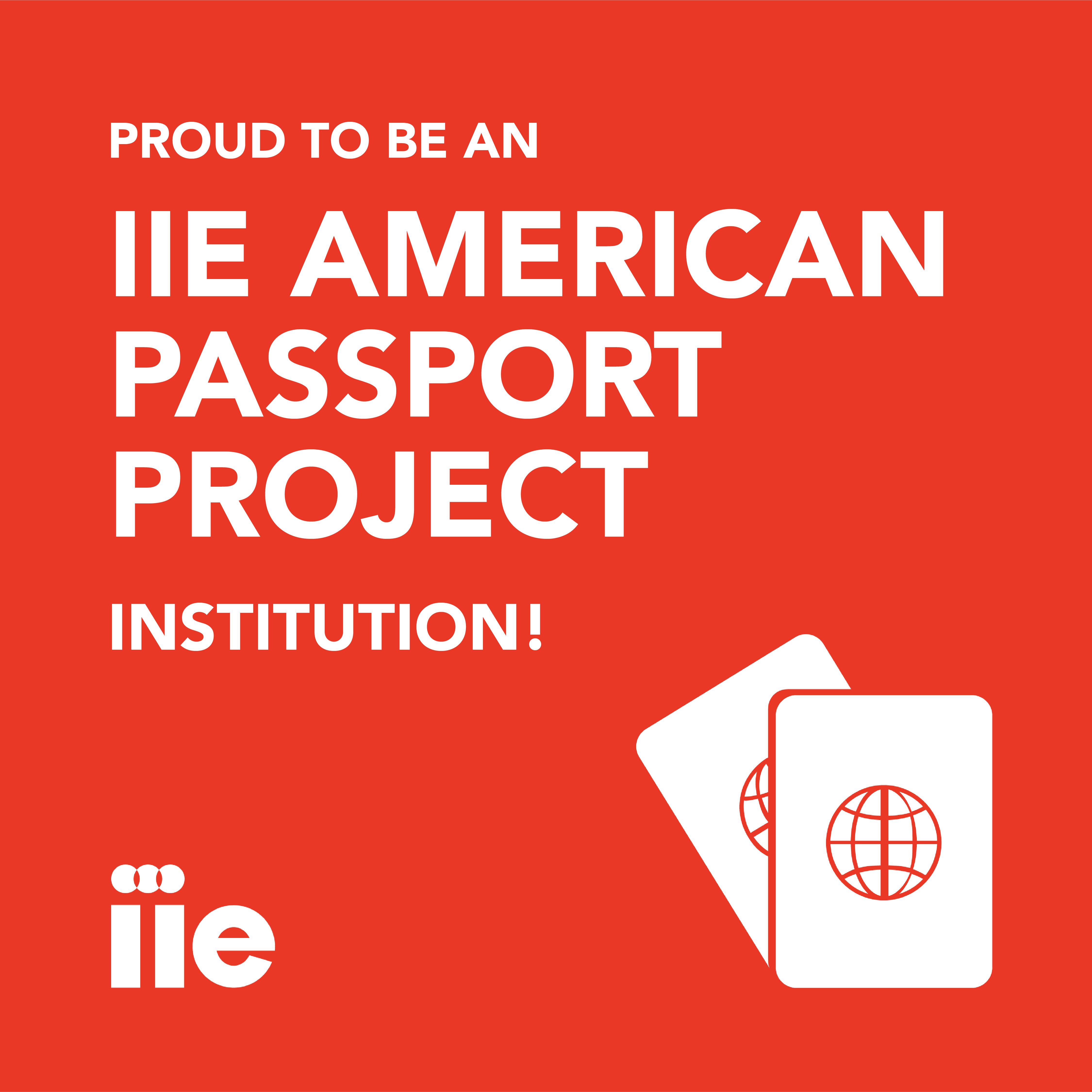 Stockton University is proud to be an #IIEPassportProject institution to receive fundingfrom Institute of International Education to support students to get their U.S. passport and plan to #studyabroad!
Stockton University has prioritized the goal to promote diversity, equity, and inclusion in education abroad programs. Being awarded in this project, Stockton will be able to encourage 25 Pell-eligible and first-year students to go abroad who would otherwise not participate in the global learning experience as part of their university education.
We hope this grant will give our students not only the critical skills they will need to thrive in an increasingly interconnected world, but lifelong friendships and meaningful experiences that could shape the trajectory of their lives.
---