Study Abroad - Nicolais Burr
Stockton Students Abroad: Nicolais Burr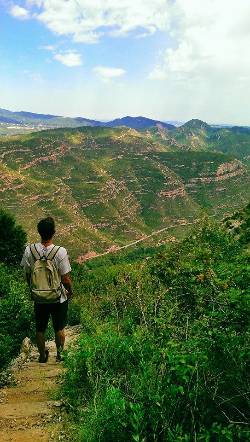 My name is Nicolaus Burr and I'm a senior at Stockton. Currently I am a double major at Stockton with degrees in progress in Education and History. I have also finished my minor in Holocaust Studies and I plan on graduating Spring of 2015. Being born and raised in New Jersey, traveling the world has always been a dream of mine. This year I was fortunate enough to study abroad in Barcelona, Spain and my experiences that have come from this journey have been life changing. To understand and adapt to a different culture is truly a rewarding and beneficial expiereince. Not only has it instilled a greater sense of appreciation for humanity but it also allows one to be come self aware of the issues that are involved with a different society. Spain and the Catalonia territory contain some of the most beautiful works of art, cities and beaches in all of the world. I truly recommend studying abroad to anyone willingly for a sense of adventure. To adapt into a different society is a remarkable idea and it truly will change your mindset and your life!
Nicolaus' Blog Last Updated: June 15, 2014
June 15, 2014
Hey! Just wrapping up the second week! Can't tell you how grateful I am to be here and see this beautiful culture and its cities. It's so much to take in I honestly wish I had more time to truly get a grasp of what this culture has to offer. Today we just got back from Costa Brava, a town 2 hours north of Barcelona. We stayed there for the weekend. We visited Dali's museum along with exploring the towns of Roses and taking a boat out to the Mediterranean for swimming and sunbathing. My classes are fantastic and I love my professors. I'm doing well and my Spanish is improving very much so. I look forward to soaking up these next two weeks and I will write back at the end of this next one.
June 5, 2014
Hi everyone, my first week has been great here in Barcelona! I'm really enjoying the city life and my classes and I'm learning a great amount. So far I have explored a good amount of the tourist sections of the city and I'm hoping to see more this next upcoming week! I just wanted to keep in touch and let you know how things were going. Tomorrow we're heading to the south of France for the weekend. I'm really excited to see what France has in store and I'll be emailing my adventures soon!