Education Abroad Scholarships
---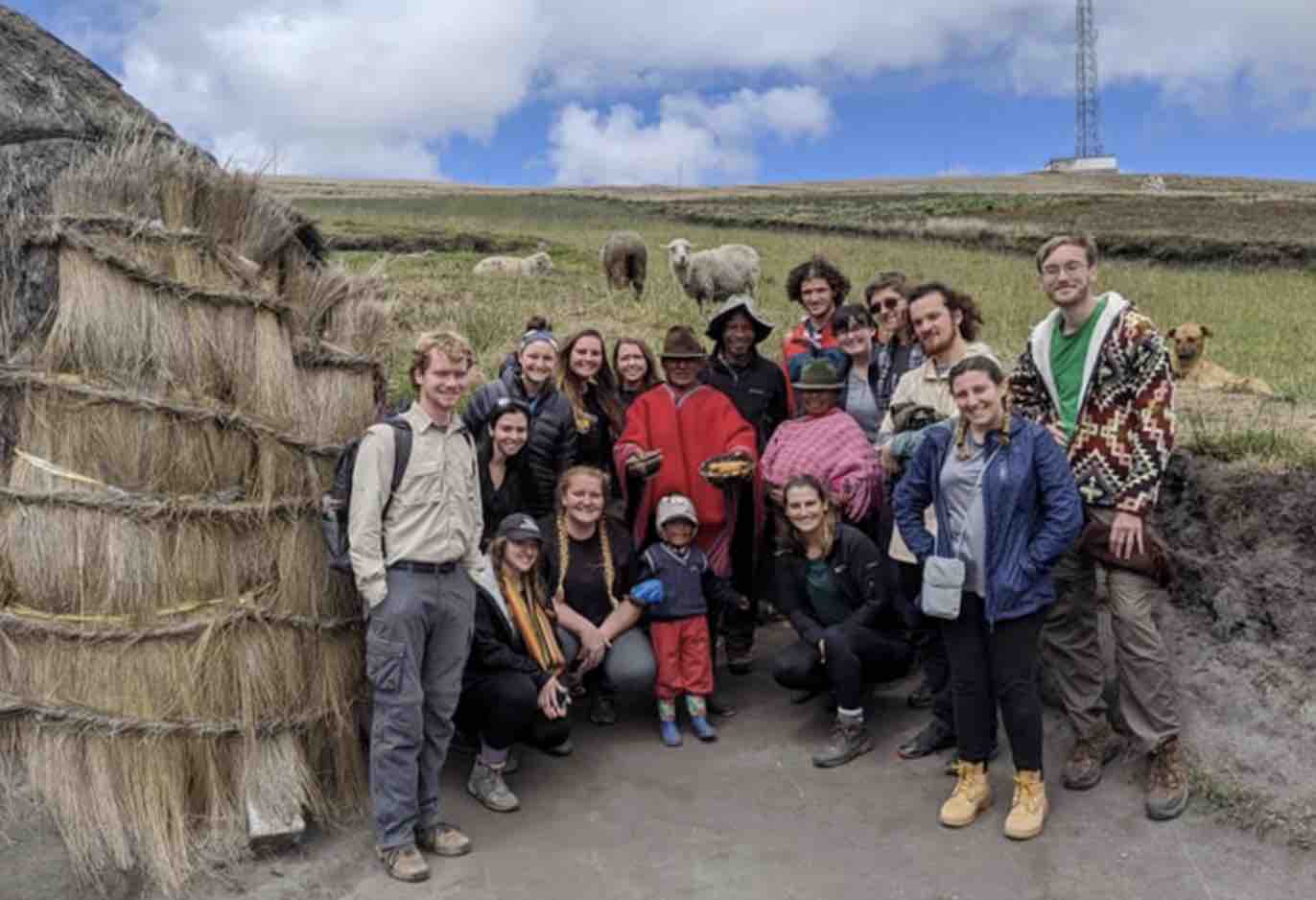 (Stockton Faculty-led Program to Ecuador)
Education Abroad Scholarships & Funding
There are many ways to sponsor your education abroad programs!
We have collected many scholarship opportunities for you. Please let us know if you have any questions at:
oge@stockton.edu | 609-626-5532 | F-101-q
---
Three key approaches to fund your education abroad programs:
Financial Aid

- If you are taking coursework for credit, most financial aid awards can be used abroad. Please contact Office of Financial Aid for more details.
Scholarships - You should research and apply for scholarships, including:

Providers: All of our providers offer discounts and scholarships that can help alleviate the costs of your education abroad programs.
National programs: There are also national programs such as the Fulbright, Boren, and Gilman awards.
Stockton University: We offer two scholarships, the Office of Global Engagement Scholarship and the Stockton Foundation Study Abroad scholarship. You can apply for one or both of these scholarships when you complete your Stockton application.

Creative Approaches: Students can raise funds through GoFundMe pages and other creative means.
---
Stockton University Education Abroad Scholarship
All education abroad students are eligible and encouraged to apply for Stockton University Education Abroad Scholarship!
---
Scholarships Opening Now
Gilman Scholarship Info Session: Tuesday, September 13, 2022 at 12:30pm in Campus Center Meeting Room 1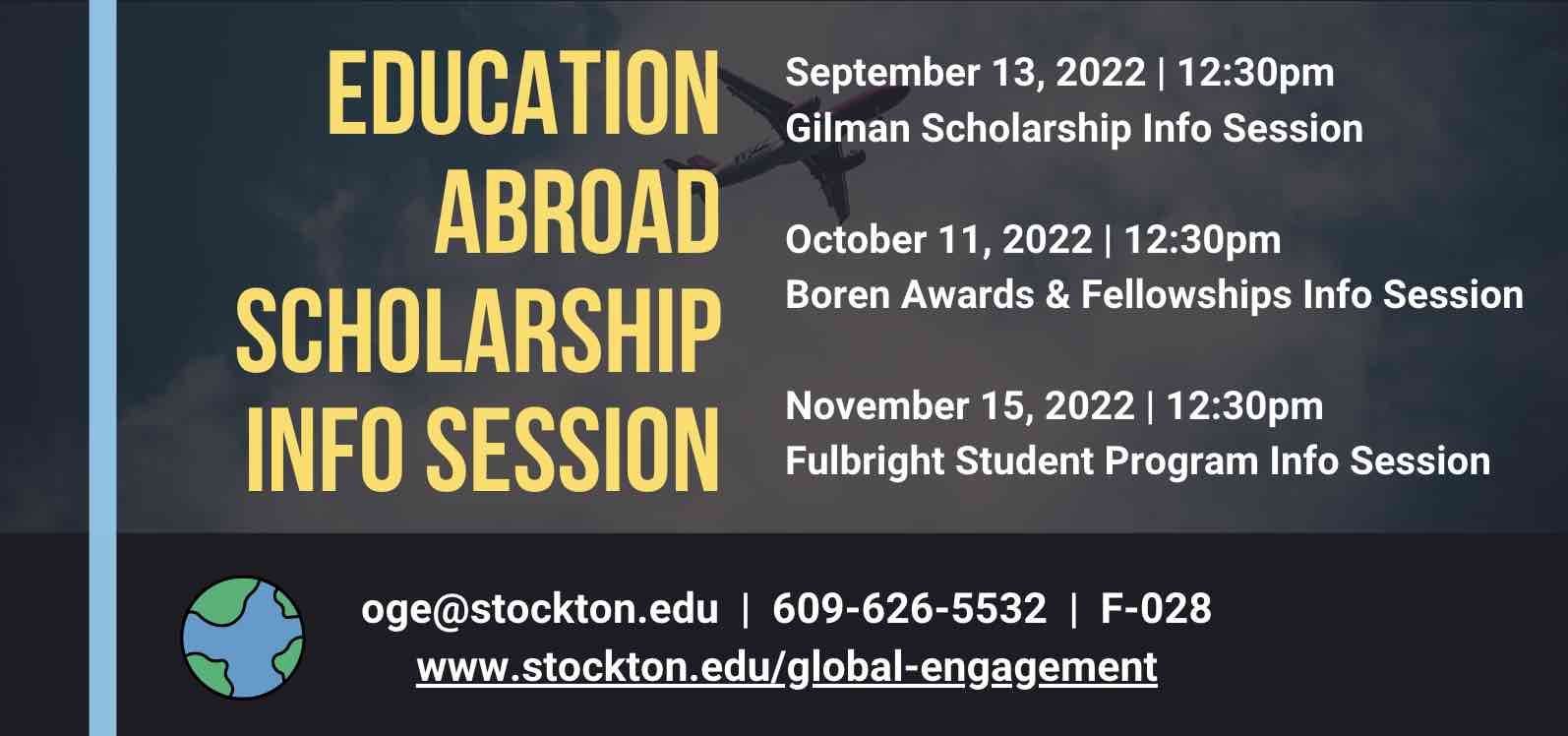 Benjamin A. Gilman International Scholarship Program is a grant program that enables U.S. undergraduate students of limited financial means at two- year or four-year colleges or universities to study or intern abroad for academic credit, thereby gaining skills critical to our national security and economic competitiveness. Awards are granted for fall, spring, summer, and academic year terms of up to $5,000, or $8,000 for students studying a critical need language.
Eligibility: Students need to be U.S. citizen, undergraduate student, and Pell-grant recipient.
Deadline: October 6, 2022 11:59pm Pacific Time
---
Fund for Education Abroad Spring 2023 Scholarship is Open!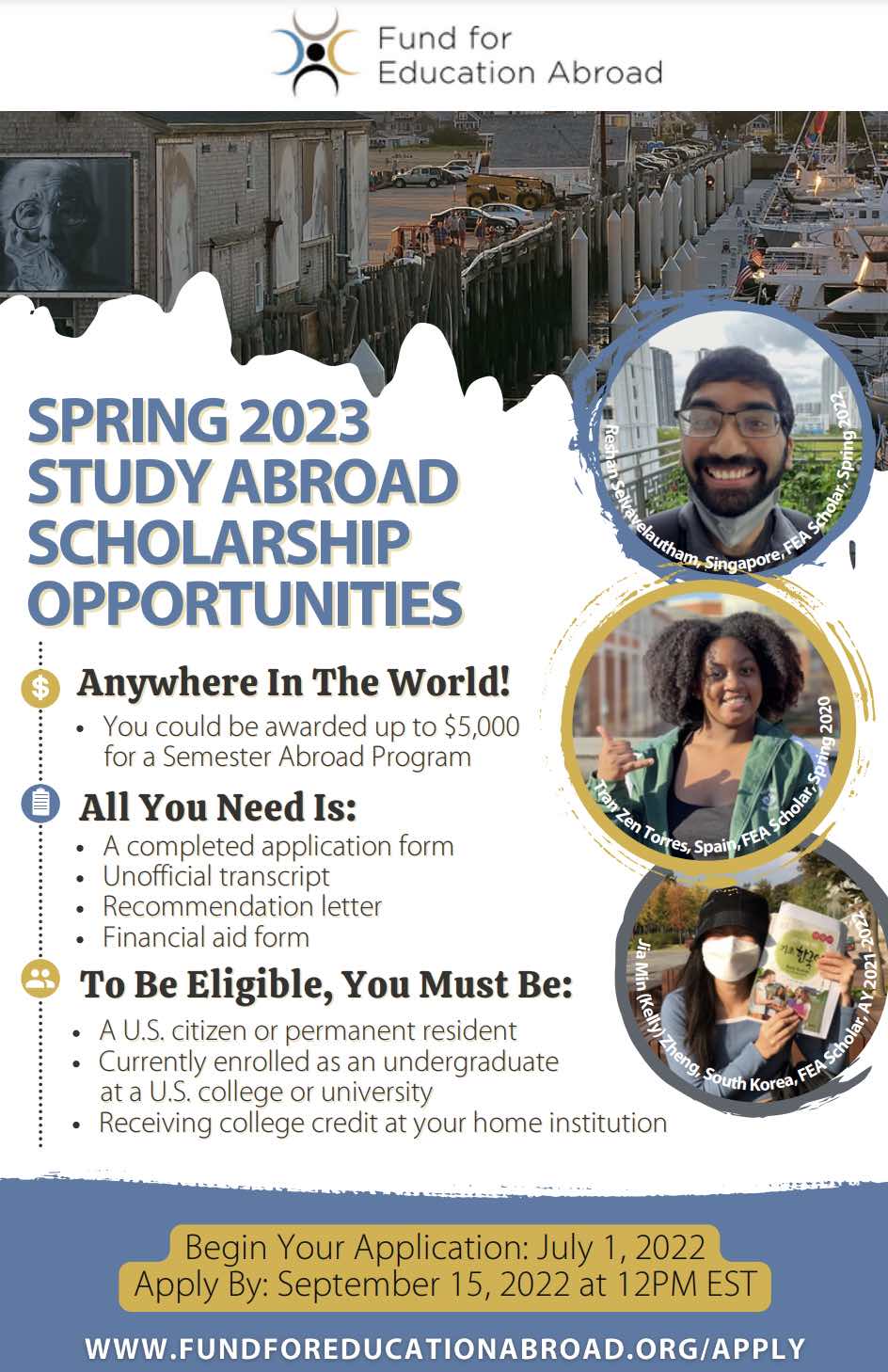 Fund for Education Abroad (FEA) is a non-profit organization that provides scholarrships and ongoing support to students who are underrepresented among the U.S. study abroad population.
FEA awards up to $10,000 for an academic year abroad, $5,000 for a fall or spring semester abroad, and summer scholarships are pro-rated based on length of program.
While we encourage all students to apply for an FEA scholarship, preference is given to students of color, first-generation college students, community college students, and students with high financial need.
Applications for Spring 2023 study abroad scholarships are now open!
---
Boren Awards 2022 application is open!
Boren Awards provides up to $25,000 funding for U.S. undergraduate and graduate students to study less commonly taught languages in regions critical to U.S. interests: Africa, Asia, Central and Eastern Europe, Eurasia, Latin America, and the Middle East. Recipients will commit to work in the federal government for at least one year after graduation.
See more details of Boren Awards here.
---
Other Education Abroad Scholarships
---
Past Scholarships
The Frederick Douglass Global Fellowship - a full scholarship for students to study abroad this summer.
This year's cohort is once again co-sponsored by Ireland's Department of Foreign Affairs, to commemorate the anniversary of Douglass's first journey abroad to Ireland. Participants will be based in Dublin and visit other cities where Douglass campaigned against slavery, while meeting with government leaders and social justice activists.
Eligibility Requirements
Be a current undergraduate freshman, sophomore or junior
Have a minimum GPA of 3.00
Be a U.S. citizen, U.S. national or permanent resident
Identify as an ethnicity typically underrepresented on study abroad programs (e.g. American Indian/Alaska Native, Asian, Black/African American, Hispanic/Latino or Native Hawaiian/Other Pacific Islander).
Submit a

complete application

no later than February 14, Frederick Douglass's birthday.
As part of our commitment to expanding access to an international education, CIEE offers a $1500 Frederick Douglass Scholars Grant towards any in-person CIEE summer 2022, fall 2022 or spring 2023 program to all applicants who submit an application and meet all eligibility requirements but are not selected for the Fellowship. Additionally, Pell grant recipients can receive a $500 travel grant for airfare.
This short video has highlights from the program this past summer, including a welcome from Vice President Kamala Harris.
This fully-funded scholarship program consisting of a project-based course and an international field experience with attendance at the 2021 Nobel Week Dialogue is open to all undergraduate and master's students. The program focuses on fostering intercultural communications, developing global leadership strategies, and pursuing ideas that confront equity and justice concerns of communities around the world.
Selected students, based on nominations from faculty or administrators, will participate in:
A project-based, design-thinking online course

A week-long field study in Sweden

An immersive experience at the 2021 Nobel Week Dialogue where students will hear from a unique constellation of Nobel Laureates, world-leading scientists, policy makers, thought leaders, and Nobel Prize Museum, EF, and Forum leadership to discuss the most pressing global issues that concern us all.
Students will also have the opportunity to have their final projects displayed at the Nobel Prize Museum at the completion of the course.

Application due on May 5, 2021. Program will commence in Fall 2021 via online course, followed by international travel in December 2021. The program is funded by EF and the Forum on Education Abroad. Funding includes access to the course and materials, airfare to/from Sweden, accommodations, ground transportation, and all costs associated with program-related activities. Students are expected to cover any visa-related costs, snacks, and incidentals.

To include voices of diverse global learners and increase the quality of learning for all in the cohort, students from diverse communities are strongly encouraged to apply.
Click here to apply for this great opportunity and learn more.
Contact oge@stockton.edu for any questions.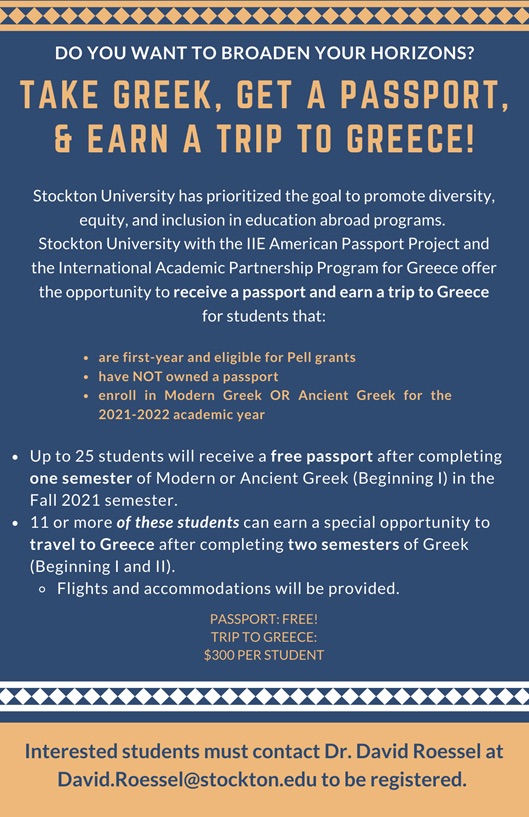 Stockton University is prioritizing the goal to promote diversity, equity, and inclusion in educational study abroad programs.
Stockton University together with the IIE American Passport Project is offering the opportunity for students to earn a free passport and travel to Greece for rising sophomore students who register for and complete 1 year (2 semesters) of either Modern or Ancient Greek and who:
Have NOT owned a passport
Are eligible for Pell Grants
Enroll in Modern or Ancient Greek for the 2021-2022 Academic semester
The cost of the passport will be free of charge. Hotel and Flight accommodations are also free of charge. The total cost of the trip will be $300 per students.
Please contact Professor David Roessel at David.Roessel@stockton.eduBY June 30 to sign up or for more information.
Info Session
Tuesday, June 22 at 2:30pm