Stockton News - April 20, 2018

WHAT WE'RE TALKING ABOUT
Sign Up for Active Intruder Training
Active Intruder Training is available to all students, faculty and staff. Stockton University Police runs the training sessions as classroom presentations or in office areas of departments and schools. The training sessions, which last up to two hours, include an active shooter video and a series of scenarios that focus on steps individuals should take in the event of an active intruder on campus. Takeaways include understanding the difference between "shelter in place" and "lockdown," as well as the "RUN. HIDE. FIGHT" response during an active intruder situation.
"If you don't prepare ahead of time, panic sets in," Interim Chief of Police Cindy Parker explained. "We do these realistic scenarios where we walk through the steps to take, so individuals know how to respond not just at Stockton, but anywhere an active intruder situation might unfold. We want members of our University community to be able think what they would do ahead of time, so they know what is expected."

If you are interested in setting up a training session for your class or office, email
Cynthia.Parker@

stockton

.edu
to set up a date and time.


Atomic Force Microscope Provides Closer Look at Semiconductor Fabrication



Stockton University researchers are developing semiconductors that require only sunlight and water to produce hydrogen as a renewable energy source.
But the materials that Assistant Professor of Chemistry Wooseok Ki (pictured far right) and his students are working with are invisible to the naked eye.
This obstacle was overcome with help from Jason Shulman, associate professor of Physics (pictured center), who employed Stockton's new Atomic Force Microscope to get a closer look.

Stockton Stories: Looking Back & Moving Forward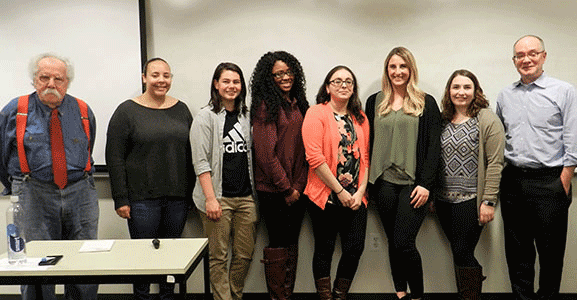 On April 18, Director of the South Jersey Culture History Center Thomas Kinsella, Professor Emeritus of Literature Ken Tompkins, and students in this spring's 50th Anniversary Internship shared their progress and future goals for the Stockton's 50th Anniversary Commemoration Project, entitled "Stockton's Stories: Looking Back & Moving Forward."

Kinsella and Tompkins, who are serving as co-chairs of the University-wide committee, had established the internship with the objective to share

Stockton

's history with alumni, students and the general public.
Marissa Manzo
, outreach intern, worked on developing questions for alumni and ways to get alumni stories.
Laura Cranwell
, archival research intern, digitized photos from Stockto
n'
s archive.
Taylor Morelli
, public relations intern, focused on developing the logo and content for social media.
Asia Elzey
, video editor intern, worked on converting dance performance footage into digital files.
Sarah Galzerano
, web content development intern, developed stories on aspects of

Stockton

`s history for the website.
Courtney Stewart
, graduate assistant intern, focused on

Stockton

`s history within the surrounding community.
High School Students
Compete at Math Mayhem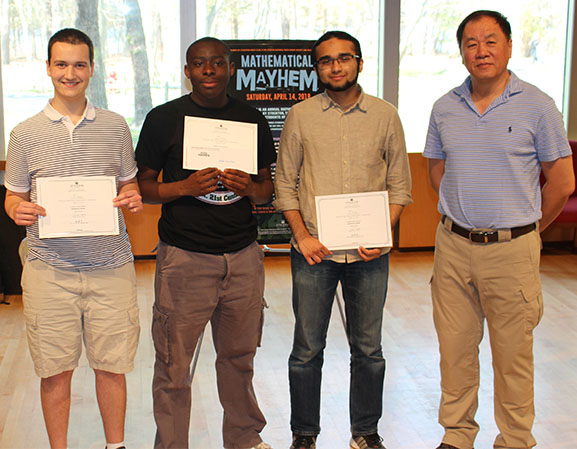 Ninety-two students from nine area high schools competed in both individual and team written tests during Stockton's annual Math Mayhem competition, April 14.
The competition was sponsored by the Mathematics program at the School of Natural Sciences & Mathematics and the

Stockton

Math Club. Professor of Mathematics
Chia-Lin Wu
(pictured right) is the competition director, with faculty committee members
Bradley Forrest
,
Judith Vogel
,
Pam Kosick
,
Suzanne Nezzar
,
Yujin Shen
and
Juan Tolosa
.
AC UPDATE
Hear what
Haley Baum
, associate director of Residence Life, and RA
Jason Rehani
, have to say about the opening of

Stockton

's new campus in Atlantic City. Encourage your students to choose to live and learn in Atlantic City this fall!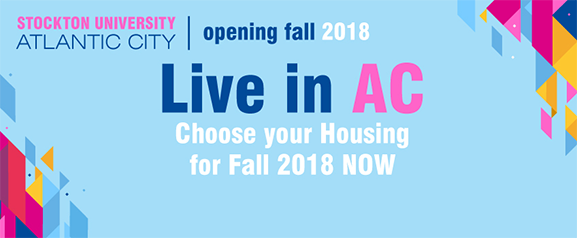 SPOTLIGHT ON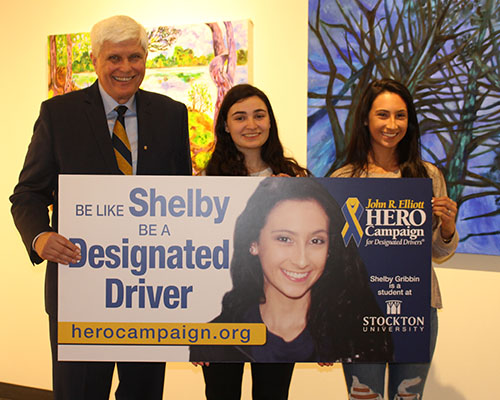 Shelby Gribbin
, 18, of Brigantine, a freshman at

Stockton

University, was named the 2018 Hero of the Year by

Stockton

in partnership with the John R. Elliott Hero Campaign for Designated Drivers
®
at a ceremony in the

Stockton

Art Gallery on April 12.

Gribbin's photo will now be featured on a Hero Campaign billboard on the Atlantic City Expressway, donated by Clear Channel Outdoor, which promotes the use of designated drivers to reduce drunk driving.


Stockton

freshman
Liam Rea
and his brother, Sean, jumped into action during a recent trip to Jamaica where they
helped rescue
a child at a water park. The brothers are trained lifeguards from Brick Township.


Michelle McDonald
, associate vice president of Academic Affairs, was accepted into
Becoming A Provost Academy
, a year-long leadership program co-sponsored by the American Association of State Colleges and Universities (AASCU) and the American Academic Leadership Institute.


"I'm so pleased to be able to participate in Becoming a Provost Academy," McDonald said. "As we expand in Atlantic City and think more strategically about how we use all of our campus locations, BAPA offers the chance to work with institutions from around the count
r
y, and to learn different models of academic programming, governance and institutional culture. I'm really excited about the opportunity, and appreciate

Stockton

's support."


McDonald will participate in BAPA's opening seminar in July in Seattle.
FRAME-WORTHY
Reception Honors Ambassador of the Hellenic Republic Haris Lalacos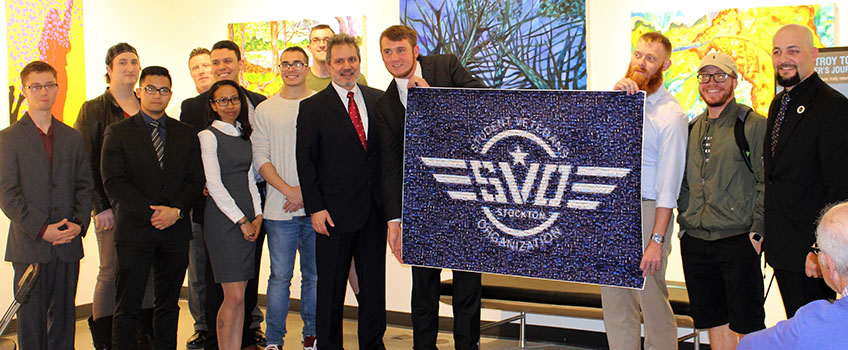 Stockton University welcomed Ambassador of the Hellenic Republic, His Excellency Haris Lalacos, April 16 for a reception hosted by the Dean C. and Zoe S. Pappas Interdisciplinary Center for Hellenic Studies. Ambassador Lalacos also co-presented a seminar with Tom Papademetriou, Constantine & Georgian Georgiou Endowed Professor of Greek History and director of the Pappas Center.

PT White Coat Ceremony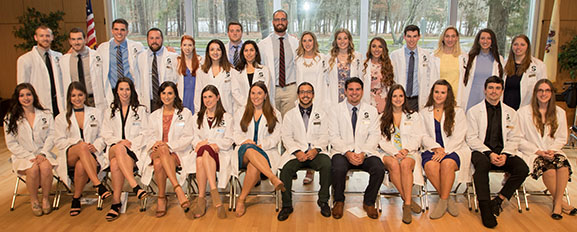 Twenty eight students in the Stockton University Doctoral of Physical Therapy Program Class of 2019 were awarded their white coats at the Commitment to the Profession Ceremony in Alton Auditorium on April 4.
Stockton Visits UN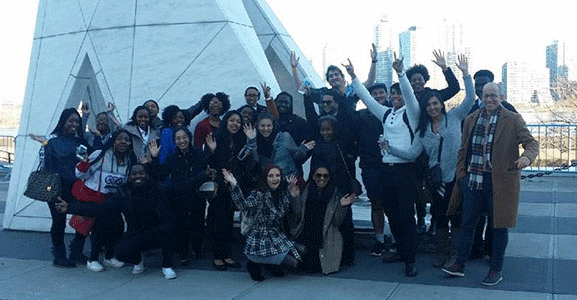 Raz Segal, assistant professor of Holocaust and Genocide Studies, Donnetrice Allison, professor of Communication Studies, and a group of their students attended the United Nations on March 26 to commemorate the International Day of Remembrance of Victims of the Transatlantic Slave Trade.
WHAT'S TRENDING #STOCKTONU
Instagram Story
:
Rain Ross
, associate professor of Dance, attended the International Day of Dance festival in Lebanon.


Instagram Story
:
Miss America 2018 Cara Mund visited
Stockton

's main
campus on April 18 as part of her National Speaking Tour. After her talk, Mund posed for photos with the

Stockton

community.
Read more
.
ROLE CALL
Did You Know?
Stockton now offers University employees and all members of their households access to the Deer Oaks
Employee Assistance Program
(EAP), a free and confidential program that offers a wide variety of counseling, referral and consultation services. Did you know Stockton's EAP provides services and resources on daily living?
Learn more
.
UPCOMING EVENTS
Stockton

Celebrates Earth Day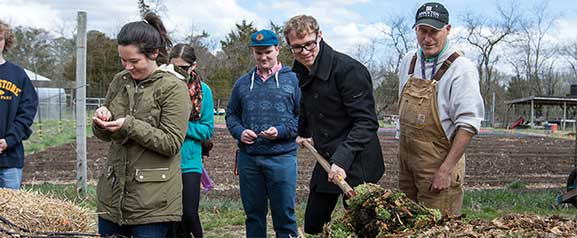 Earth Day activities at

Stockton

included tours of the farm where students checked out the progress of compost with
Ron Hutchison
, associate professor of Biology (above).
More activities
are planned!
Wednesday, May 2 – Academic Quad Ribbon Cutting Ceremony

Thursday, May 17 – Stockton Center on Successful Aging's (SCOSA) Annual Festival

Spring 2018 - Take a Jitney Shuttle Tour to Stockton's Atlantic City Campus
Learn more about living and learning at Stockton in Atlantic City. Mobile tours will all leave from the Stockton Campus Center. The short version tours will be about one hour. Longer tours, which include a walking tour, will take about two hours.

Tour Dates:
April 26 – long – 10 a.m. July 10 – 10 a.m.
May 24 – 10 a.m. July 17 – 3 p.m.
June 5 – 11 a.m. July 31 – 11 a.m.
June 18 – 2 p.m.
For more information, contact Haley Baum or Brian Jackson.
Stockton News | View More News