Miss America Tells Students to Treat Failure as Training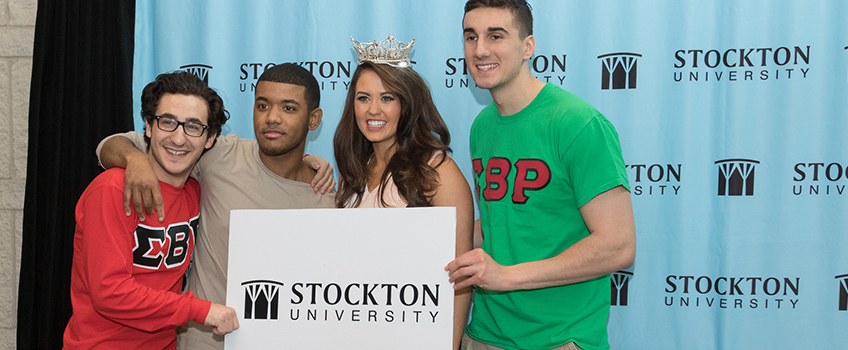 Galloway, N.J. - Miss America Cara Mund dreamed of being Miss America when she was a little girl in Bismarck, North Dakota.
She achieved her dream, but not without some bumps along the way. But, she told students during a visit to Stockton, by following the advice of her family to just try again, she ultimately did succeed.
A graduate of Brown University with a degree in business, Mund organized her first fund-raising event at the age of 14 when she organized a Make-A-Wish fashion show to help a friend.
"Everyone said I was too young, but I didn't see why age should be a factor," she said. She convinced a store to help and raised more than $2,500. Last spring the group held its 10th annual event and has raised a total of $78,000.
At 16, Mund won the Miss Outstanding Teen state pageant on her first try, but didn't even make the finals in the national competition. But she meet another contestant who was going to Harvard, who convinced Mund she could attend an Ivy League college as well.
"My high school guidance counselor said 'no way' but I worked hard in high school and got in to Brown," she said. "But I was still worried that I wasn't prepared. I was terrified."
Freshman year was tough, but after she joined a sorority, the support of the other girls gave her confidence.
Her goal of Miss America still burned strong, but in her first year competing for Miss North Dakota she was the third runner-up. Her second year she only made it to the top 10. Her third year she got closer, but was still just first runner-up.
"I felt like my future had collapsed," Mund said. "I just cried. I had no backup plan but thought I would not compete again."
She interned for a local Congressman, and was offered a staff position, but then decided to give the Miss North Dakota competition one more try.
"I finally won, all categories" she said. "The years I failed were just training."
She said after the pageant she got a lot of advice about changing her hair and clothing, but decided to just be herself. She admits to questioning that decision when she got to Atlantic City, especially since there had never been a Miss America from North Dakota.
But she won, and now travels around the country, about 20,000 miles a month, sharing her story and encouraging girls and all young people to be confident, involved, and not give up on their dreams.
"The minute you say I'm too afraid of failure you will fail," she said
She is considering a run for public office in the future.
"We need more young people and women in government," she said. "We need equal representation."
Mund, who attended school with Eagles quarterback Carson Wentz, recalled looking at their high school yearbook. He was named "Most Likely to be a Pro Athlete" and she as "Most Likely to be Miss America." Both saw their dreams come true.
"I will always be known as the first Miss America who came from North Dakota," she said.
After the event Mund posed for photos with staff and students.
# # #
Contact:
Diane D'Amico
Director of News and Media Relations
Galloway, N.J. 08205
Diane.D'Amico@stockton.edu
609-652-4593
stockton.edu/media