Physical Therapy Students Earn Their White Coats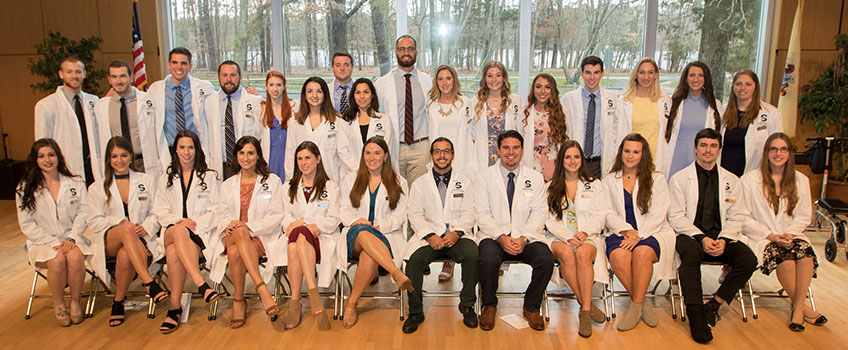 Galloway, N.J. _ Twenty eight students in the Stockton University Doctoral of Physical Therapy Program Class of 2019 were awarded their white coats at the Commitment to the Profession Ceremony in Alton Auditorium on April 4.
Keynote speaker was Dr. Paul Vidal, president of the New Jersey Chapter of the American Physical Therapy Association. Vidal is the physical therapist owner of Specialized Physical Therapy with offices in Cherry Hill, Burlington and Princeton. He is also a lecturer at several physical therapy programs in Philadelphia and New Jersey.
Other speakers were Thomas P. Nolan, associate professor of physical therapy, Lori Vermeulen, provost and vice president for academic affairs, and Elizabeth Calamidas, interim dean of the School of Health Sciences.
Student Justin Hanus led the class in the recitation of the Oath of Commitment to the Profession.
The members of the class are: Shannon Adams of Egg Harbor Township, Samantha Adornetto of Toms River, Christopher Albanese of Belmar, Rachelbeth Brignola of Lanoka Harbor, William Davis of Magnolia, Emily Della Fave of Kearny, Joe Farrell of Longport, Becky Frandza of Lanoka Harbor, Carleigh Gallardo of Pittsgrove Township, Devan Gallucci of South Amboy, Julia Guerrero of Freehold, Justin Janus of Cinnaminson;
Also Cassandra Hrusko of Manchester, John Husta of Mullica Township, Jamie Krasner of Toms River, Michael Messina of Middletown, Andrea Olsen of Hammonton, Stephen Pavoni of Pompton Plains, Shelby Petrella of Mingo Junction, Ohio, Phillip Polentarutti of Hawthorne, Adelina Redzepi of Egg Harbor Township, Lindsay Schuele of Sparta, Anthony Scibilia of Hammonton, Lauren Vranich of Palmyra, Diana Williamson of Brick, Colleen Wills of Deptford, Brandon Woolley of Toms River, and Catherine Wunder of Pittstown.
A gallery of photos from the event are on flickr.
For more information on Stockton's physical therapy program, click Physical Therapy.
# # #
Contact:
Diane D'Amico
Director of News and Media Relations
Galloway, N.J. 08205
Diane.D'Amico@stockton.edu
609-652-4593
stockton.edu/media