Our Services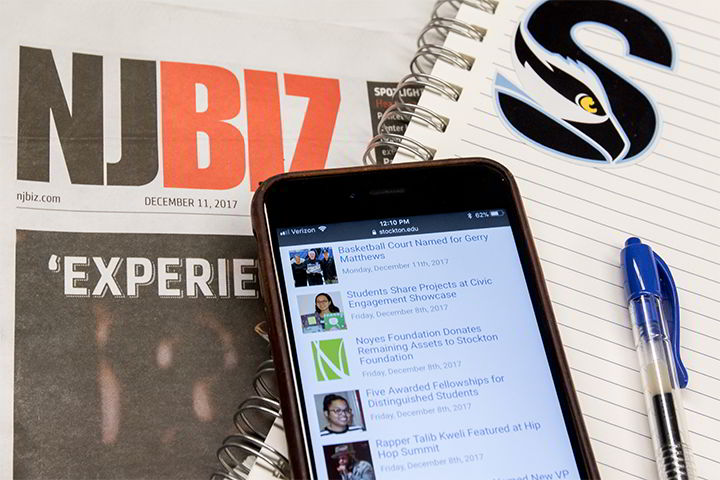 Please submit your request four weeks in advance to ensure timely delivery.
University Relations & Marketing (URM) is committed to supporting University staff and faculty in producing high quality, thorough content in support of Stockton's mission. We offer a variety of services, including:
Graphics Production
The Graphics department provides a professional team of artists who are available to assist in the design and development of various aspects of graphic needs. We can design materials that include flyers/posters, invitations, postcards, banners, website banners/graphics, publications and much more.


Marketing Content Consultation
URM is available to support your projects, events and initiatives. Our dedicated staff are ready to provide a variety of expertise and insight to support you in your goals. We meet as a team daily and we regularly have staff and faculty join us to discuss their projects. If you'd like to attend please contact Kesley Santiago at 609-652-4747 or at Kelsey.Santiago@stockton.edu.


Marketing and Advertising
Our Marketing department drives all promotional and awareness campaigns done for Stockton, and we want to extend our expertise to support your projects as well. We are available to help with advertising purchases and consultation.


Marketing Video Production
URM works closely with Stockton's Production Services department, and we're available to assist you in the developing of marketing videos and communications.


News & Media Relations
Our Strategic Communications team provides press releases and coverage of many Stockton events and initiatives. We're available to help with developing and distributing press releases for your projects, and can work with local and regional media to support coverage for your events.


Photography
URM provides photography services for official university events and initiatives for the purpose of marketing, publicity and university publications. URM reserves the right to review all requests for photography services to ensure they meet a specific institutional need for photos and that staff time is used in a way that best serves the university's needs. If a URM photographer is not available for a client, the department can recommend a freelance photographer. The client is responsible for contacting the vendor and paying for their services.
Proofing & Editing
University Relations & Marketing has an extensive team of experienced editors and writers who are available to help to proofread and revise your content. Whether it be for a brochure, website, publication or campus-wide communication, we're available to help.


Publications & Special Projects
URM writes, prepares and distributes several University publications, including Stockton Now, the University's e-zine, and the Faculty/Staff Newsletter, Stockton News. We're here if you'd like to pitch a story for either publication, or if you have a publication of your own that you'd like assistance with.


Social Media
Our Strategic Communications team is the center for Stockton's institutional Facebook, Twitter, YouTube, Instagram, Flickr and Snapchat accounts. We can assist with requests for social media promotion and consultation, as well as providing Snapchat/Instagram story takeovers for University events and projects.


Web Communications
URM's web department is available to assist with website content, development and any other inquiries. We also maintain the stockton.edu homepage, so we are always looking for and welcoming contributions and feedback to spotlight various University events and initiatives.


Requests can be made using the University Relations and Marketing request form. Please allow a four-week turn around for all requests. If you have any additional questions, please contact Kelsey Santiago at 609-652-4747 or at Kelsey.Santiago@stockton.edu.