Stockton Celebrates Earth Day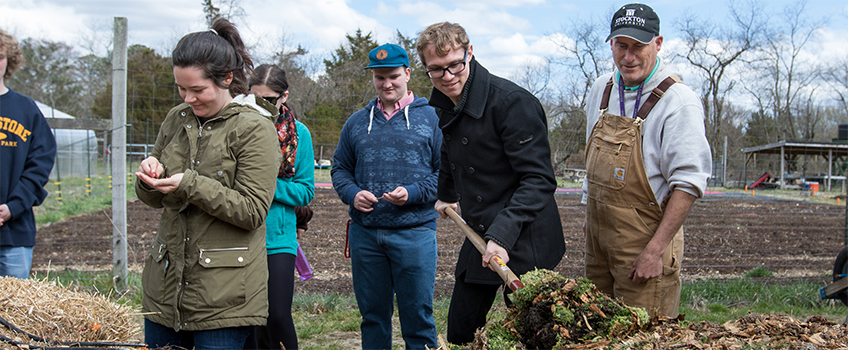 Galloway, N.J. – Sustainability is not just a program at Stockton University, it's a way of life.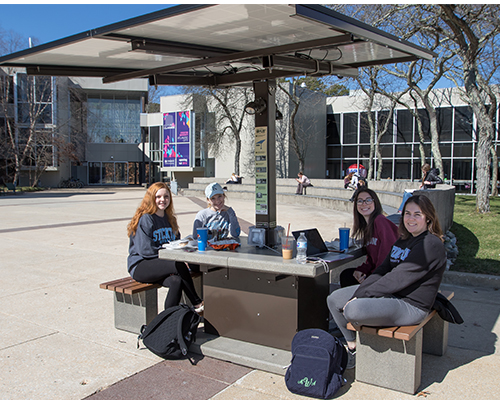 Here are some ways Stockton is celebrating Earth Day.
Earth Day Festival
S.A.V.E. (Student Action Volunteers for the Environment) will host an Earth Day Festival on Thursday, April 19 from 10 a.m. to 4 p.m. in the C-D Circle. There will be a rock wall, clubs and a smoothie bike (pedal to operate a blender that makes the smoothie).
On Friday April 20 from noon to 4 p.m. there will be kayaking on Lake Fred and visiting zoo animals at the Lakeside Lodge hosted by the Honor's Program at 5 p.m.
SCOSA: Greying Green
The Stockton Center on Successful Aging (SCOSA) will host "Celebrating Earth Day: Graying Green – Climate Action for an Aging World" at 2:10 p.m., Friday, April 20 in the Campus Center Theatre. Listen to a thought-provoking presentation by experts on climate chance and aging, Mick Smyer of Bucknell University and Rachel Pruchno of the N.J. Institute for Successful Aging at Rowan University.
Plant Sale
The students in Plants and Agroecology (SUST 3450) are having a plant sale from 8:30-3:00 PM, Friday, April 20 in the hallway outside of Alton Auditorium. The plants are grown using organic techniques, and are available by the six-pack or flat of 36.
The plant sale will be similar to the plant sales of the past run by Professor Linda Smith's Food and Agriculture class. There will be various tomato and basil varieties, as well as a greater selection of herbs and flowers this year. The students have also picked out some unusual plants this year. If you can't make it on Friday, the students will also be selling the plants at the ACUA earth day festivities on Sunday, April 22nd at the ACUA site in Egg Harbor Township, NJ from 9:00-4:00.
The New Trading Post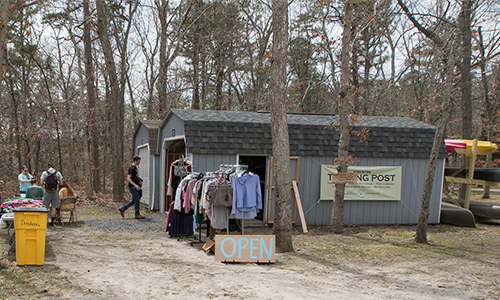 The new Stockton Trading Post offers sustainable shopping through a thread exchange and thrift store, camping and tool rentals, and a reskilling workshop series that will teach students how to change a tire, make a fire, pitch a tent and more.
The trading post is located next to the Lodge at Lakeside off of Laurel Lane in Shed 31, which received a makeover from Anthony Fetherman, a junior Environmental Science major from Fredon, N.J. He used his carpentry skills to turn a former storage space into a welcoming store front.
On Thursday, April 19, 11-2 p.m., Richard Vetter will teach participants how to prepare for a camping trip and how to properly pack a backpack.
On Thursday, April 26, 10-2 p.m., Stockton alumnus Dave Malka will lead a woodworking session where participants will transform wooden pallets into coffee tables.
The Stockton Trading Post is open on Tuesdays, 1-3 p.m., and Thursdays, 11 a.m.-3 p.m. during the school year. Workshops will be held outside Shed 31 on Thursdays.
The team is currently accepting donations of gently-used clothing, small appliances and almost anything else that could be reused. Visit the Stockton Trading Post at their website.
Solar picnic table
Students can charge their smart phones outdoors at Stockton's new solar picnic table, located in the courtyard behind the Campus Center food court. Phones can be plugged into outlets in the pole that connects to the solar panel.
# # #
Contact:
Diane D'Amico
Director of News and Media Relations
Galloway, N.J. 08205
Diane.D'Amico@stockton.edu
609-652-4593
stockton.edu/media
.