Stockton University Farm
The Stockton Farm was established in 2012 as a student-run project. After several years, a staff member was assigned to take over management of the Stockton Farm so that students could focus on academic engagement. The campus Sustainability Coordinator, as well as a faculty member in the SUST program, took over farm management in May 2016. Following the change in leadership, infrastructure expanded to include a 30 x 48' high tunnel, increased water storage, increased solar power and storage, and a new fence increasing production area from one-third of an acre to 1.5 acres. The farm also earned Certified Naturally Grown status and label.
Students interesting in farming are enrolled in a Farm Practicum course, which runs each semester. In addition to running the farm, students in Farm Practicum can expect a variety of in-depth experiences and opportunities, including a chance to run our stand at the local farmer's market, attend conferences and workshops, network with farmers, explore and discuss issues and trends in the local small-scale agriculture movement, and participate on a 4-5 day field trip that explores farms and food systems in our region. Above all, the Stockton Farm aims to become an agent of change in an industry that needs sustainable and measured reform, while serving the needs of students and providing a robust, challenging, and comprehensive education.
Committed to Sustainability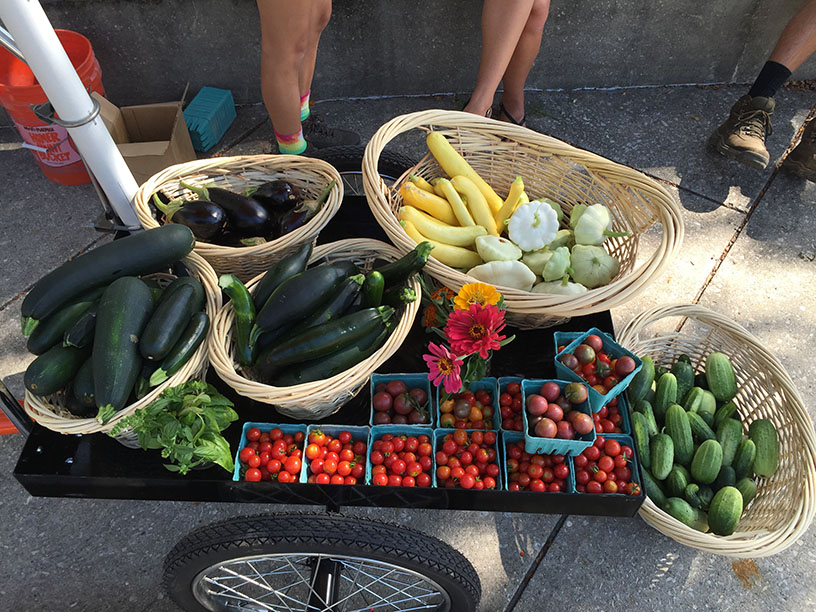 The Stockton Farm is a laboratory in the Sustainability program and as such it remains committed to sustainable practices and the advancement of sustainable agriculture in New Jersey. Sustainable infrastructure on the Stockton Farm is varied, but mostly derives from its lack of well or connection to grid electricity. Energy is collected from a solar array, and stored in four deep cell batteries on site. The stored energy is used to power the water pump, charge power tools, and charge a car battery that is used as a portable energy source.
In lieu of a well, the farm has a rainwater catchment system. Water collected off the roof of a pole barn is pumped to a tank sitting on a 12ft tower. Drip lines in the fields are gravity fed from the water tower. Storage is an issue, and must increase as our growing area and capacity increases. As the growing area expands, the gravity feed is at times not ample to reach the farthest areas of the farm, and is supplemented by a portable diaphragm pump run off a rechargeable 12-volt car battery.
Sustainable practices on our farm are various and somewhat more experimental in nature. There are currently several projects aimed at improving sustainability of soil, crop, and pest management:
Transition to No-Till: The native soil on our farm is sandy, dry, acidic, low in organic matter, and deficient in several key nutrients. As a way of rectifying these shortfalls without further depleting what organic matter we do have, we are moving away from traditional tillage with a walk-behind rotary tiller and toward small-scale, biointensive practices. These practices include preparing soil with a broadfork, applying generous amounts of compost and straw, and experimenting with biodegradable plastic mulch.

Cover-cropping: The 2016-2017 academic year marked the first application of cover crops across four seasons at the Stockton Farm. Cover crops increase soil health by adding organic matter, mining nutrients, providing fodder for pollinators and beneficial insects, and preventing erosion.
Field Trials: The Stockton Farm mission statement includes service to area small farms by experimenting with innovative crops and technologies. In pursuit of this mission, we have taken on several field trials:

Garlic Field Trials: Last fall, twenty-two varieties of garlic were planted in our fields. In order to assess their health, vigor, and productivity, a student took on an independent study in which he measures the photosynthetic activity of each variety on a weekly basis. This should give some insight into good garlic varieties for our soil types, and in which seasons certain varieties need more attention. As we harvest, we are designing more field trials in order to answer the questions raised by the data. Our hope is that this information will be economically useful to local growers and home gardeners.
Pest research: The emergence of a new garlic pest in our area (Allium leaf miner) and the coincidence of having twenty-two garlic varieties planted has prompted the effort to document which varieties are most targeted and which are relatively unaffected, with the intention of making this information known to area farmers and extension services.

Biodegradable plastic mulch: Preliminary studies indicate that different colors of plastic mulch increase yield for specific varieties of plants. We are using plastic mulch in a variety of colors, with a control of standard black mulch, to determine if there is an increase in yield in our fields.
Niche Crop Trials: As a university funded laboratory facility, the Stockton Farm is dedicated to expanding the regional crop portfolio by trialing high-risk, high-reward crops for adoption into production by local area farmers. Small farms thrive when their crops and business plans are diversified. By growing and marketing less widely available crops, we have the opportunity to assess the resource load necessary to bring a specific crop to market and assess profit relative to cost. Expanding the regional crop portfolio has the potential to benefit farmers and the environment.
---
Farm Gallery
---
Campus and Community Engagement
The Stockton Farm is still developing as a facility: adding infrastructure, developing long-term plans, diversifying its crop portfolio, installing perennial plantings, and amending new ground for expanded production. The goals that guide these activities and future decisions are outlined by our mission statement: to invigorate local, small-scale, sustainable agriculture through research and demonstration. In order to live up to our mission statement, we have dedicated time and effort to the following ongoing goals:
Having regular produce sales at the Farm Bike
Holding workshops that teach booking, canning, butchering, and pickling
Showing films about issues facing modern agriculture
Holding farm volunteer days
The Stockton Farm participated in the Farmer's Market in Galloway Township this past August, 2017. Market participation will broaden the scope of participating student's education to include the financial aspects of a successful farm business, while also providing a platform for community education regarding sustainable agriculture, giving consumers a chance to meet their growers, and disseminating information to the community regarding sustainable agriculture events and workshops available at Stockton.
The Stockton Farm also has a far-reaching goal to be a driving force in the fight against hunger and food injustice in our area. We make donations to the Pleasantville food bank and plan to expand donations to the Atlantic City Rescue Mission and Stockton's Campus Kitchens project. As the campus moves into Atlantic City, the Stockton Farm is poised to provide fresh produce to underserved communities through existing nutrition assistance programs.
In the News
Picture Stockton...Farming to Feed Those in Need