Sustainability
The degree in Sustainability (SUST) allows students to develop a broad, interdisciplinary education, while also achieving focused expertise in a career field. With a curriculum that integrates the natural sciences, technology, economics, policy, ethics, and other fields, students are able to pursue either a BS or a BA degree, and undertake focused study on topics such as alternative energy, pollution, conservation, public policy and law, and sustainability management in business and industry.
Professors from every School in the University, from Arts and Humanities, to Business, to Public Health, and Social Sciences teach courses in the degree. This is one of only a handful of Sustainability degree programs in the nation, and is in keeping with Stockton's long-standing commitment to environmental education.
---
About the Program
The Sustainability degree offers exciting opportunities to Stockton students, and complements the University's nationally-recognized programs in Environmental Science and Marine Science. Stockton has long been an environmental innovator, with the nation's largest geothermal system, a pioneering Aquifer Thermal Energy System, and extensive solar energy production on campus. Such resources make the campus an ideal learning environment for such studies. And, with a focus on community engagement and experiential learning, the program expects students to take what they learn in the classroom and apply it in communities and businesses across the state as they learn.
Program Coordinator:
Program Features
The curriculum incorporates a broad conceptual education with the hands-on practices and the skills needed in industry and demanded by employers.
The curriculum is filled with opportunities for community engagement and experiential learning.
Students are required to complete coursework in technology and design, physics, chemistry, mathematics, policy, economics and other areas before they begin their specialized concentrations.
Required concentration options focus on preparing students for professional careers.
Virtual Event
Watch a recording from one of our virtual information sessions.
Curriculum
The program is open to any student admitted to Stockton University. High school course work in the sciences and mathematics is strongly recommended. Students transferring to Stockton in the junior year (64 credits) should consult with a program preceptor as soon as possible to determine whether credits beyond the 128-credit minimum are necessary to earn a Sustainability degree. This is less likely if prospective transfers have taken college Biology, Chemistry and advanced Math courses. Students seeking a nontraditional degree or a second bachelor's degree are also encouraged to apply, although it will not be possible to obtain the regular degree by taking courses only in the evenings.
Curriculum Worksheets
To see the curriculum for your area of interest you'll use the web program, DegreeWorks. This program is accessible even if you are not currently a student with Stockton University. If you are a current student at Stockton University, access your portal for DegreeWorks, then look for the "what if" option to explore the various paths towards degree completion.
New to Stockton or prospective freshman or transfer student:
Current Curriculum & Transfer Equivalency
At the next page you are prompted with three (3) options.

Select

the one that says "continue without signing in."
Respond to each prompt using the pull-down menu in the center of the page. [Please be patient. It may take a few seconds for the system to process your request. If you see a NO symbol, you need to wait a moment!]
Prompts include:
Enrollment dates (Choose intended semester attending)
Intended level (Choose"undergraduate")
What degree you will pursue? (Choose "Bachelor of Science"

or

"Bachelor of Arts")
What is your intended major? (Choose "Sustainability")
What is your intended concentration? (Choose "Policy", "Sustainability Management", "Environmental Quality", "Agroecology", "Conservation & Agroecology", or "Energy")
What is your intended minor? (Choose "none"

or select one

- it is not required)
For prospective students, choose "I'm all done" button.
For transfer students,

use the "class" button to see how courses already taken fit into the Stockton degree path.
You will see an overview of the degree you have selected, including all requirements.
At the bottom of the screen, you could save or print worksheet.
Opportunities

S.A.V.E. Stockton Action Volunteers for the Environment
S.A.V.E. is the oldest New Jersey student run environmental organization. It was organized in 1974 and promotes change in the environment for the benefit of Stockton and the wider community through education about environmental issues, utilization of the knowledge gained to educate others and environmental action. For more information you can contact one of our Environmental Studies Professor.
---
Learn more about the sustainability program ELO's.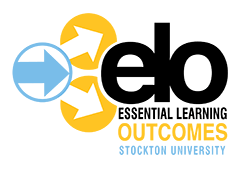 These essential learning outcomes guide all Stockton University students from first-year through graduation to the intellectual and marketable talents needed to prepare for personal and professional success in the 21st century.
Careers
The Sustainability program answers a growing demand by employers for professionals with specialized training in sustainability. As industry and businesses develop a greater interest in their green profile, and as alternative energy and conservation gain prominence, the need for sustainability professionals has grown sharply. This program will help students serve that pressing need. Graduates in Sustainability work across the spectrum, in public agencies, nonprofit organizations, industry, business, public advocacy, education and many other fields. In addition to the concentration, a certificate in Energy Studies is offered.
Sample list of potential careers:
Climate change analyst
Public relations specialist
Renewable energy
Sustainability consultant
Policy specialist
Wildlife ecology
Energy consultant
Wildlife veterinarian
Sustainable agriculture
Environmental specialist
Law
Farming and horticulture
Environmental health science
Environmental engineering
Wildlife Veterinarian
Ocean engineer
Sustainability strategist