Sarah Lipuma
How was your major related to your current work?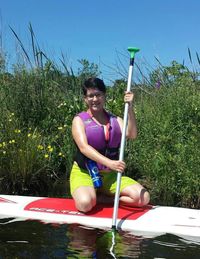 I am working as a research assistant for the Hudson River Foundation. The Sustainability program at Stockton certainly primed me for doing projects that require researching and scanning the web for resources needed by the science director and grant manager here. I am focusing on sustainability in other ways, besides continuing to work for the good of the environment by funding scientific research to improve the Hudson River estuary at my day job. I am also actively involved in promoting climate change adaptation methods through MIT's Climate CoLab contest. I also am living a pretty darn "green" life with fellow alumna Maggie Buford, being vegetarians, composting, and taking the ferry, public transportation, and walking every day. We also have a community supported agriculture share and we are overjoyed we can finally afford to help farmers in the beginning of the year when they need the money most. I really enjoy my job but in a year or two hope to go on to get my graduate degree in policy and or engineering, anything that will lead me in a direction to effect change to sea level rise vulnerability of Eastern seaboard cities and towns.

What was your career path that led you to your current position?
Before graduating, I applied to multiple internships and worked in Idaho for the Student Conservation Association for half a year. I then got an internship in the Hudson Valley for the same organization, which brought me to the Hudson River National Estuarine Research Reserve. Through connections and my technical knowledge of computers, GIS and audio/visual equipment during conferences, I was able to get this position at the Foundation.

Can you talk about the kinds of projects that new hires have worked on this year in your department?
I'm the only new hire in my "department" and have multiple mandates. I am currently working on the Contamination Assessment & Reduction Project for the Foundation, correcting data for a database which tracks trace amounts of PCBs and other chemicals in the water outside of sewage treatment plant outflows to the NY-NJ harbor. I am helping to guide the Foundation and NY-NJ Harbor & Estuary Program through their website re-design. I manage the current website and will soon manage the combined HRF and NY-NJ HEP website, which should be much more useful to the public and scientists. I tracked down what the 40 undergraduate grant recipients of one of our grant programs have been doing over the past 6 years, to determine the effectiveness of the program at introducing young people interested in science on the Hudson to grant writing and research. I have made maps for the locations of this year's oyster reef plantings in Jamaica Bay.

What were some of the most important skills that you learned in the program that helped you in internships as well as your current job?
Research, time management, and open-mindedness (that not everyone has the same opinion as me and that doesn't mean they're wrong – I could be the wrong one, or there could be no clear right or wrong in the situation.)

Describe your favorite part about studying Sustainability at Stockton – either a fun/challenging project, an experience, or working with a certain group.
Obviously I loved finding a group of people with similar values to me who also liked challenging themselves. I know this is very general, but I had so many eureka moments while in my classes, whether while putting together the pieces of a series of thoughts into a cohesive thesis statement instead of just writing fluff to get up to the page minimum, or solving a very challenging physics problem. I think all of my classes and activities at Stockton were both fun and challenging.