Friends of Hellenic Studies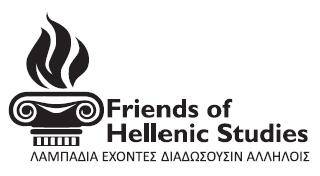 Spring 2023
Mariea Kazantzis and Dr.Katherine Panagakos, Co-Chairs of the Friends of Hellenic Studies
Date and Time

Event
Location
Tue., Nov. 14, 2023 6:30pm

ZOOM Meeting

Zoom meeting hosted by Dr. Panagakos

See minutes from the October 10, 2023 Meeting

See Agenda for the November 14, 2023 Meeting

Tue., Oct. 10, 2023 6:30pm

ZOOM Meeting

Zoom meeting hosted by Dr. Panagakos

See minutes from the April 11, 2023 Meeting

See Agenda for the October 10, 2023 Meeting

Sun., May 7, 2023 2:00pm

The Pontian Spirit-Exploring Hellenism

Campus Center Theater & Event Room, Stockton University - Galloway

Tue., April 11, 2023 6:30pm

ZOOM Meeting

Zoom meeting hosted by Dr. Katherine Panagakos

See minutes from the March 14, 2023 Meeting

See Agenda for the April 11, 2023 Meeting

Tue., March 14, 2023 6:30pm

ZOOM Meeting

Zoom meeting hosted by Dr. Katherine Panagakos

See minutes from the February 7, 2023 Meeting

See Agenda from the March 14, 2023 Meeting

Tue., Feb. 7, 2023 6:30pm

ZOOM Meeting

Zoom meeting hosted by Dr. Katherine Panagakos

See minutes from the January 10, 2023 Meeting

See Agenda from the February 7, 2023 Meeting

Tue., Jan. 10, 2023 6:30pm

ZOOM Meeting

Zoom meeting hosted by Dr. Katherine Panagakos

See minutes from the December 13, 2022 Meeting

See Agenda from the January 10, 2023 Meeting
The Friends of Hellenic Studies work to support the activities of the Interdisciplinary Center for Hellenic Studies as well as provide for scholarships, fellowships and study abroad activities. What follows is a long but as yet incomplete catalogue of fundraisers, community outreach programs and events of the past decade. Images and summaries of many of them can be found in The Hellenic Voice archive. This page will receive updates as more media and information become available and more links become active.

For a list of scholarship winners, please click here.
For a list of Classical Humanities Society speakers, please click here.

Not yet listed here are events from our early years, which featured mostly dinners and guest speakers including:

Dr. Constantine Papadakis, President of Drexel (November 1996. Greek Science in the Hellenistic Age); Dr. George Ahtarides of the Presbyterian Hospital. (November 1997- Medicine in the Ancient Greek World); Archbishop Iakovos (November 1998); Dr. Robert Wright, Dean and Arceologist at Bryn Mawr College (November 1999).
Scholarships are at the core of the efforts of the Friends of Hellenic Studies. Over the years, tens of thousands of dollars have been given to help offset the cost of tuition, as well as send students abroad to Greece, Italy and Turkey. The experiences give them unique advatanges, and spur them on to continuing studies.
The Friends of Hellenic Studies meet monthly in the new Constantelos Hellenic Collection and Reading Room, to the foundation of which they contributed $100,000. They work all year to raise money provide scholarships to students of Hellenic Studies and cultivate the enthusiasm of the Hellenic Studies community.
The current Board Members are:
Tom Papademetriou, Tula Christopoulos, Walter Mularz, Youla Mularz, Christopher Mularz, Eleni Stamelos, Virginia Nikolaidis, Sinthea Obelenus, Katherine Panagakos, Nick Yiannos, Annette Ladicos, Cecilia Drakopoulos, Peter Douvres, Sophia Nichols Karakoglou, Cathy Karathanasis, Mariea Kazantzis and Sarah Albertson.