Byron - 2009
Lord Byron Lives!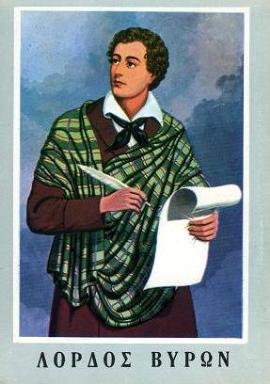 After wrapping up our Spring Event earlier this year and reflecting on the marvellous performance by Yannis Simonides as the Greek general Makriyannis, it seemed as though a follow-up event for the fall might be difficult as Mr. Simonides is a difficult act to follow).
When we learned that our drama department and our own Patrick Judd (one of several students representing Stockton in Greece in 2009) would be performing in Athens at an event commemorating the 200th anniversary of Byron's arrival in Greece, we pinned our hopes on his agreeing to reprise his performance back in the US. The response was swift and affirmative.
So, it is with great pleasure that we announce our 2009 Fall Event: "Greece Holds My Heart and Soul: Byron's Letters from Greece." To add to that, we are additionally thrilled to have - at the same event- the Hellenic Dancers of New Jersey who will be performing dances from various regions of Greece.
Press releases, images from the event in Greece and event information can be found in these pages. If we can track them down, we might even get an interview with some of the key people of this production. Until then, enjoy the pages and, as always, please feel free to contact us at ichs@stockton.edu for additional event information and tickets.
"Athens Holds My Heart and Soul"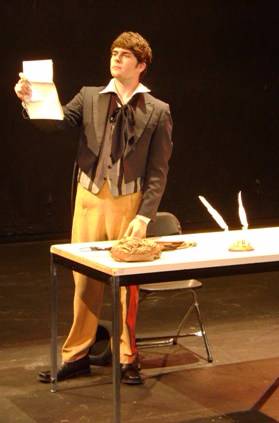 This is the second time that ARHU has sent a party of intrepid faculty members and students to Athens, Greece, to perform a play and participate in a conference. Last year we were able to send a large party over, with the support of the Interdisciplinary Center for Hellenic Studies (ICHS), to put on Pam Hendrick's production of O'Neill's "Desire Under the Elms." This time round, once again with the backing of the ICHS, we have sent a smaller group to bring a one-man play of Byron to the 35th International Byron Conference on "Lord Byron and History"; David Roessel (Associate Professor, LANG) is also presenting a paper at this conference, entitled "Byron and George Finlay."
The play itself – "Athens holds my Heart and Soul" – was assembled over the last few months by David Roessel, Mark Mallett, and Patrick Judd. It is based upon the letters of Byron and the poems he wrote during his first trip to Greece between 1809 and 1811. David, Mark, Patrick, and Jaaron Boger (the stage manager) were to be found throughout the summer working on revising and rehearsing the script, providing accent training for Patrick (what accent would Byron have had?), and a great deal of work was undertaken in producing a piece that would be both informative, based on appropriate scholarship, and entertaining. Like the previous one-man production to come from David Roessel and Mark Mallett, Jaaron's production of Langston Hughes's letters and poems, this one promises to be a success.
The build up has been fraught with difficulties. The dress rehearsal was well attended by the Theatre Club members and some faculty. Overall it went well, but Patrick Judd had to overcome an issue with the props – the letters having been placed on the desk out of order. As if we had a particularly disorganized Byron before us, Patrick managed to convince almost everyone that there was nothing untoward about this. The plan, though, is to forego this experience in Athens!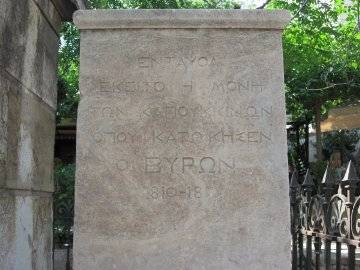 The party left for Athens on Friday, September 4, 2009. Traveling to Newark Airport, the first wave, Mark, Patrick, and Jaaron, soon confronted their first problem – the fact that Jaaron's passport had fallen out of his bags in his dormitory room. The party became a pair, after some very skillful negotiating from Mark secured Jaaron a seat on the following days flight. Lengthy disquisitions about how difficult the budgets at New Jersey colleges are, and various other strategies (most notable of which was a pleasing disposition), achieved this great feat without even an additional charge.
And this is where our emails from Mark Mallett (channeling Walter Cronkite) begin. He and Patrick had just arrived and Mark sent us word to let us know that at least the first hurdle had been crossed.
From Mark Mallett (Associate Professor, Performing Arts):
Day 1. Saturday, September 6, 2009
This just in –
The first wave of the assault team in Operation Childe Harold landed on the Athenian front this morning and, meeting little resistance, soon swept to the heart of the olde city (sorry, once you start adding "e's" it's harde to stoppe).
Pat and I are now checked in at the Hotel Cypria, have had some breakfast and are catching a quick R&R before running lines for a while. I've made contact with the elusive Dr. Papademetriou (yes, Virginia, he does exist) and we're planning to meet for dinner later this afternoon/evening).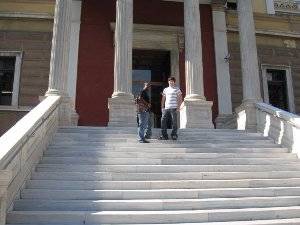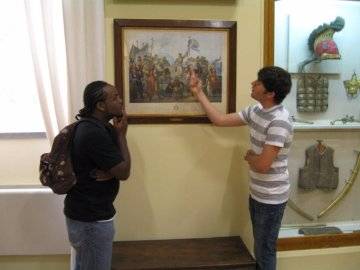 Athens is lovely, temperature's a mild low-90's and the hills are as steep and slippery as ever (whatever possessed those early Hellenes to pick this piece of rock, I wonder?).
Expectations are that Jaaron will be on this afternoon's flight. I'm given to understand that that is also David's flight.
Day 2. Sunday, September 6, 2009
Ok, the second wave has arrived, and all seem to have weathered the flight well. Jaaron is now reunited with Pat and we've had a chance to reconnoiter the performance space. I've attached a few pix, and will send more later.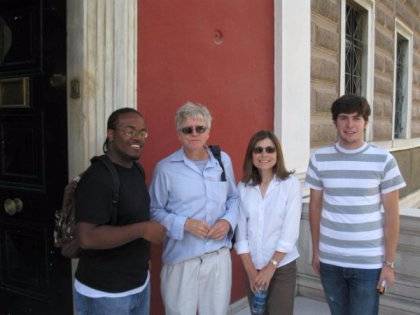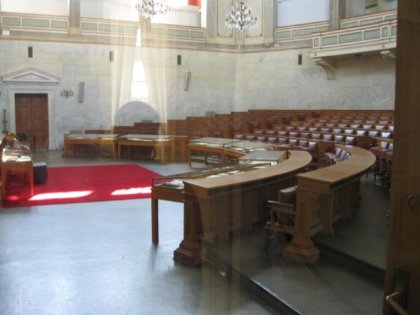 Tom met Pat and me last night, and after a stroll of the Plaka we ended up back in the area of Monastiraki, where Tom bought us an authentic Greek dinner. Patrick & Jaaron are actually headed back up to the neighborhood of the Hotel Evripedes at the moment, where they remember a particular steak-and-salad restaurant they liked.
David is taking us to see the Capuchin Convent this afternoon, as it is mentioned in a couple of the letters we're using.
The performance was truly a success, and Pat was as on as I ever have seen him! The still pictures are such poor representations of the event . You can see in one that in addition to the usual issues an actor has to deal with, a couple of photographers/videographers behaved as if it were a press conference and not a dramatic performance. On the other hand, there is a full video recording of the morning's proceedings, and perhaps the question of obtaining a copy might be pursued?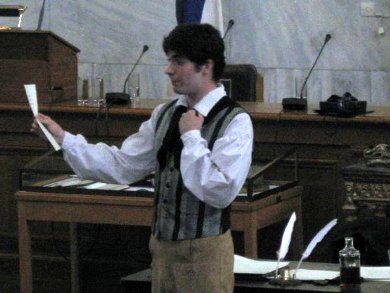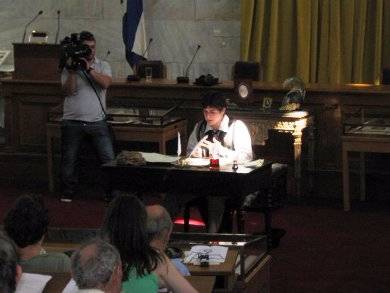 One other feature that I will point out: in the photo "Distractions," you'll see the bac of the slightly balding pate of a gentleman opposite Pat. This is the current Lord Byron. He took pains to introduce himself to Pat and Jaaron later in the evening, at the British Embassy reception, and from what the lads tell me, was quite complimentary of both the performance and the production.
It's something of a free day, today, at least for us Theater folk. Iosif Vivilakis is meeting with us this afternoon to discuss the exchange program, but that's most of the agenda. I'm planning on meandering aimlessly, stopping for coffee from time to time, and trying to come to grips with the idea that it's almost over already ...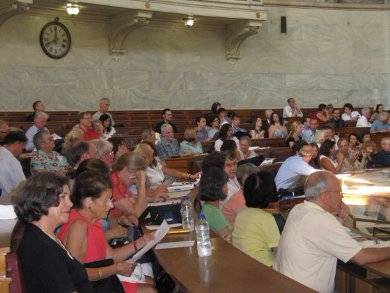 Though, on the other hand, I do look forward to returning home and getting the semester off to a real start!
Congratulations to one and all!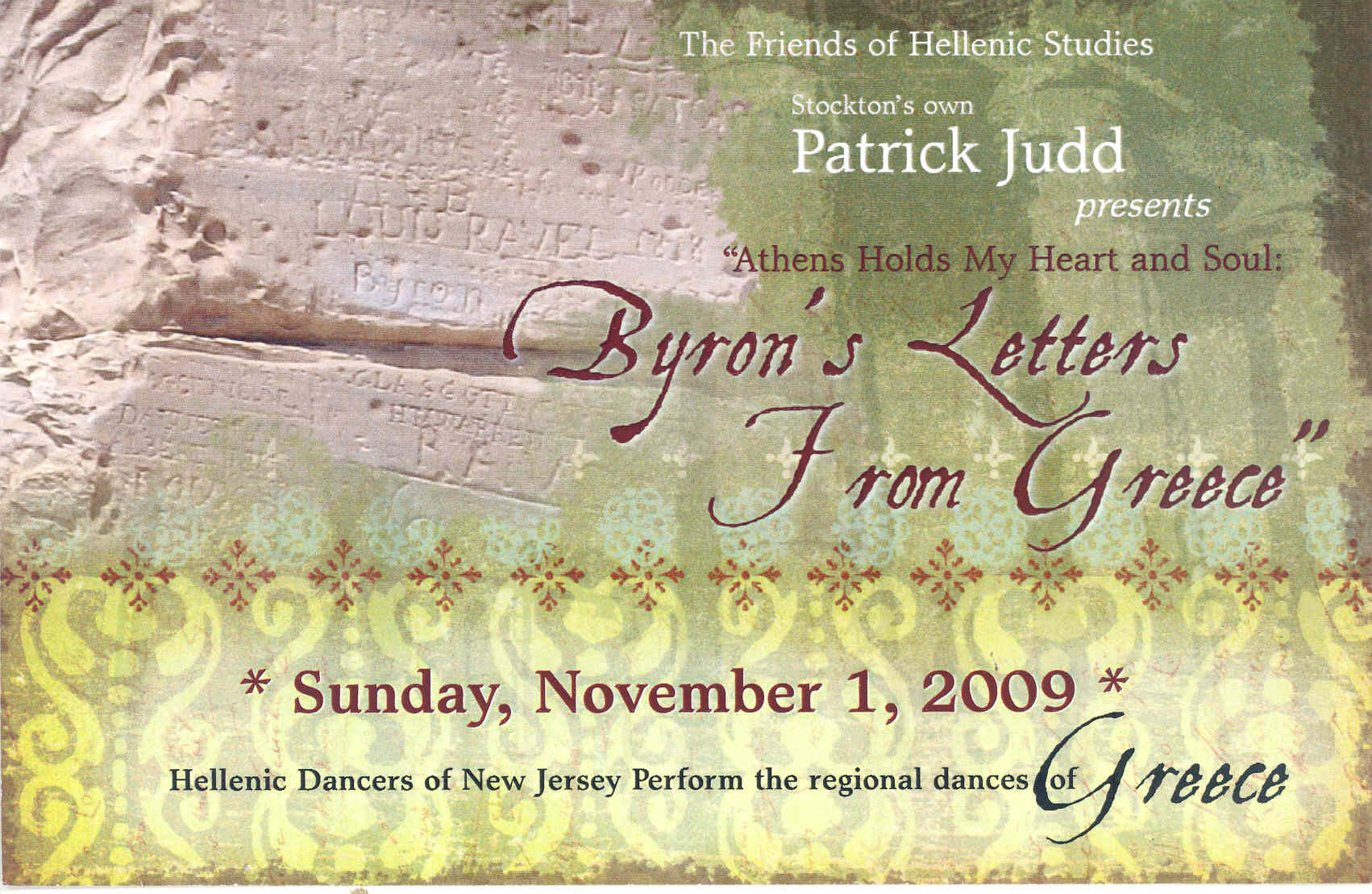 On Sunday, November 1, 2009, at 3 PM, the Richard Stockton College Friends of Hellenic Studies will present "Byron's Letters from Greece," a reading of some of Lord Byron's works which will be performed by Stockton theater student Patrick Judd. In addition, the Hellenic Dancers of New Jersey will perform the regional dances of Greece. The event will take place in the Stockton Performing Arts Center (PAC) and the ticket price includes a Mediterranean buffet lunch at 2 PM, prior to the performance.
This event will have its premiere in September at the National Historical Museum of Greece as part of the International Byron Conference. Stockton's November event will present it in celebration of the 200th anniversary of Lord Byron's first trip to Greece which inspired him to write poetry about the country. Lord Byron was a Philhellene, meaning one who sympathized with the Greeks in their effort to free themselves from the Ottoman occupation in 1821 and who helped them restore the Greek nation. The word literally means one who loves all things Greek.
George Gordon Noel Byron was an English poet of the Romantic era. He was born in London in 1788 and traveled the circle of other well-known British poets such as Mary Shelley, who wrote the story of Frankenstein. One of Byron's children, Ada Lovelace, distinguished in her own right, collaborated with Charles Babbage on the analytical engine, a predecessor to modern computers.
Byron's strong convictions regarding political justice eventually led him to fight with the Greeks in their quest for independence. In 1824, he and the Greek statesman, Alexandros Mavrokordatos planned an attack on a Turkish-held fortress, but Byron died of a fever at Missolonghi, Greece before it could happen. His body was brought back to London where he is buried. The name Byron quickly became popular among Greeks and it is said that, had he lived, he might have even been crowned king of Greece.
Stockton professor Mark Mallett who also directs, created the script from Byron's writings along withJudd, Professor Robert Gregg (Dean, Division of Arts and Humanities) and Professor David Roessel. Jaaron Boger is the Stage Manager.
The Hellenic Dancers of New Jersey is a group of first, second and third generation Greek-Americans dedicated to perpetuating their heritage through enthusiastic performances of the regional folk dances of Greece. Master Instructor Eleni Chakalos leads them in more than 300 dances, songs, and related traditions. They've performed for presidential inaugurations, won first prize at the Garden State Arts Center intra-State Competition and danced at the Closing Ceremonies of the 2004 Olympic Games in Athens.
Tickets are $35 for adults; $30 for FHS members and $15 for students. There is no charge for children under 12. For more information, please contact Dawn Kanaan, (609) 652-4830 or email her at dawn.kanaan@stockton.edu.
While I have attempted exactly zero credit hours on any academic transcript in the performing arts and have little more experience wtih drama production other than what high school drama club had to offer, I am no stranger to the theater. From the Ithomean Odeon in Messenia to the Haymarket Theater in London, from the Shubert in New York to Kabukiza in Tokyo, I have seen a fair share (though never enough) of plays and musicals. So, when I suddenly found myself working on the announcements and website for the upcoming Stockton performance of Byron's Letters from Greece, I decided to ask GWB (google - wiki - bing) what this play was. When that search yielded nothing useful, I took seventeen bold steps out of my office, around the corner and down the hall to the office of Mark Mallett who, among many other things, is the director of the play and a very busy person. He graciously gave me time he did not have and is thanked here for his generosity.

He credits David Roessel with being the originator of the idea of a Byron play. There was the very convenient fact of the 200th anniversary of Byron's arrival in Greece which provided a welcomed setting. The play, he says, is an original work which was not written by Roessel and him, but adapted from among Byron's many writings from his first stay in Greece. Drawing on letters, manuscripts and poetry, the goal was to "...create a collection of Byron's words that had a dramatic arc...in Greece," showing Byron in eastern Europe in his development as a philhellene. The hope was to give Byron a third dimension to make him presentable to an audience.
When it comes to Greece and all things Greek, most attention is usually directed to the Classical and, to a lesser degree, Byzantine, studies. People may be surprised to learn that Byron's philhellenism was unique in that it specifically orbited modern Greece. This play will serve to bring that philhellensim to light as he tells the audience, in his own words, what he thinks and feels about the Greece of his day.

I know less about Byron than I do about drama. Had he left behind so much material? Indeed, he wrote a great deal. He is remembered as a poet but his plays do not appear to have received much attention. More importantly, he wrote a great deal of letters throughout the course of his upward social mobility. He was not English and used his letters as a form of self-promotion.

Byron's being an outsider (both in England and Greece) is just the beginning of what was historically a very complex character. Described by a former secret lover as "...mad, bad and dangerous to know," there were many facets to Byron. Would we see him in this production? The Roessel/Mallett adaptation was originally much longer but had to be cut - virtually in half - to meet the constraints of the event at which it was presented in Greece. Byron's social and sexual criticisms, to say nothing of his sarcasm, were mostly removed in order to focus on him in Greece and his growing philhellenism.

What is truly interesting about the concept behind the play is that it has expansion ports for additional acts which will be added in the future. Mallett says it may ultimately be the middle act of a three-act play. Further, as it is now in its shortened form, with Patrick Judd as Byron, this piece will grow and morph into something bigger and different each time it returns. The play as it will be staged on November 1st may be different from the next time it is performed as the work is passed on. Of course, this is hardly surprising to him because, as he explains, every show is different every day. (My first lesson in drama)
I was curious to know a little more about directing a one-man play. It is neither more nor less work, he says, "...'it is simply different," but no less rewarding.

Mark, Assistant Professor of Theater Arts, has worked with the ICHS before on productions of The Odyssey (2005) and Desire Under the Elms (2008) which was performed in Greece at our Delphi Symposium. As appreciative he is of the opportunity to have worked with Roessel and Judd, the support of the Friends of Hellenic Studies and the collaboration with the Interdisciplinary Center for Hellenic Studies, we are grateful for his efforts and his taking the time to sit down and shed some light on the Byron production.

The play, Byron's Letters from Greece, will be performed on November 1st, 2009 at the Stockton College Performing Arts Center.