Strategic Planning Flowchart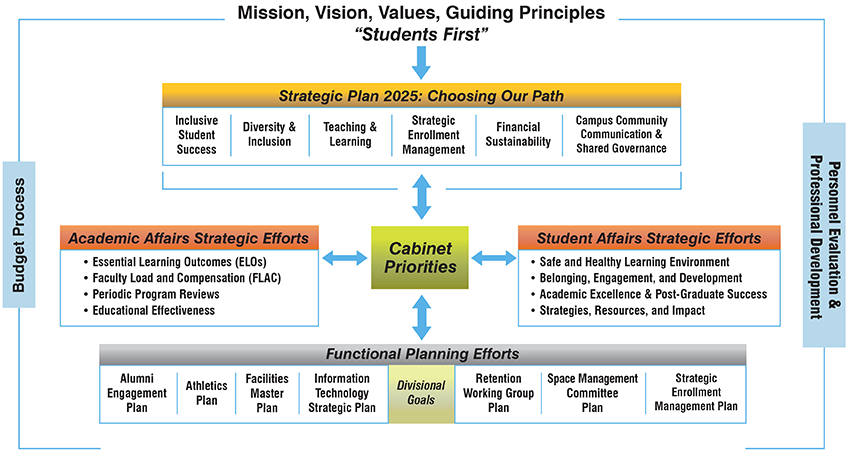 Stockton University's newest institutional planning process took place over several years, beginning in May 2017 with the launch of new mission, vision, and values statements. Under Stockton president's leadership, the University remains committed to the principle of "Students first; vision and strategy follow."
Stockton's latest strategic plan builds upon essential themes from the University's mission, vision and value statements and includes six key areas of focus: Inclusive Student Success; Diversity & Inclusion; Teaching & Learning; Strategic Enrollment Management; Financial Sustainability; and Campus Community, Communication & Shared Governance.
Stockton's Cabinet prepares an annual set of priorities and goals which help connect the University's strategic plan with both divisional and functional planning efforts. Cabinet priorities can be adjusted to help the University respond to emergent opportunities or challenges.
The Division of Academic Affairs includes the academic Schools and the Office of the Provost as well as the academic centers, institutes, and offices. This Division carries out the University mission by:
Overseeing and supporting both undergraduate and graduate academic programs to ensure a high-quality education.
Fostering faculty excellence and achievement to promote the highest standards of teaching, research, and service.
Managing academic support services to promote student success.
Coordinating a variety of centers and institutes, as well as the Office of Continuing Studies, to complement and enrich the university's primary academic programming.
Advancing university outreach to local community, state, national, and international communities.
The Division of Student Affairs is comprised of offices that collaborate with University and community partners to help students successfully navigate their initial enrollment and financing of their education; academic and social transition to Stockton; connection in residential learning communities; holistic health and wellness; and leadership, professional and career development.
Functional Planning Efforts
As part of the Division of Administration & Finance, the Office of Budget & Fiscal Planning is responsible for preparing and managing the operating and capital budget of the University and insuring that internal and external reporting requirements are maintained. Budget & Fiscal Planning works with every department of the University to insure that there are adequate funds for staffing, maintenance, and capital projects within approved budget parameters.
The PAR (Performance Assessment Review) is the performance review system used for all classified employees. PAR provides an excellent opportunity for an employee and their supervisor to communicate about job performance, job satisfaction, and plans for the employee's future performance.
The education and training of Stockton's employees enhance both individual and organizational performance. This enables the University to achieve our institutional goals. Therefore, it is the commitment of the University to train and develop our employees to improve their skill and ability in both their current position and for future promotion.