Stockton News - Friday, March 15, 2019
WHAT WE'RE TALKING ABOUT
Rowing Growing by Leaps and Boats at Stockton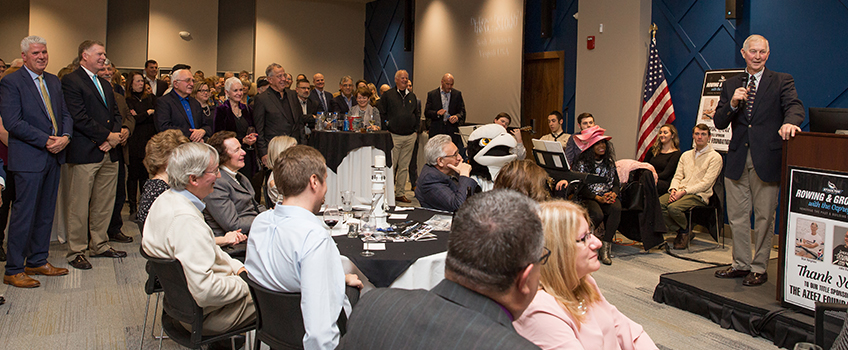 Stockton University officially kicked off its drive to build a national powerhouse rowing program March 8, and the local rowing community came out in force to support it.

More than 200 people, many of them former local rowers, packed the Fannie Lou Hamer Event Room at Stockton University Atlantic City to celebrate local rowing legend Stan Bergman and raise funds for Stockton's rowing program.
The Press of Atlantic City and Downbeach.com featured the kick-off event.

John Bancheri, former Atlantic City High School rower and now the first full-time rowing coach at Stockton, sat down with Comcast Newsmakers on Feb. 27 to talk about the exciting rowing program.
Mark your calendars: The first home race will be held on Sunday, March 24 in the back bay of Atlantic City with Cabrini College and the University of Rochester.
---
Middle and High School Students Hit High Notes at Music Festivals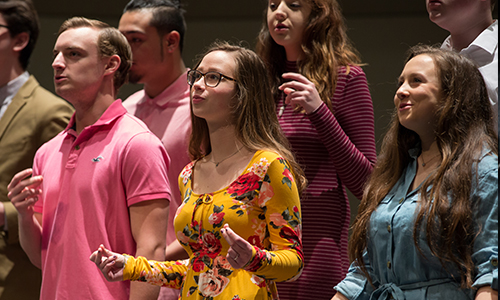 Middle and high school music students from more than 20 schools in New Jersey and Pennsylvania shared their talents and learned from professionals on March 11 and 12 at two special Stockton University programs, Choral Day and the Jazz Festival.
"We are so excited to welcome so many wonderful choirs," said Beverly Vaughn, professor of Music. "Enjoy singing! Enjoy the choral activities! Enjoy Stockton!"
---
Ospreys Take Flight for Spring Break Volunteer Trips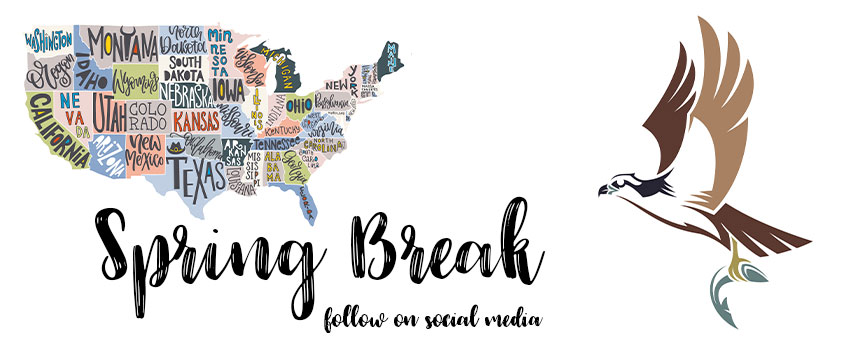 Check back next week to see what Ospreys were up to during Spring Break, including a trip to Greece, Florida and Colombia.
This year's Alternative Spring Break (ASB) volunteers were in Delaware and North Carolina to building homes with Habitat for Humanity. Their stories were highlighted on Instagram throughout the week.
STOCKTON UNIVERSITY ATLANTIC CITY
Catch a Movie Next Week
"AC Campus Movie Nights: Cinema in the City" is featuring Aquaman at 8 p.m. on Friday, March 22, in the Stockton University Atlantic City residential classrooms B119/120. Attendees are asked to bring their Stockton IDs.
For more events happening at Stockton University Atlantic City, visit the online calendar.
SPOTLIGHT ON
Gray Publishes Inspirational Memoir to Motivate Others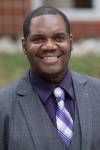 John E. Gray, who has been assistant dean of Education at Stockton University for two years, recently published "Quitting Was Not an Option!" Gray of Newark said the book is an inspirational memoir and comes from a lived experience.
"I wrote it to inspire and encourage those who have faced what appeared to be insurmountable odds in their life. Where you begin in life does not dictate where you end up," Gray said. "The overall message is that everyone faces adversity but we do not have to let adversity dictate our destiny."
Gray recently held book-signings on March 13 at Second Baptist Church of Atlantic City and March 16 at Sugarpuddins Restaurant in Lindenwold. His future plans include writing a follow-up to this book.
FRAME-WORTHY
Celebrating the Pine Barrens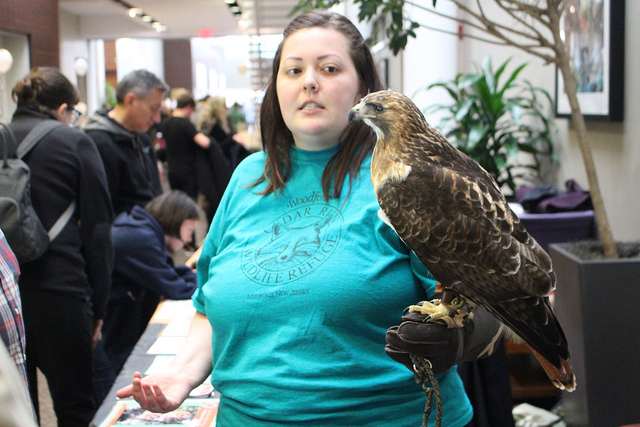 Last weekend, South Jersey celebrated the Pine Barrens at Stockton with two unique events: The 30th annual Pinelands Short Course on March 9; and the 14th annual Lines on the Pines fair and celebration on March 10. This year's Pinelands Short Course attracted some 580 people to 36 programs, and several hundred more attended the Lines on the Pines.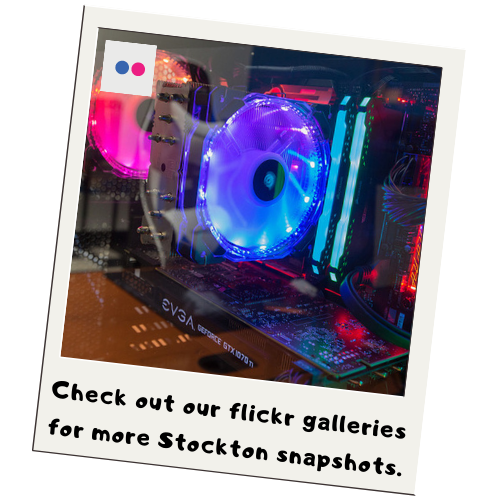 Saturday's program included indoor workshops and outdoor tours.

Sunday's event, the second held at Stockton, attracted almost 100 vendors including artists, writers and craftsmen; local historical societies, therapy dogs and more.
Philly.com and the Press of Atlantic City covered the event.
WHAT'S TRENDING #STOCKTONU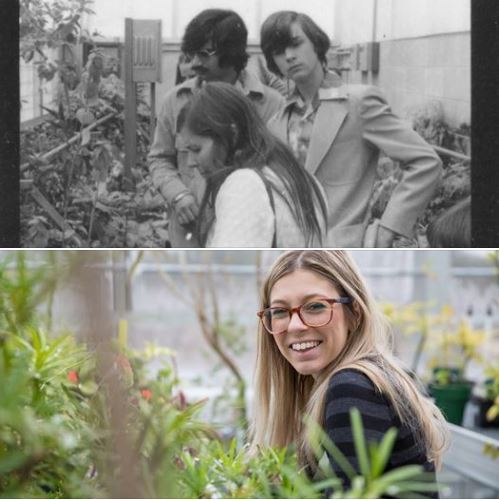 Facebook: #StocktonThenAndNow: With the addition of the Academic Quad, Stockton's greenhouse has a new home in the Unified Science Center 2. If you drive by at night, you can't miss the golden glow of the lights.
THE SIDELINES
Spring Break Sports Highlights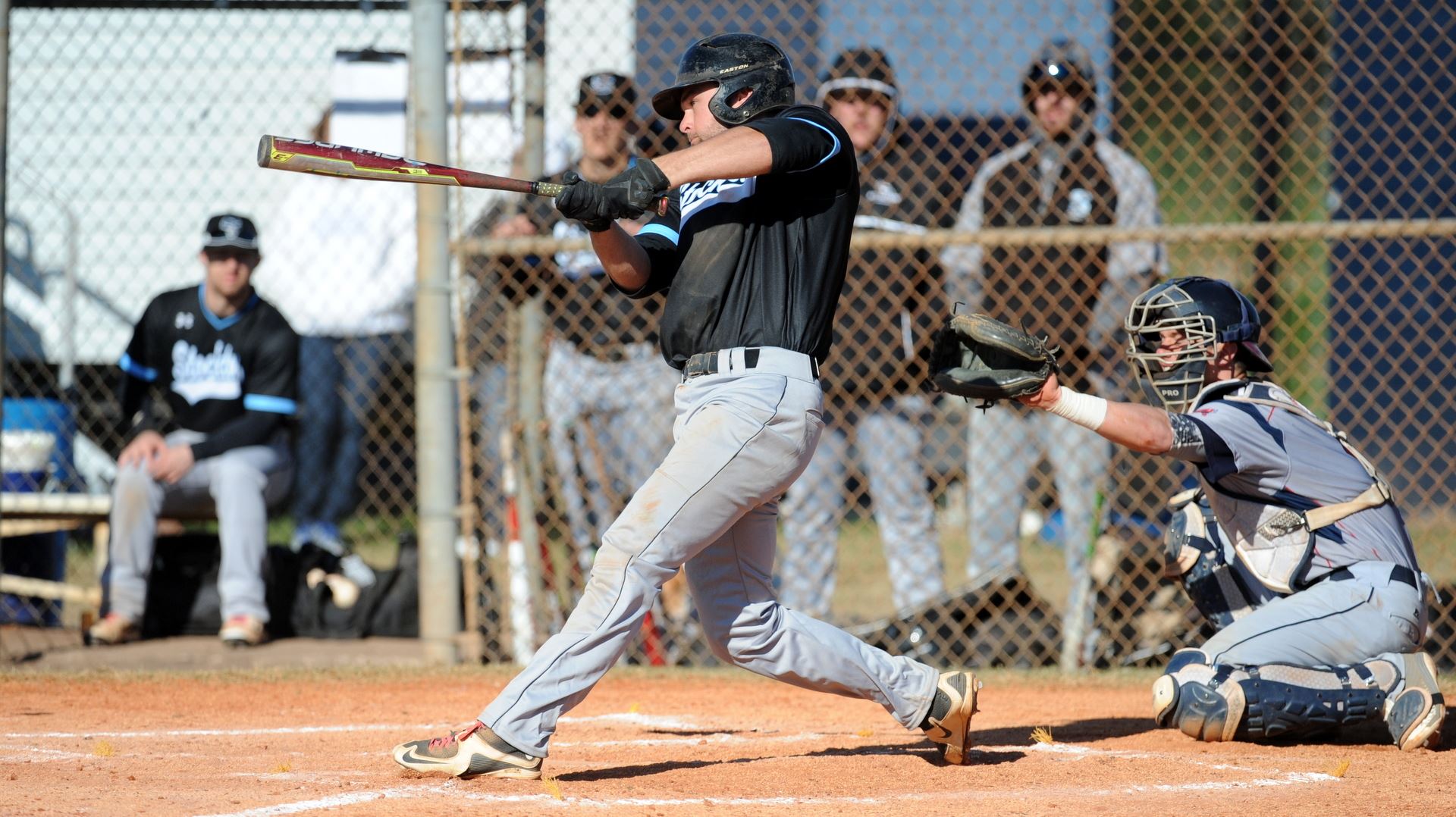 It's been an exciting week for sports during Spring Break: Stockton University's baseball team opened up its five-game spring break trip with a sweep of Penn College by scores of 4-2 and 16-5 to remain unbeaten for the season; and softball player Alexandra Cosenzohit her school-record 17th career home run in a game on March 12, in Clermont, Florida; The Press of Atlantic City posted about the news. The baseball team stayed perfect on the season with a 14-1 win over Lancaster Bible in the last contest of the Ospreys' five game southern trip. Seven of Stockton's nine starters had multiple hits and three Ospreys pitchers combined for 10 strikeouts.
Women's tennis won all but two of the nine matches to post its second straight win, 7-2 over St. Mary's on March 13 in Hilton Head, South Carolina; and Marc Renee Wornowicz and Sarah Richardson won matches in both singles and doubles. The team concluded the 2018-19 season with a 9-0 shutout of Marietta College that was the third straight win for the Ospreys. Stockton finished with a double-digit win total for the first time since going 10-5 in 2014-15.
Men's lacrosse broke open a close game by outscoring McDaniel College 10-1 in the second half to remain unbeaten with a 15-5 victory on March 13 at Westminster, Maryland. The Ospreys used a balanced attack, with seven different players scoring a goal.
OSPREY NOTES
FAFSA Fridays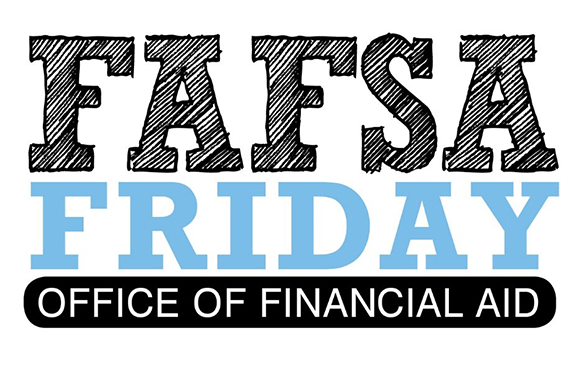 Do you have students who are looking for financial aid assistance? The Office of Financial Aid is hosting "FAFSA Fridays" from 11 a.m.-1 p.m. every Friday, through April 19, in the F114 computer lab to assist students with the financial aid process. Returning students need to file their FAFSA applications by April 15 and answer their additional questions on NJFAMS in order to be considered for the State Tuition Aid Grant (TAG). If they fail to meet this deadline, they will not be considered eligible and may miss out on free money to pay for school.
Stockton Police Department Receives Reaccreditation
Stockton University President Harvey Kesselman announced in an email on March 15, that the campus police department recently received their reaccreditation from the New Jersey State Association of Chiefs of Police (NJSACO).

Receiving this reaccreditation results in greater accountability within the department, reduced risk and liability exposure, stronger defense against civil lawsuits, increased community advocacy, and more confidence in the department's ability to operate efficiently and respond to the needs of the community. It is valid for a three-year period during which time the agency must submit annual reports attesting to their continued compliance with those standards under which it was initially accredited.
Choose Summer at Stockton
Stockton's summer sessions are open to undergraduate and graduate students enrolled in degree programs, non-matriculated students, and students currently enrolled at other institutions who wish to study during their summer break and transfer Stockton credits.
UPCOMING EVENTS
Friday, March 22-Saturday, March 30: Access Week
Wednesday, March 27: 10 a.m., Flags for Forgotten Soldiers, front of Galloway Campus Center
Thursday, March 28: 4:30 p.m., Annual Tuition Hearing, Galloway Campus Center BOT Room
Thursday, April 4: 3-6 p.m., Transfer Information Session, Stockton University at Manahawkin
Sunday, April 7: Open House
Wednesday, April 24: Graduate Research Symposium