Middle and High School Students Hit High Notes at Music Festivals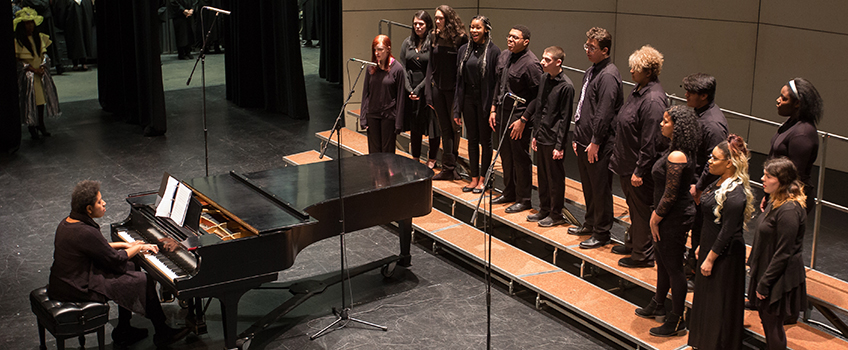 Galloway, N.J. – Middle and high school music students from more than 20 schools in New Jersey and Pennsylvania shared their talents and learned from professionals on March 11 and 12 at two special Stockton University programs, Choral Day and the Jazz Festival.
"We are so excited to welcome so many wonderful choirs," said Professor of Music Beverly Vaughn. "Enjoy singing! Enjoy the choral activities! Enjoy Stockton!"
Choral Day featured eleven high school choirs, which performed a diverse selection of music ranging from gospel hymns to Stevie Wonder covers. Some groups accompanied their numbers with claps, stomps, and spins for dynamic effect.
After each performance, the event's adjudicators, Kathleen Spadafino, the Choral Procedures Chair of the N.J. Music Educators Association (NJMEA) and Charles Bass, the choir director of Perfecting Church, provided feedback to both students and their directors. Groups were judged on their tone, synchrony, and other performance attributes.
Vaughn concluded the program by leading a rousing rendition of Odetta's "This Little Light of Mine," in which all students participated, swaying the flashlights on their ph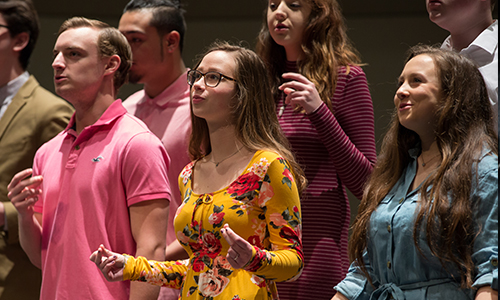 ones in the air to the beat of onstage drums.
The event was non-competitive, and students cheered each other on during performances, hollering their approval of a particularly well-sung performance.
"I've been participating in this event for four years," said senior Cedar Creek High School soprano Rebecca Hennessy. "I've always had a passion for music, and I love being around other people who have passion for music. It's really interesting to hear other people's interpretations of music and get to experience other styles."
On Tuesday, middle and high school jazz bands had their turn to perform and receive feedback at the fourth annual "Jazz Festival" coordinated by Christopher DiSanto, Stockton Associate Professor of Music, Keith Hodgson, Director of Music Education at the University of the Arts in Philadelphia, and Ed Vezinho, who teaches jazz composition at Rowan University.
"We want you to have a fun day, perform well, meet new people, and hopefully be inspired by the jazz you hear, and strive to become better musicians," said Hodgson.
Eleven New Jersey schools participated in this event. They performed compositions of all jazz styles, written by famous musicians like Arthur Hamilton and Mercer Ellington.
Adjudicators Dean Schneider, a pianist, arranger, and musical director, George Rabbai, Rowan adjunct professor of jazz trumpet and improvisation, and Vezinho provided feedback to each band on tone, synchrony, pitch, and other related musical elements.
The festival coordinators often stressed the importance of supporting one another, and the bands obliged.
"This event was awesome," said eighth grade alto saxophone player Owen Dodd from Carusi Middle School in Cherry HIll. "We got to hear amazing music from amazing musicians, and we got the chance to play in front of an audience."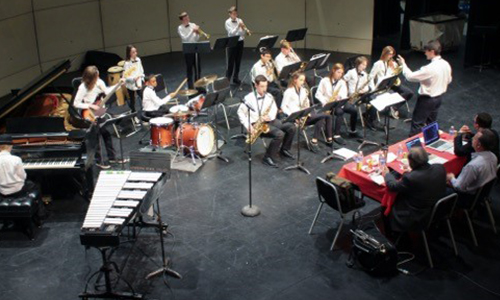 The schools involved in the programs were:
Choral Day: Atlantic City High School (Atlantic City, NJ), Buena Regional High School (Buena, NJ), Cedar Creek High School (Egg Harbor Township, NJ), Charter Tech High School for the Performing Arts (Somers Point, NJ), Cumberland High School (Bridgeton, NJ), Oakcrest High School (Mays Landing, NJ), Overbook High School (Pine Hill, NJ), Pine Forge Academy (Pine Forge, PA), Southern Regional High School (Manahawkin, NJ), Vineland High School (Vineland, NJ), and Williamstown High School (Williamstown, NJ)
Jazz Festival: Mainland Regional High School Pep Band (Linwood, NJ), Pleasantville High School (Pleasantville, NJ), Egg Harbor Township High School (Egg Harbor Township, NJ), Walnut Street Middle School (Delanco, NJ), Carusi Middle School (Cherry Hill, NJ), Rosa International Middle School (Cherry Hill, NJ), Southern Regional High School (Manahawkin, NJ), Rancocas Valley Regional High School (Mt. Holly, NJ), Mainland Regional High School Jazz Express (Linwood, NJ), Northern Burlington High School (Columbus, NJ)
View a gallery of photos from Choral Day.
View footage of the Jazz Festival on the Stockton University Youtube channel.
Reported by Kat H. Wentzell.
# # #
Contact:
Diane D'Amico
Director of News and Media Relations
Stockton University
Galloway, N.J. 08205
Diane.DAmico@stockton.edu
609-652-4593
609-412-8069
stockton.edu/media