Stan Bergman Honored at Rowing and Growing Event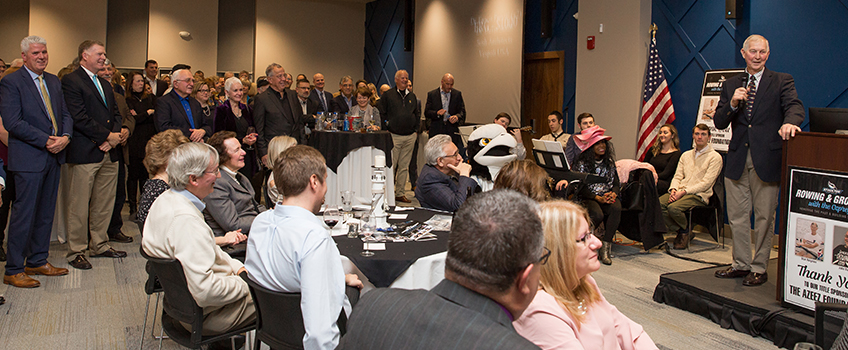 Atlantic City, N.J. – Stockton University officially kicked off its drive to build a national powerhouse rowing program Friday and the local rowing community came out in force to support it.
More than 200 people, many of them former local rowers, packed the Fannie Lou Hamer Event Room at Stockton University Atlantic City Friday night to celebrate local rowing legend Stan Bergman and raise funds for Stockton's rowing program.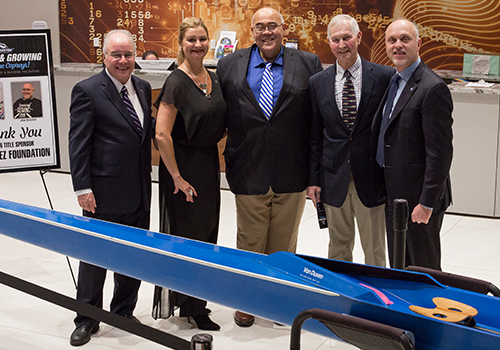 Before the evening was over, funds had been committed to add three new varsity 8 shells and other equipment to Stockton's program.
"We are giving back to a community that supported us as adolescents and young adults," said Karen Alton, granddaughter of Elizabeth Alton, a driving force behind Stockton's founding. "With your help Stockton will win a national championship."
Alton announced to thunderous applause that the Alton and Endicott families would provide the funds for two varsity 8 shells. The shells cost about $40,000 each.
Karen Alton said she was humbled to represent her family at the event.
"My grandparents, Elizabeth and John, used to watch the boats rowing on the back bay, and we are part of the history of rowing in Atlantic City," she said. "Our wish is that this will help develop a championship program."
Alton also shared a message from her aunt about how Elizabeth Alton always strove to make the possible from the seemingly impossible. She challenged Stockton to see what could be possible for Stockton rowing and keep raising the bar.
Speakers said Bergman set the standard for developing great rowers and serves as a role model for the Stockton program.
"His core values coupled with his core knowledge of the sport made his teams successful," said former Brigantine mayor and rower Philip Guenther, who introduced Bergman. "I've never met anyone else who has the ability he has to bring out the best in those around him, his ability to inspire and make a commitment to excellence, to working hard, and to being a good teammate."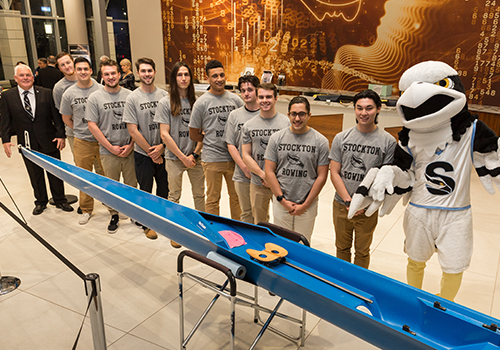 Equal applause greeted the announcement that Horizon Blue Cross Blue Shield of New Jersey would underwrite the cost of a varsity 8 shell to be named for Bergman.
"This contribution is about being a partner in the community and a partner with Stockton," said Jonathan Pearson, executive director and director of Corporate Social Responsibility at Horizon Blue Cross Blue Shield of N.J.
Bergman said while it is nice to win, he feels most fortunate to have had a career in teaching and coaching that allowed him to be an influence on young people. He thanked his family for their ongoing support over the many years.
"As a coach you put a lot of time in with other people's kids" he said.
He credited Dr. John Holland, founder of the Viking Rowing Club in Ventnor, which changing his life by encouraging him to become the coach at Holy Spirit High School at age 24. He later went on to coach at the University of Pennsylvania.
STAN BERGMAN
Stan Bergman coached for 22 years at the University of Pennsylvania and 20 years at Holy Spirit High School.
He coached five U.S. Olympians and received four Coach of the Year awards from the Eastern Association of Rowing Colleges while at Penn. He guided the Quaker heavyweight team to the 1991 national championship, IRA Championship titles in 1989 and 1992, as well as four Eastern Sprints titles (1986, 1991, 1996, 1998).
His teams competed in the Henley Royal Regatta in England multiple times. He also served as Director of Rowing Affairs at Penn. In 2017, Class Day, a long-standing Penn Rowing tradition, was renamed Stan Bergman Class Day.
Bergman began coaching at Holy Spirit in 1964. After a one-year stint as an assistant coach at Columbia University, he returned to Holy Spirit until joining the Penn staff in 1977. He coached Holy Spirit and Viking Rowing Club from 1979 until his return to Penn in 1984. His teams at Holy Spirit won the Henley Royal Regatta in England four times and 18 boats won national scholastic championships under his direction.
A long-time chief of the Ventnor City Beach Patrol. Bergman started rowing as a lifeguard and under Dr. John Holland, a founder of the Viking Rowing Club in the 1950s.
"He saw something in me at 24 and he changed my live," Bergman said. He said Holland "talked Atlantic City High School and Holy Spirit into starting crew" and the sport grew from there through Atlantic County.
Bergman also commended Stockton on its commitment to developing a championship collegiate rowing team and its hiring of John Bancheri, a former Atlantic City High School rower, as the first full-time rowing coach.
"He is one of the best in the nation," Bergman said of Bancheri.
Bancheri thanked Stockton for giving him the chance to come home and develop a national championship level "Osprey Navy." He said along with coach men's coach Brian Cress and assistant coaches Joe Walsh and BJ Fox, they bring more than 150 years of coaching experience to Stockton.
"It's happening a lot faster than we thought it would," Bancheri said noting that 21 girls were headed to Florida for a competition, double the size of the previous women's s squad. He thanked the donors for the support, and noted that now that they were getting three new boats, they also needed a trailer.
"My mission is not just to win," Bancheri said," but also to grow the spirit of rowing in the area."
He said the first home race would be March 24 in the back bay of Atlantic City with Cabrini College and the University of Rochester.
"You guys are headed in the right direction," said longtime Atlantic City High School coach Bob Garbutt. "I am so excited for Stockton rowing."
Stockton President Harvey Kesselman said when the university opened the campus in Atlantic City and decided to develop a national caliber program they contacted members of the local rowing community for advice and assistance.
"I pledged we would build a program we would be proud of, but we knew we couldn't do it alone," he said. "We need the support of our rowing community. We do have national caliber level supporters."
In addition to the Altons and Horizon, major donors at the event were the Azeez Foundation, former Sen. Bill Gormley, Calvi Electric, Marathon Engineering and Environmental Services, George Miller, Margie and Jack Plackter, Dr. Francis Previti, Dr. David Smith and SOSH Architects. Previti and Smith were named honorary team physicians.
View a gallery of photos from the event.
# # #
Contact:
Diane D'Amico
Director of News and Media Relations
Stockton University
Galloway, N.J. 08205
Diane.DAmico@stockton.edu
609-652-4593
609-412-8069
stockton.edu/media