Hundreds Gather to Celebrate the Pine Barrens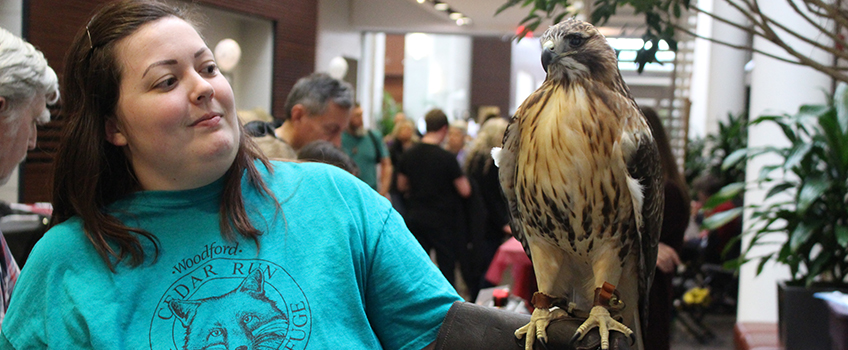 Galloway, N.J. – The young male osprey hunched over his fish as a female leaned over him, eyeing the meal.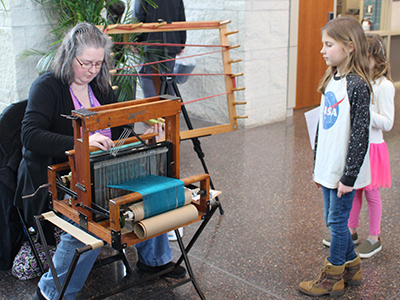 She is hungry and begging for food, and he does not want to share, explained Ben Wurst, habitat program manager for Conserve Wildlife Foundation of New Jersey, as he showed the photo during his workshop at the Pinelands Short Course at Stockton University on March 9.
Wurst has worked with New Jersey's osprey population for 15 years, but he'd never observed that behavior before seeing it captured in a photograph. That's because he's busy surveying the population and building and coordinating installation of nesting platforms for these once endangered, now threatened, birds of prey.
Sharing rare photographs and talking about the flora and fauna of the Pine Barrens are highlights of the 30th annual Pinelands Short Course, sponsored by the N.J. Pinelands Commission and Stockton University.
This year's event attracted some 580 people to 36 programs. Several hundred more attended the 14th annual Lines on the Pines fair and celebration of the Pine Barrens on Sunday, March 10, at Stockton where children learned to identify animal tracks and adults found arts, books and crafts, all celebrating the special environment of New Jersey.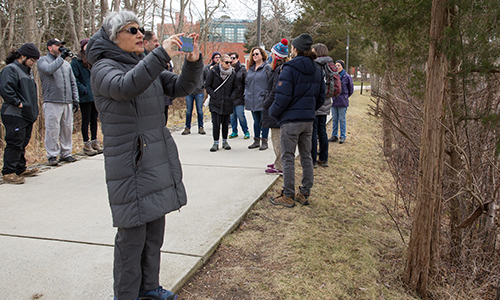 Saturday's program included indoor workshops and outdoor tours. In the afternoon, a group of participants wearing hiking shoes paused in front of the Stockton Campus Center on their way to explore Stockton's campus ecology. German Georgieff, chief naturalist for Ocean County Parks and Recreation, pointed to all of the native plants incorporated into Stockton's landscaping.
As they continued on, Georgieff noted the non-native catalpa tree that provides a window into Stockton's past. If you want to do historical detective work to understand what an area once was, look for non-native species that are evidence of the alteration of wild land, he explained.
Inside the Campus Center, vendors offered artwork, photography, books, native seeds and even a display of taxidermy for guests to get a uniquely close look at Pinelands wildlife.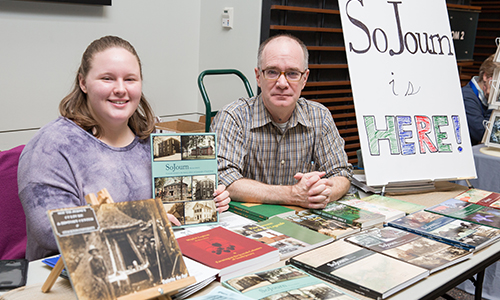 Sunday's event, the second held at Stockton, attracted almost 100 vendors and several hundred visitors. Organizer Linda Stanton said the larger site has generated more interest.
"There's been a ripple effect," she said. "It started as a one-time event, then we said we'd do a second, and here we are, 14 years later."
Stanton said the sharing of information by all who participate makes the event special. New writers, artists and craftsmen get the opportunity to show their wares and share their knowledge.
James Pullaro, a crew supervisor in the repair shop at Stockton created a children's activity book calls "Paws and Claws" that shows a series of animal tracks from the Pinelands.
Stockton archivist Heather Perez shared the resources of Stockton's archives, including information on Buzby's General Store and letters from local poets.
Local historical societies, ranging from Vineland in Cumberland County to Tuckerton in Ocean County shared information about their collections.
A popular attraction was a group of therapy dogs from Crisis Response Canines. The certified therapy dogs and their owners travel to the sites of tragedies and natural disasters to offer support in crisis situations.
"We were getting more requests to put them in crisis and unpredictable situations and realized there was a real demand for this," said president Andrea Hering who co-founded the group with John Hunt.
View more photos on flickr from the Pinelands Short Course and the 14th annual Lines on the Pines fair and celebration.
– Reported by Susan Allen and Diane D'Amico
# # #
Contact:
Diane D'Amico
Director of News and Media Relations
Stockton University
Galloway, N.J. 08205
Diane.DAmico@stockton.edu
609-652-4593
609-412-8069
stockton.edu/media