Stockton News - Friday, April 19, 2019
WHAT WE'RE TALKING ABOUT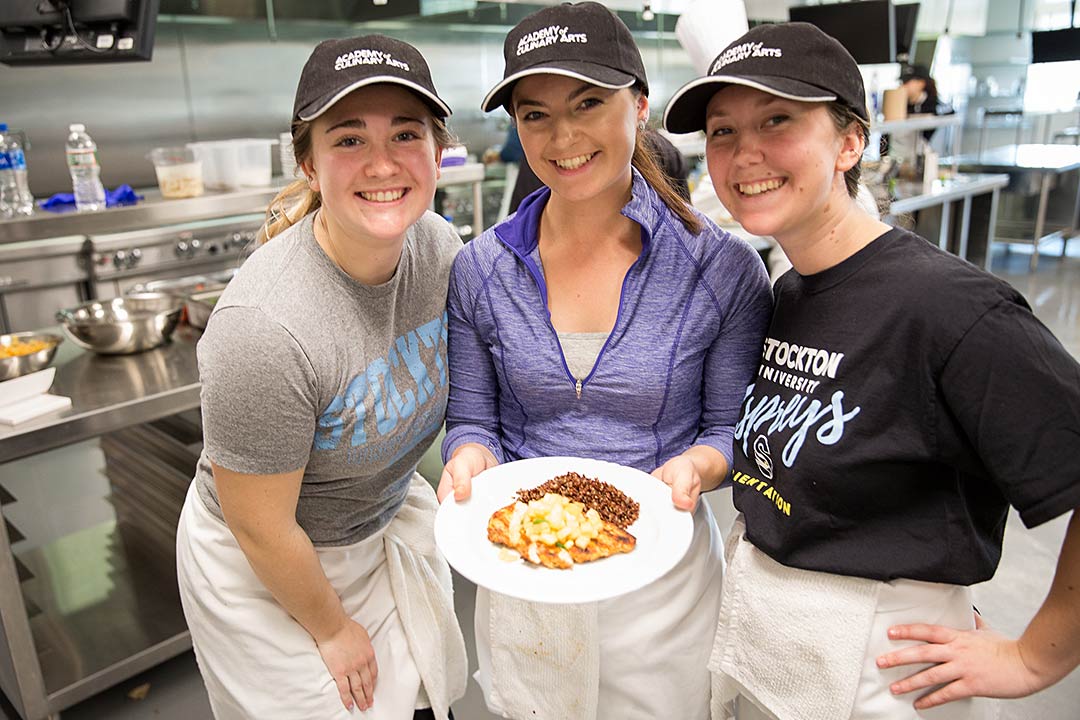 Hospitality Students Get Cutting-Edge Kitchen Experience
For four Fridays in April, students in the Advanced Food and Beverage Management Class at Stockton University are offering invited guests a chance to taste what they have learned.
This spring, 14 Stockton University Hospitality & Tourism Management Studies students are getting hands-on "back-of-the-house" experience in the new class, offered for the first time through a partnership between the Academy of Culinary Arts at Atlantic Cape Community College and Stockton.
---
Stockton Adds Major in Africana Studies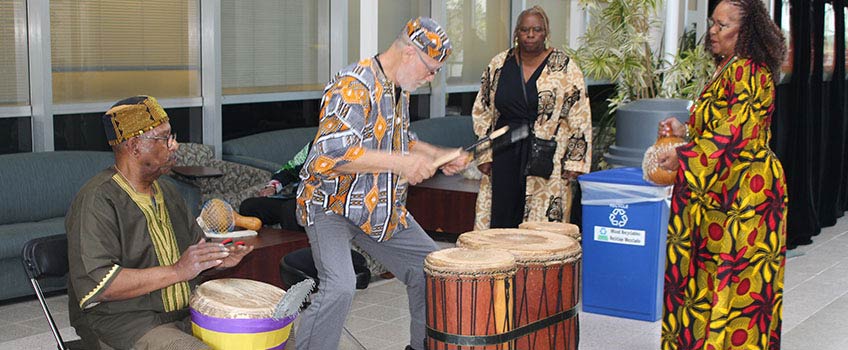 Stockton University will offer a Bachelor of Arts Degree in Africana Studies starting in the fall 2019 semester.
The degree program builds from the Africana Studies minor program, which has been at Stockton since 1983 and provides students greater opportunity to study, analyze and evaluate topics from an Africana perspective.
Some 70 students, faculty and staff attended a launch party for the program on April 4.
---
Students Receive 2019 EOF Graduate Awards
Forty-two Stockton University graduating students recently received accolades for their academic achievements from the New Jersey Educational Opportunity Fund (EOF). Over 1,000 awards were granted statewide to EOF students who attend two- and four-year colleges in New Jersey.
---
Conference Focuses on Female Victimization
About 100 people attended the Female Victimization Across the Lifespan Conference held on April 12 in the Campus Center Event Room on the Galloway campus. Attendees included faculty, staff and students from Stockton University, as well as professional practitioners.
STOCKTON UNIVERSITY ATLANTIC CITY
Catch a Movie Tonight at Stockton University Atlantic City
"AC Campus Movie Nights: Cinema in the City" is featuring Spiderman: Into the Spiderverse at 8 tonight in the Stockton University Atlantic City residential classrooms B119/120. Attendees are asked to bring their Stockton IDs.
For events happening at Stockton University Atlantic City, visit the online calendar.
SPOTLIGHT ON
Brianna Chelednik Named 2019 Hero of the Year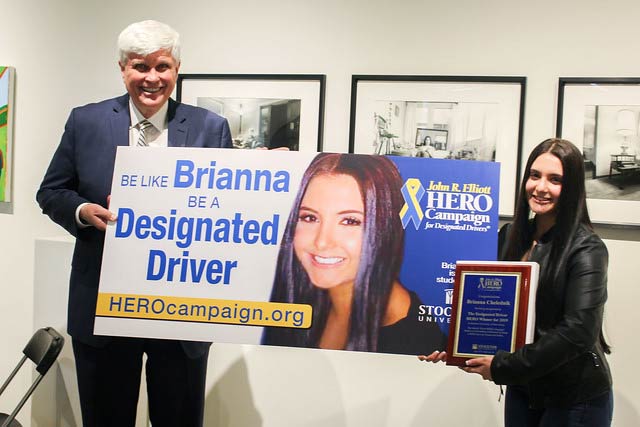 Sophomore Brianna Chelednik, a Public Health major at Stockton University, was named the 2019 Hero of the Year by the John R. Elliott Hero Campaign for Designated Drivers at a ceremony in the Stockton Art Gallery on April 15.
Chelednik will be a spokesperson for the campaign and will be featured on the Hero Campaign billboard on the Atlantic City Expressway, donated by ClearChannel, which promote the use of designated drivers to reduce drunk driving.

Sedia Participates in 'Cannabusiness' Panel in Atlantic City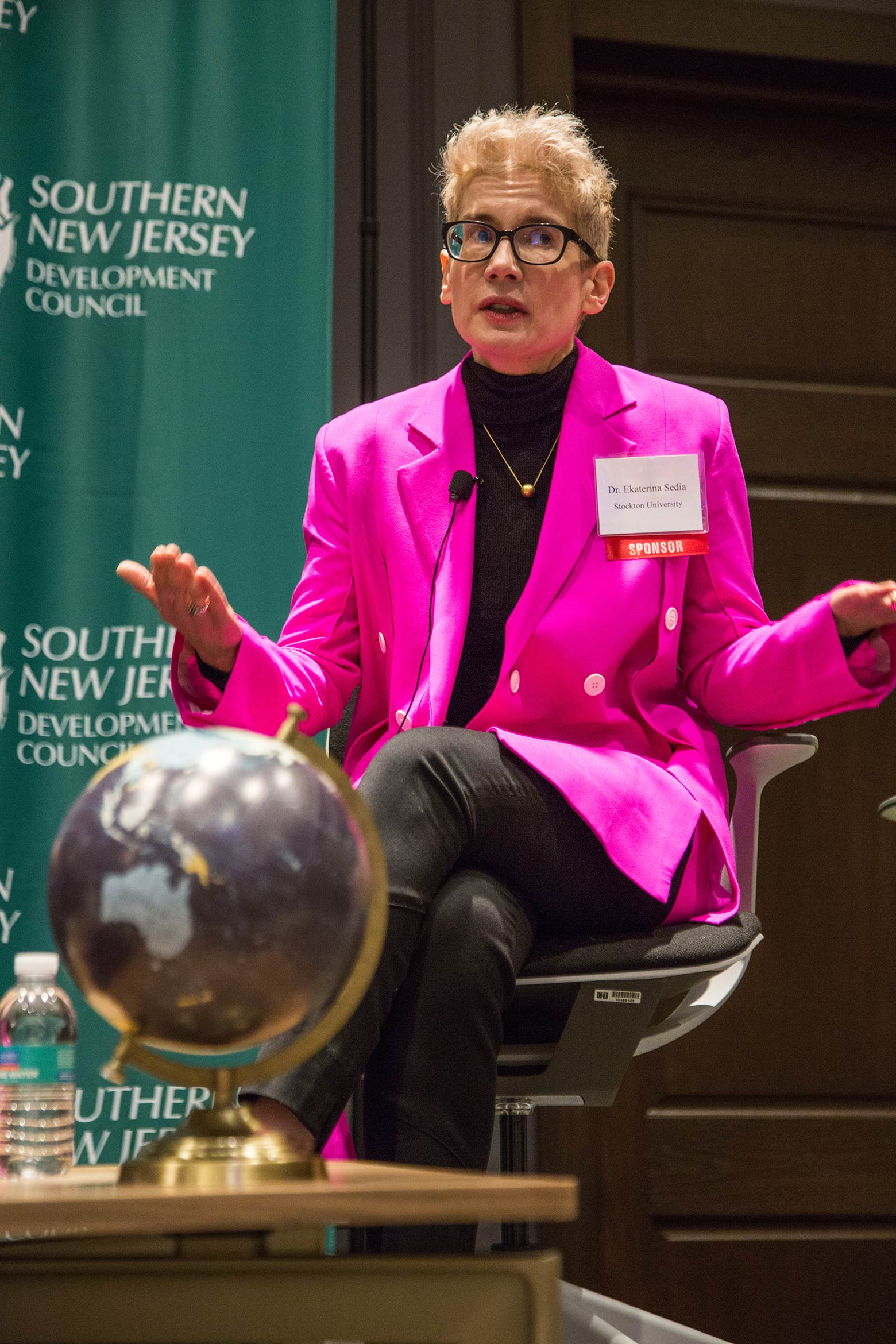 Ekaterina Sedia, associate professor of Biology and coordinator of the Cannabis Studies minor at Stockton University, was a panelist for "Cannabusiness in South Jersey: Economic Implications & Considerations" at the SNJDC Sound Off for South Jersey Legislative Conference on March 22 at Resorts Casino Hotel in Atlantic City.

The panel facilitated discussion focusing on the emerging topics impacting the business community as it relates to New Jersey's pending expansion of medical cannabis and adult-use legalization. These issues included workplace implications, workforce development, and state economics and regulations. The moderator was Benjamin Dworkin, director of Rowan Institute for Public Policy; and the other panelists were Assemblyman John Burzichelli and Sean Dalton of Cooper Levenson Attorneys at Law.

"I really appreciated the opportunity to be a part of the discussion that reached so many employers, legislators and politicians. Stockton University has been committed to fostering and shaping the discussion of the issues surrounding the cannabis industry in N.J., as well as educating our students on the employment possibilities in this new field, and we plan on staying engaged in this debate as legislation continues to evolve," Sedia said.
Stockton Collaborates to Grow Gardens, Community in Atlantic City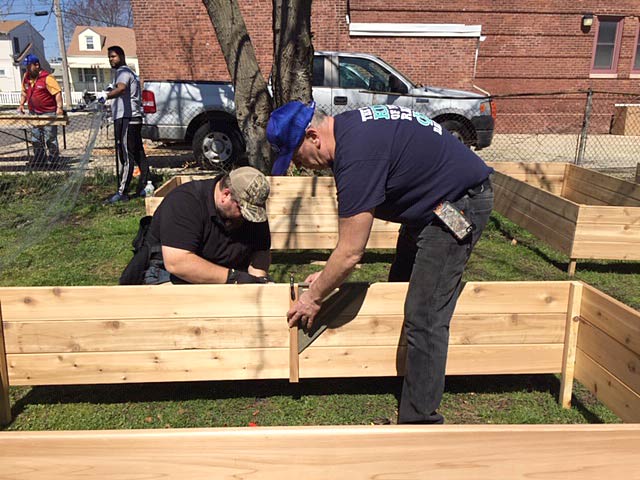 Stockton University partnered with Atlantic County Utilities Authority (ACUA), the Atlantic City Fire Department, Lowe's of Egg Harbor Township and the Chicken Bone Beach Historical Foundation, Inc. to build eight raised community garden beds during the first weekend of April on a stretch of land located on North Indiana Avenue in Atlantic City. The project is part of an Atlantic City Westside Neighborhood Protection Association initiative.
David Lockwood, a 2018 Sustainability graduate, who helped build Stockton's own community garden, volunteered his time to help create the beds in Atlantic City; and members of the Stockton University Community Garden Club are donating seeds and seedlings for them.
"The hope is Atlantic City residents will claim the beds. Much like the name, the gardens will foster a sense of community and responsibility in their owners," said Joe Rubenstein, professor of Anthropology and faculty adviser to the Community Garden Club. "The Atlantic City Fire Department may claim two beds so they can cook for the fire house next door. It's a unique opportunity for Stockton to collaborate with local partners to help bring the concept to life."
The ACUA donated the soil for the project and Lowe's provided 20 volunteers that assisted. Students from the Stockton Community Garden Club will also be taking part in the project once the garden begins to bloom.
PHOTO: David Lockwood, left, works with an Atlantic City Fire Department member to build one of the eight beds for the community garden project in Atlantic City.
FRAME-WORTHY
20 Students Display Work in Spring Senior Art Show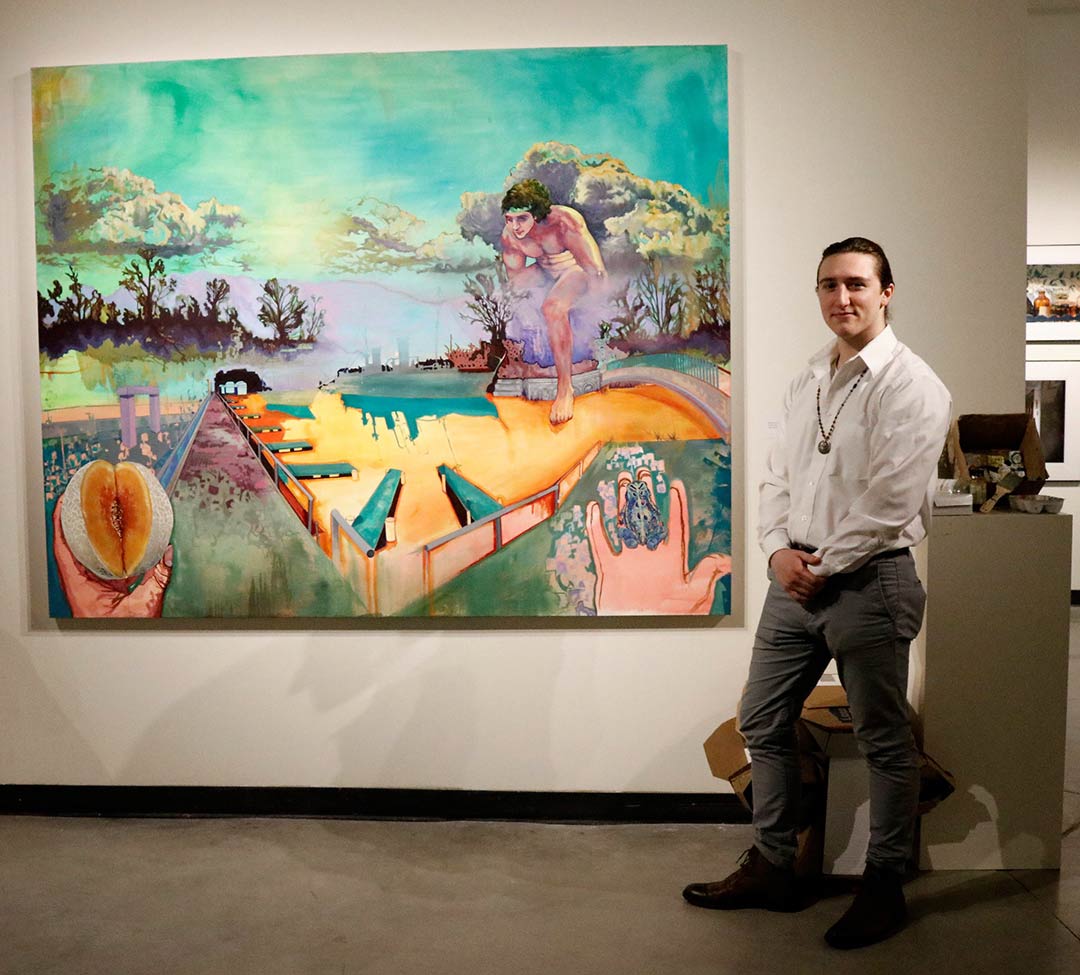 Bachelor of Fine Arts students are displaying their art pieces in the 2019 BFA Senior Exhibition, which opened April 7. Twenty seniors are participating in this year's display, which includes painting, photography, sculpture and visual communications.
"This is what we've been working towards all year," Erica Tamburello said.
Tamburello's exhibit is made up of doodles she has drawn as a stress reliever. She used her knowledge from her Graphic Design major to turn her collected drawings into art pieces.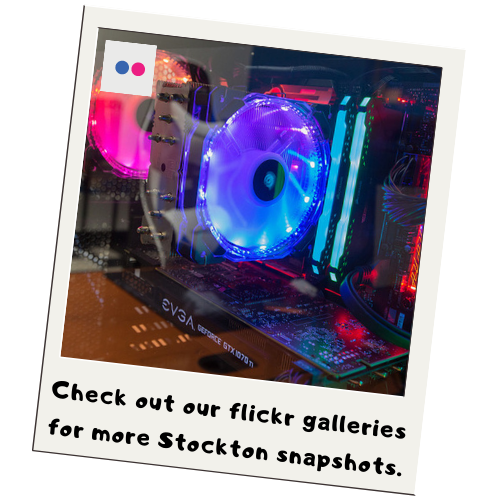 WHAT'S TRENDING #STOCKTONU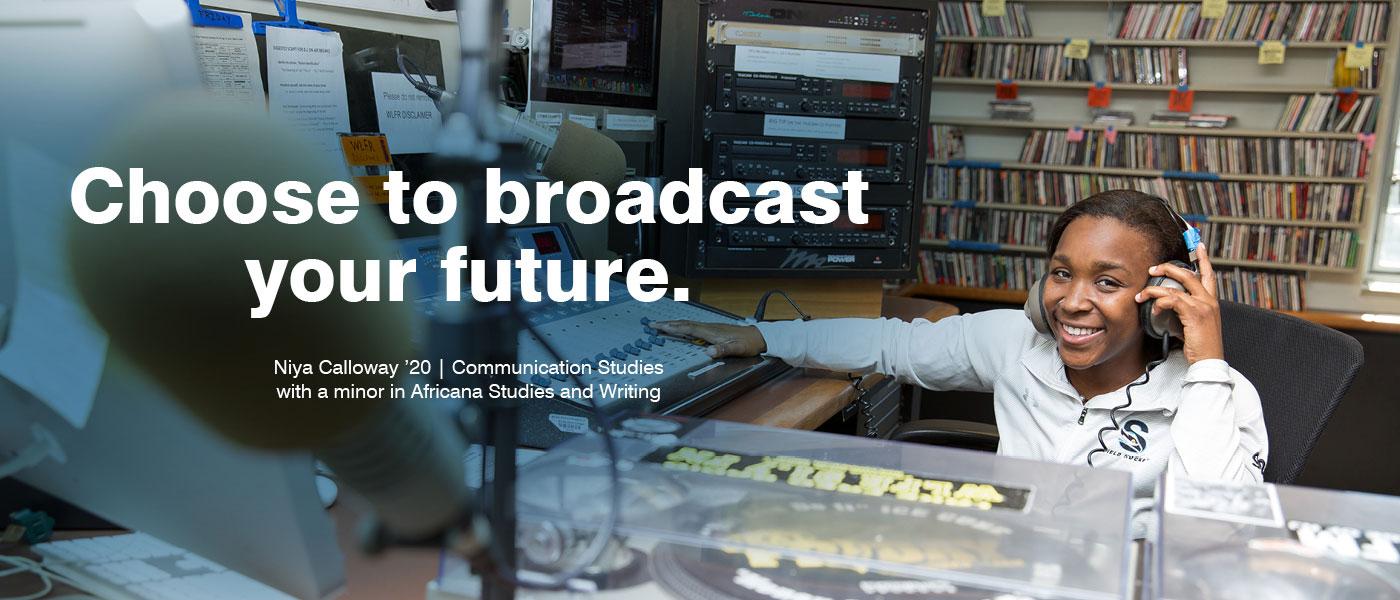 Twitter: Niya Calloway is choosing to broadcast her future as a Communications Studies major at #StocktonU. You may already know her from her radio show gr00vy g00dness on WLFR.
Instagram: Stockton University at Manahawkin took over Instagram to give a sneak peek into what life is like at the location.
Facebook: #TransformationTuesday: Students living on the Galloway campus have a beach, too. Members of Sigma Pi hosted a beach cleanup and replenishment recently at the Oasis behind the Lodge at Lakeside.
Instagram: University Relations & Marketing intern Amanda Lally hosted a takeover during "A 'Zoo'per Day" at Stockton's Galloway campus on April 14
THE SIDELINES
Women's Rowing Returns to Action at Knecht Cup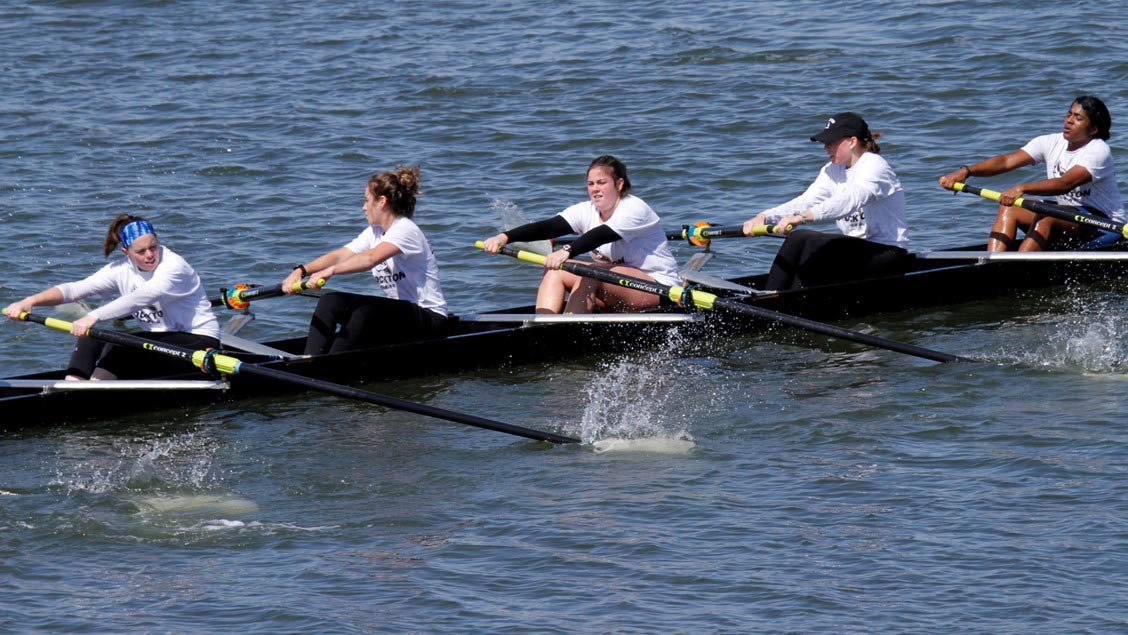 After a two-week layoff, Stockton University Women's Rowing returned to action at the Knecht Cup on the Cooper River last weekend. The Ospreys rowed in three races, competing against fellow NCAA Division III squads in the varsity eight, varsity four and frosh/novice eight.
Kening Named Coach of the Year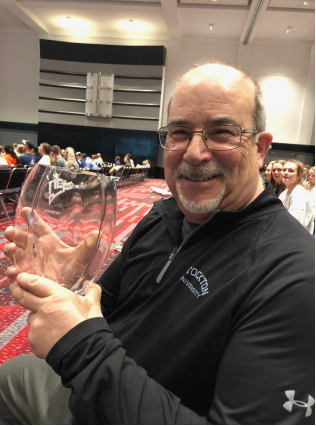 Phil Kening, coach of the Stockton University Men's Volleyball team, was named NCVF Men's Division ll National "Coach of the Year" on April 17 in Denver, Colo. Kening was selected out of 126 schools nationally that comprise Division II.
Stockton is competing this week in the Men's National Collegiate Volleyball Championships held at the Colorado Convention Center.
Stockton Hosts Osprey Open
Stockton University hosted the two-day Osprey Open meet at G. Larry James Stadium on April 12-13. The Ospreys won six women's events and two men's events for a total of eight victories on their home turf.
OSPREY NOTES
New Strategic Plan Draft Available for Review
A new Strategic Plan draft is available for review and can be accessed by logging into your GoStockton portal.
FAFSA Fridays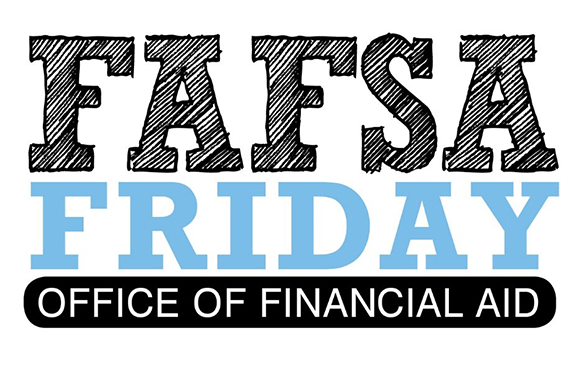 Do you have students who are looking for financial aid assistance? The Office of Financial Aid is hosting "FAFSA Fridays" from 11 a.m.-1 p.m. every Friday, through April 26, in the F114 computer lab to assist students with the financial aid process. Graduating students who have at any point received Federal Direct student loans are required by the U.S. Department of Education to complete EXIT Counseling on studentloans.gov. This requirement should be completed before the Grad Finale on April 22. Holds have been placed on the accounts of those who have failed to complete the requirement preventing students from receiving their diplomas and official transcripts. Encourage your students to complete this requirement as soon as possible. Questions? Contact the Office of Financial Aid at 609-652-4203.
Choose Summer at Stockton
Stockton's summer sessions are open to undergraduate and graduate students enrolled in degree programs, non-matriculated students, and students currently enrolled at other institutions who wish to study during their summer break and transfer Stockton credits.
UPCOMING EVENTS
Tuesday, April 23: NAMS Symposium
Wednesday, April 24: Graduate Research Symposium
Thursday, April 25: Bring Your Child to Work Day
Tuesday, April 30:Graduate Open House at Kramer Hall in Hammonton
Saturday, May 4: 39th annual Scholarship Benefit Gala
Tuesday, May 7: Doctoral and Master's Commencement Ceremony, Sports Center, Galloway campus
Friday, May 10: Baccalaureate Commencement Ceremony, Jim Whelan Boardwalk Hall, Atlantic City