Twenty Students Display Work in Spring Senior Art Show
Galloway, NJ – Bachelor of Fine Arts students are displaying their art pieces in the 2019 BFA Senior Exhibition, which opened April 7. Twenty seniors are participating in this year's display, which includes painting, photography, sculpture and visual communications.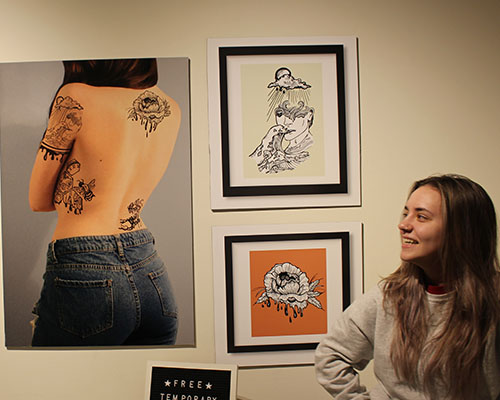 "This is what we've been working towards all year," said Erica Tamburello from Toms River.
Tamburello's exhibit is made up of doodles she has drawn as a stress reliever. She used her knowledge from her Graphic Design major to turn her collected drawings into art pieces.
"I acquired so many of them I wanted to put them to use," said Tamburello.
Tamburello's exhibit is made to resemble a tattoo shop, with her drawings being used as tattoo pieces in various posters and labels she had designed for tattoo-ink bottles. She is also handing out temporary tattoos of her drawings to people who visit her display.
When asked how she became interested in graphic design, Tamburello said she had been drawing and creating her whole life. "My dad is a chiropractor, and when I was 11 he wanted a new logo for his brand. I heard him explain what he wanted, and I made up a logo using Microsoft Word," said Tamburello.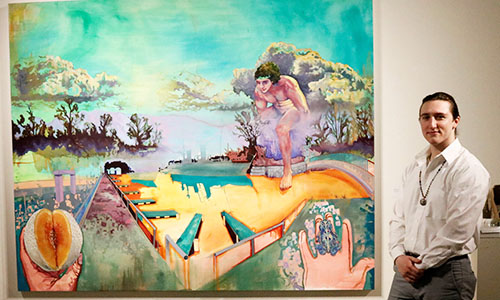 Francisbel Rodriguez from Ocean City wants people to look at her display and think she's a story teller. She used her senior project display to broaden her skills in digital painting.
"I wanted to portray my hobby," said Rodriguez. Each of the comic-inspired pieces she makes on average can take up to three or four hours. She wants to use these skills to either work as an animator for movies or as an illustrator in comics and magazines.
Another student working in visual communications, Scott Terebush from Old Bridge, makes collages with graphic design tools.
"I use found images," said Terebush. "In my art, people can recognize the objects in the collage, just not recognize them all together. It charms nostalgia."
Terebush has been working on his graphic design skills for six years, and before that he was a painter.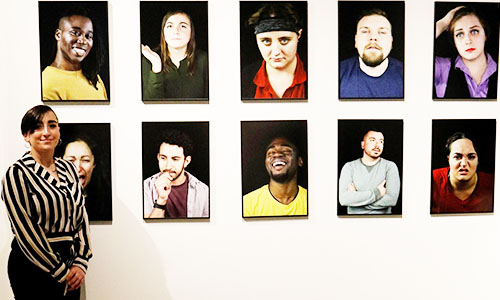 When asked about the message he wants to send through his exhibit, Terebush said, "There is really no one-sent message. I like when people have their own opinion, and I want people to have different reactions to the piece. I like variety."
Ryan Brown from Atlantic Highlands wants his images to send the message of "appreciating landmarks".
Brown's display is made up of 2-D poster images of places that have impacted him. The landmarks he photographed are from places including Atlantic City, Asbury Park, Margate, Sandy Hook and Point Pleasant.
"I started doing photography ten years ago when my dad bought me a camera," said Brown.
Brown came to Stockton originally as a photography major, then switched to graphic design. He wants to design for magazines after he graduates.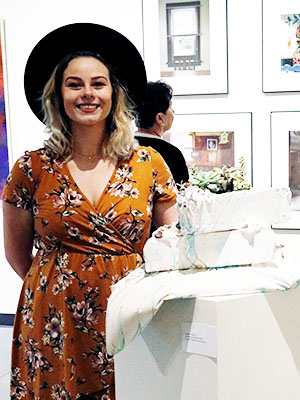 Abigail Orme from Swedesboro is also putting her photography on display. Her pictures revolve around using light in domestic spaces to represent comfort.
"I take pictures of areas where you can feel welcome even though it's not your own space," said Orme.
Orme started practicing photography her senior year of high school. She came to Stockton as a photography major and exclaims how her classes and professors here have helped develop her skills.
"My classes have helped me gain knowledge from and expose me to all different types of photography," said Orme. "My professors have helped me build my character."
Additional exhibiting students are: Spencer Agli, Makenna Douglas, Abigail Fennimore, Marissa Gagliano, Joseph Gallinoto, Amanda Garral, Brittany Johnson, Connor Karon, Franchesca Malaga, Desiree Melton, John Piccinino, Brett Roach, Yahaira Ruiz, Kevin Villalona, and Aiyana Yearicks.
The art gallery is free and open to the public on Monday through Saturday from 12-7:30 p.m. and Sunday from 12-4 p.m. from April 7-25 (closed on April 19-21).
See a gallery of photos on Flickr.
Reported by Julia Sus
# # #
Contact:
Diane D'Amico
Director of News and Media Relations
Stockton University
Galloway, N.J. 08205
Diane.DAmico@stockton.edu
609-652-4593
609-412-8069
stockton.edu/media