Hospitality Students' Final Exam Is a Pop-Up Cafe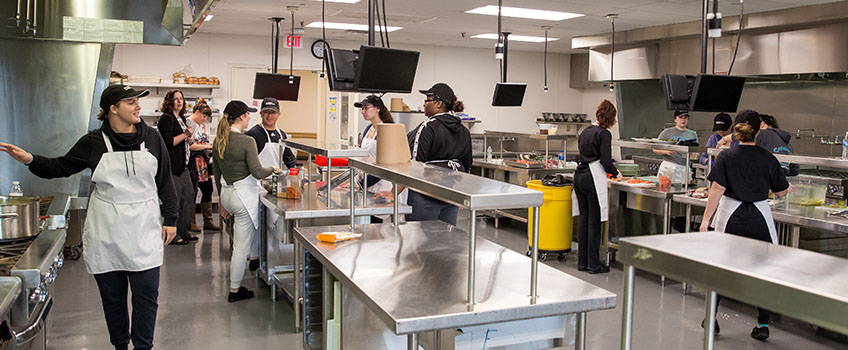 Galloway, N.J. – For four Fridays in April, students in the Advanced Food and Beverage Management Class at Stockton University are offering invited guests a chance to taste what they have learned.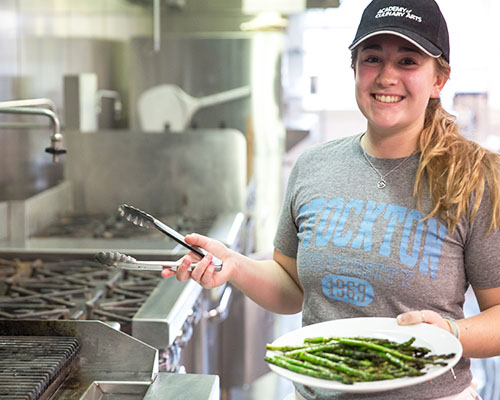 This spring, 14 Stockton University Hospitality & Tourism Management students are getting hands-on "back-of-the-house" experience in the new class, offered for the first time through a partnership between the Academy of Culinary Arts at Atlantic Cape Community College and Stockton.
Students met for four hours on Fridays in the commercial kitchens of Atlantic Cape's Charles D. Worthington Atlantic City Campus. Chef Joseph Sheridan, an adjunct professor at Stockton and chef educator at the Academy of Culinary Arts teaches the class.
"For hospitality students, it's good for them to get this kitchen experience and appreciate all aspects of the industry," Sheridan said. "For students who aren't focused on food and beverage, they're learning life skills that they will take with them."
Students learned sanitation procedures, knife skills, menu design, profitability factors and basic cooking techniques. During the last four classes, the students operating in teams, are using skills they acquired to set up and run a "live" café, inviting friends and family to taste their creations.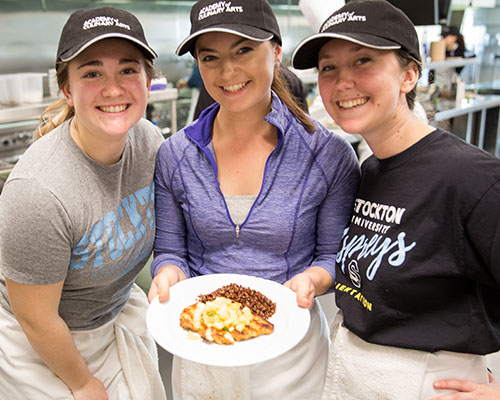 "This class has been in the making for several years because we felt that although the theory of Food and Beverage Management is a strong component of our curriculum, adding this hands-on component prepares the students for the practical elements of a working kitchen," said Donna Albano, associate professor of Hospitality and Tourism Management at Stockton. "Learning about food safety and handling, purchasing, storing and preparing food first hand, as well as equipment, teamwork and service is a value-added component of our HTMS curriculum now."
Student Nicole Vaccarella of Hammonton aspires to be a wedding planner. She said seeing the precision in everything that goes into the back-of-the-house work was eye-opening.
"From the prep to setting up, its important to see what goes into running both the front- and back-of-the-house," Vaccarella said.
Vaccaerella, Breanna Betts of Manchester and Megan Tropp of Winslow Township debuted their menu on April 12. Their dishes included broccoli-cheddar soup, a strawberry and spinach salad, fish tacos, spice-grilled chicken breast, a vegetable panino, beef sliders, olive oil cake and chocolate mousse.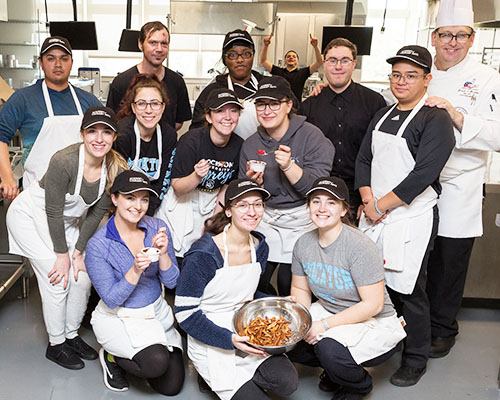 "I was not a fan of the kitchen. I wanted nothing to do with food," Betts said. "But now I have that respect for the culinary side of things. The front- and back-of-the-house are a yin and yang and impact each other." Betts works at Little Water Distillery in Atlantic City and wants to pursue a future in beverage operations.
Christopher Rizzo of Keyport hopes to move to Florida and open his own seaside restaurant with a focus on locally-caught fresh seafood. He found the course beneficial because it exposed him to how a restaurant works as a whole. His group debuts an Italian-themed menu April 19.
Moises Vera of Berlin graduated from the Academy of Culinary Arts in 2016 and transferred into Stockton's Hospitality & Tourism Management Program. He said he enjoyed the class because it reinforced his culinary training as well as concepts like etiquette.
Albano said the goal is to offer this course once an academic year.
"It's our hope that the buzz from the students enrolled this semester will peak interest in other HTMS students. We are looking forward to receiving student and instructor feedback for this course to learn and grow going forward," Albano said.
Albano said she looks forward to finding other ways to collaborate with Atlantic Cape Community College and the Academy of Culinary Arts to give Stockton's HTMS students the best learning opportunities possible. The Stockton faculty worked with Dr. Josette Katz, vice president of Academic Affairs at Atlantic Cape; Kelly McClay, dean of the Academy of Culinary Arts and Chef Sheridan on the collaboration.
See a gallery of photos on Flickr.
_ Reported by Amanda McCullough
# # #
Contact:
Diane D'Amico
Director of News and Media Relations
Stockton University
Galloway, N.J. 08205
Diane.DAmico@stockton.edu
609-652-4593
609-412-8069
stockton.edu/media