Benefit on the Boardwalk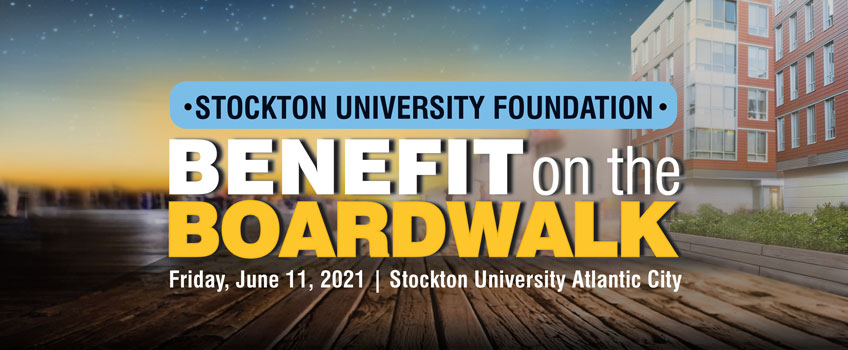 Benefit on the Boardwalk: Hope Starts Here
Friday, June 11, 2021 | 6 p.m. – 10 p.m.
Stockton University Atlantic City Residential Complex
3701 Boardwalk | Atlantic City, NJ
Join fellow alumni, supporters and friends for dinner, cocktails, live entertainment and more as we gather to support students. Enjoy Stockton Atlantic City's indoor and outdoor spaces and the world-famous Atlantic City Boardwalk.
With Your Support, Hope Starts Here!
Students facing unforeseen financial emergencies can be forced to choose between their education and their basic needs. From assisting students who have experienced life-changing events to those facing job loss and food insecurity, the Student Relief Fund is there when the unexpected happens, helping students stay in school and complete their college educations.
Supporting the Benefit on the Boardwalk directly impacts students through the Student Relief Fund, making the dream of a college education a reality for those facing financial crises. Your support creates hope and changes lives.
Become a Sponsor or Purchase Tickets!
Stockton University and the Stockton University Foundation will follow all applicable state and local guidelines intended to provide a safe environment for our guests. Should guidance change prior to the event, all guests and sponsors will be notified. Benefit tickets are subject to availability based on outdoor event capacity guidelines. Tickets for the event will be sold on a first-come first-served basis.
---
Thank you to our Benefit on the Boardwalk sponsors!
View our 2020 Scholarship Benefit Sponsors
---