Conference Focuses on Female Victimization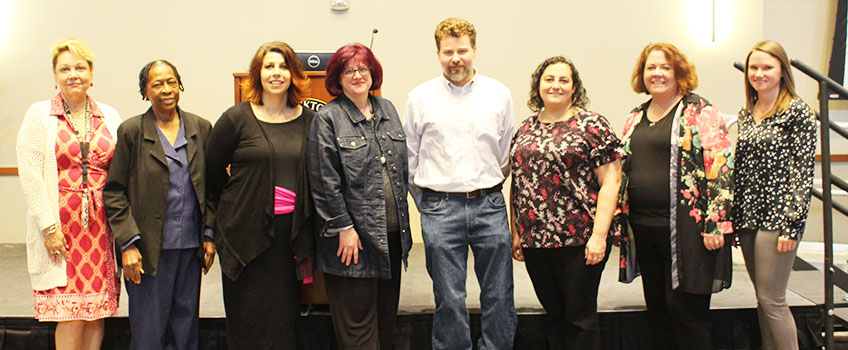 Galloway, NJ – About 80 people attended the Female Victimization Across the Lifespan Conference held on April 12 in the Campus Center Event Room of the Galloway campus. Attendees included faculty, staff and students from Stockton University, as well as professional practitioners.
The day-long conference addressed how women are victimized at different ages and stages of life. Topics covered throughout the day included how and why women are victimized, and what can be done about it. Themes included the benefits of peer and group support, female victims of human trafficking, criminal gangs and stalking, and education on interpersonal violence.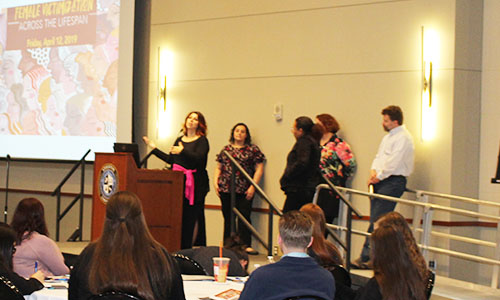 "We want to provide people the professional development opportunity to strengthen their understanding of victimization of women in all different age groups," said Associate Professor of Criminal Justice Jess Bonnan-White.
Presenters from the conference included Stockton faculty and staff as well as representatives from the Atlantic County Prosecutor's Office, Mental Health Association, the Mazzoni Center and Women Organized Against Rape.
This conference occurs every other year, countered by an international vicimology summer course in alternating years. This year's conference had the highest number of student attendees organizers said, due to the growing popularity of the Victimology and Victim Services Minor offered at Stockton.
"It's important for students to understand victimization and recognize it as well," said Stockton Distinguished Professor of Criminal Justice Janice Joseph. "We also want them to know about services that are available not only at Stockton but in their other communities as well."
Organizing committee members were: Robert Barney, Jess Bonnan-White, Deeanna Button, Guia Calicdan-Apostle, Joshua Duntley, Arleen Gonzales, Janice Joseph, and Kimberley R. Schanz.
Presenters were: Danielle Buckley, Guia Calicdan-Apostle, Anne Crater, Joshua Duntley, Laurie Dutton, Robin Hernandez-Mekonnen, Janice Joseph, Dawne Lomangino, Quinn Pellerito, Radha Prabakaran, Dena Tartaro.
Co-sponsors were: the Victimology and Victim Services minor, the Childhood Studies minor, Women's Gender, and Sexuality studies, faculty and students, and the Office of Continuing Studies.
Reported by Julia Sus
# # #
Contact:
Diane D'Amico
Director of News and Media Relations
Stockton University
Galloway, N.J. 08205
Diane.DAmico@stockton.edu
609-652-4593
609-412-8069
stockton.edu/media