Social Media
Social media platforms, such as Facebook, Twitter and Instagram play a crucial role in today's branding efforts.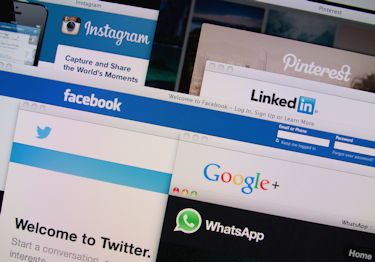 By enabling multiple conversations within the same arena, the social media landscape has transformed the way people connect with each other. Opportunities through social media to reach and interact with stakeholders, their friends, family and followers become brand touch-points, which lead to greater exposure for the institution.
Stockton engages in multiple social media outlets. We communicate daily with prospective students, alumni, donors and other constituents utilizing these channels to gather information, share opinions, express ideas, and foster meaningful discussions.
If your department has or would like to have a social media presence, keep in mind, content and images posted represent Stockton, as opposed to any individual. The Office of University Relations & Marketing encourages University units to include social media as part of their overall communications plan. Facebook, Twitter, Instagram, Pinterest, YouTube and other social platforms and mobile apps are free resources that can help publicize the efforts of your unit or program.
We will work with you to help develop a social media plan, as part of your communications plan, which fits your needs. We have the expertise to help develop your presence and to keep it consistent with the University's overall approach.
Effective content that results in engagement is timely, visual, to-the-point, accurate, relevant and delivered in a professional and fun voice. Upcoming events and news stories, as well as photos and videos, can be shared with an audience to invite interaction through social networking sites.
For additional information visit Stockton's Social Media Guidelines.