Promotional Items
Promotional items are long-lasting, tangible representations of our brand and should characterize Stockton's distinctive nature.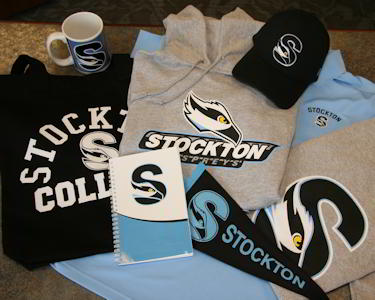 Colors, graphics and the items themselves all play a collective role in reflecting a consistent brand identity. Stockton's official colors and graphical marks should be used when designing the look of promotional merchandise. In some cases, special attention is necessary to properly reproduce Stockton's graphic marks due to items, sizes, materials and production methods.
The Office of University Relations & Marketing will provide the artwork and help locate the best pricing for your item(s). Additionally, Stockton encourages co-op purchasing for promotional items to ensure a lower price for large volume ordering.
To submit a request for promotional artwork, please use the: University Relations & Marketing Request Form.
If you would like to discuss your promotional idea or need assistance locating an appropriate promotional item, please contact Karen Quinn, Associate Supervisor of Graphics.