M.S. / P.S.M. in Coastal Zone Management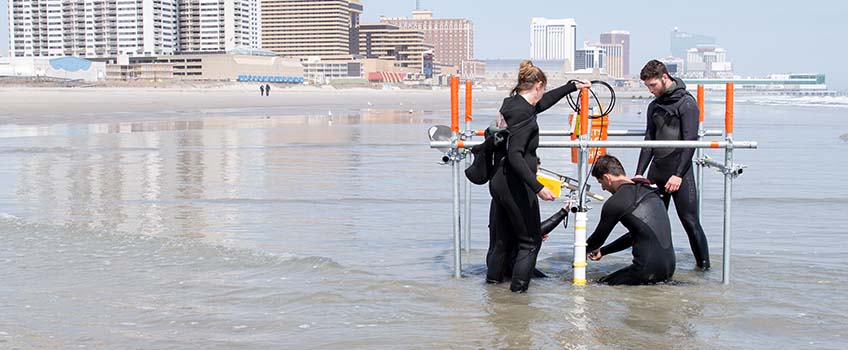 ---
About the Program
In much of the world, population growth in the coastal zone is increasing, stressing the natural resources and those that depend on them due to over-development, pollution and over-exploitation of resources. At the same time, global climate change, linked to anthropogenic activities, are increasingly affecting the coastal zone due to an increased prevalence of high-energy storms, ocean acidification and sea level rise.
The purpose of this graduate degree program is to develop the holistic knowledge and skills necessary to navigate the complexities of managing human interactions within a highly dynamic coastal environment, and to analyze the natural, social, legal, economic and institutional proceses for integrated coastal zone management and sustainable development.
At the end of this program, students will be able to:
Describe the physical, biological, chemical, and geological processes active in the coastal zone.
Articulate how changes in coastal zone environments affect coastal communities and stakeholders.
Articulate how human actions, laws, and policies affect coastal zone environments.
Apply appropriate quantitative methods and tools to coastal zone problems.
Perform a variety of field and laboratory research methods.
Identify a problem pertinent to coastal zone management, develop a plan to study it, and conduct the appropriate research.
Effectively communicate scientific and management information, research results, and recommendations orally and in writing.
Work effectively both individually and in a team environment.
Curriculum
The Coastal Zone Management graduate program has three tracks to a degree or certificate:
Professional Science Masters in Coastal Zone Management (CZMT-PSM): This non-thesis option consists of 36 credit hours, including a capstone project, and will prepare students for work or career advancement in a professional setting.
Master of Science in Coastal Zone Management (CZMT-MS): This option consists of 36 credit hours and includes a research-based thesis. It is intended for students aiming for further academic study or research.
Certificate in Coastal Zone Management: A certificate requires 18 credit hours of coursework. This option is appropriate for working professionals and other individuals who will benefit from advanced study of coastal zone management science without completion of a graduate degree.
All CZMT students take four core courses that cover a breadth of coastal zone science, policy, management and technical skills. Students on the CZMT-PSM track take two additional required courses in professional development. After completing the core curriculum, students choose electives toward specialized knowledge in their intended career path. The curriculum culminates in a capstone project on the CZMT-PSM track or research thesis project on the MS-CZMT track. A Certificate in Coastal Zone Management requires completion of the CZMT-PSM core courses.
Curriculum requirements for PSM (non-thesis) versus MS (thesis) tracks. The Certificate program consists of the PSM core course requirements. Courses marked with * are cross-listed with the PSM in Environmental Science (ENSC) program. Note that not all elective courses are offered annually.
CZMT-PSM
CZMT-MS

Core Courses (18 credits)

Coastal Ecosystems

Coastal Physical Processes

Coastal Zone Policy, Law and Planning

Applied Geographic Information Systems*

Project Management*

Professional Writing*

Core Courses (12 credits)

Coastal Ecosystems

Coastal Physical Processes

Coastal Zone Policy, Law and Planning

Applied Geographic Information Systems*

Electives (12 credits)

Coastal Physical Oceanography

Coastal Engineering Principles

Hydrographic Instrumentation and Surveys

Statistical Analysis*

Watershed Management*

Groundwater Hydrology*

Land Use Planning*

Advanced Spatial Analyses*

Coastal Zone Management*

Wetlands Ecology*

Environmental Quality*

Introduction to Data Science and Analytics (DSSA 5001)

(Up to 3 credits of electives may be selected from ENSC or DSSA courses not listed above, upon approval of graduate advisor)

Electives (15 credits)

Elective options at left, plus:

Project Management*

Professional Writing*

(Up to 6 credits of electives may be selected from ENSC or DSSA courses not listed above, upon approval of graduate advisor)

Capstone Project (6 credits)

Thesis Research (9 credits)
For course descriptions, please visit The University's Course Catalog.
Admissions Criteria
Application Deadlines:
Priority deadlines:

Fall: July 1
Spring: December 1
Prerequisite Requirements
For persons who hold a baccalaureate degree, the following are the admissions requirements for the Master's (MS) or Professional Science Master's degree (PSM) in Coastal Zone Management:
Complete application packet, including an essay explaining how the degree in Coastal Zone Management fits into the applicant's career goals and a tentative topic of their research (MS) or project (PSM);
A baccalaureate degree from a regionally accredited institution with an environmentally-related major (e.g., Environmental Science, Marine Science, Earth Science, Chemistry, Biology, or other related majors); transcripts for all colleges/universities attended are required.
Three letters of recommendation from college/university faculty or from professional colleagues.
Graduate Record Examination (GRE) is optional. Applicants should have their scores sent directly to Stockton;
Minimum college/university cumulative grade point average (GPA) of 3.0.
The TOEFL examination is required of students for whom English is a second language.
Specific minimum requirements may be waived at the discretion of the CZMT Admissions Committee.
Acceptance into the Coastal Zone Management Program will be based on a review of the entire application packet. Admission to the program is competitive and acceptance is not guaranteed. Students applying to the MS track are strongly encouraged to contact potential thesis advisors or the program chair prior to preparing their application.
Applicants for the graduate certificate in Coastal Zone Management will follow the same admissions guidelines for the Master's programs. Certificate holders or certificate candidates may choose to matriculate into one of the Master's tracks with permission of the CZMT Chair and the Admissions Committee.
Admissions Requirements
Click here to start your application.

If you are a recent Stockton graduate, check to see if you qualify for the Direct Entry Option.

Application fee: $50 (non-refundable), submitted with your online application
Graduate application essay
Three letters of recommendation sent electronically via the online application
Graduate Record Examination (GRE)

is optional. Scores sent electronically to school code: 2889
Resume
Official transcripts from all colleges/universities attended (including Stockton) should be e-mailed by the institution or clearinghouse, mailed or dropped off directly to the Office of Graduate Admissions:

By mail:
Office of Graduate Admissions, N-Wing 007a
101 Vera King Farris Drive
Galloway, NJ 08205-9441

Electronically:
gradschool@stockton.edu
Frequently Asked Questions
Coastal Zone Management skills are often embedded in related career paths, including (but not limited to) the following:
Environmental Scientists/Specialists
Coastal/Marine Scientists or Project Manager
Coastal Environmental Quality Monitoring Coordinator
Marsh Restoration Ecologist/Project Manager
Estuarine Food Web Analyst
Coastal Hazards Analyst
Coastal Oceanographer
Coastal Wetlands Science and Restoration Ecologist
Consultant in Coastal/Estuarine Processes and Geomorphology
Research scientist in Marine Mammalogy and Coastal Ecology