Global Studies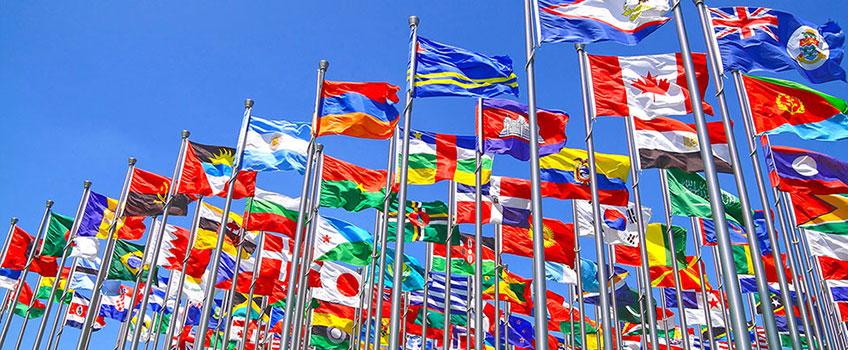 The world that we live in is becoming closer with advancement of technology and increased knowledge and understanding of various nations, cultures and ethnicities.
A "Global Vision" is one of the four pillars that Stockton considers in its 2020 Strategic Plan. The goal of "globalizing" Stockton is to create a systematic approach to ensure that students are provided with the knowledge and skills to be able to function culturally, politically, and economically in a global society through a systematic infusion of international/global content into the curriculum.
---
Structure and Curriculum
Global Studies Minor was approved during 2010-2011 academic year. It consists of 20 credits. All students must take the entry level course GSS 2606 Introduction to Global Studies and capstone course GIS 4658 Global Challenges and Solutions and one course from each of the three categories Global Issues/ Area Studies; History and Culture; Political Economy and Contemporary Issues. Out of 20 credits required, at least 2 courses must be at the 3000 level. Students must demonstrate proficiency in another language or an in-depth knowledge of another culture.

This minor requires a minimum of 20 credits of coursework with substantial international content. Students are required to complete an introductory course, an International Studies Capstone Seminar, and general electives which have to be selected from an approved list of courses with strong international content. All students taking the Global Studies Minor will have to demonstrate cultural competence or proficiency in a foreign language.
Introductory Course
Students must complete Introduction to Global Studies course as one of the first two courses taken in the program
Elective Courses
These elective courses are divided into three major thematic concentrations. These thematic concentrations are constructed around a common theme, thus providing students with a wide choice of topical courses. Students are expected to take at least one course from this section.
Language/Cultural Competence Requirement
Students will have broad options for the language experience. They will be able to fulfill their language requirement for the minor through an approved study abroad language program, supervised foreign language training, the transfer of appropriate courses in any language other than English from other countries or universities, and any other options that the faculty members of the Languages and Culture Studies Program consider acceptable. The faculty members of the Languages and Culture Studies Program will evaluate language courses not taught at Stockton University to determine if they fulfill the language requirement.
Capstone
The Global Studies Capstone Seminar will be a senior level, one semester, four-credit, multidisciplinary course.
Education Abroad (Option)
Students could complete at least 6 credits on an approved education abroad program, including short-or long-term study programs, as well as options for internship abroad. These credits could be accepted as fulfilling specific requirements for the Minor. Study tours are not included in this option because it is likely that the study tour courses will bencluded in the list of courses offered at Stockton for this Minor.
Importance of Global Studies Minor
The Global Studies Minor consists of a set of courses that complements any discipline.
The Global Studies minor gives students the opportunity to be exposed to a broad range of courses on global issues offered in the humanities, social sciences, arts, and sciences.
The interdisciplinary knowledge and intercultural skills acquired through this program are critical for students preparing for careers in areas such as international relations, public policy, business, law, finance, education, social work communications, politics, languages, and government.
The Global Studies Minor will:
provide students with the opportunity to study current issues, such as immigration, global environmental problems, and the Middle East and other present conflicts in various regions of the world,
offer students the opportunity to explore study current issues in specific regions and countries around the world,
develop the students' critical skills through the analysis of current global issues, and
allow students to recognize the interconnectedness of economic, social, and cultural problems/issues around the world.
Core and elective courses are listed below:
Mandatory Courses:
GSS 2606: Introduction to Global Studies
Capstone: Global Challenges and Solutions (GIS 4658)
Students will have to choose at least one course from each of the sections listed below:
Global Issues/Areas Studies Courses:
The global issues/area studies concentration allows students to focus their attention on issues from a global or a geopolitical perspective.
GAH 2334 - Representing Race
GAH 2346 - Modern Europe
GAH 3217- Literature and Globalization
GEN 1302 - Introduction to Latin America and the Caribbean
GIS 3303 - Experience Global Development
GIS 3416 - Our World Today
GIS 3625 - Global Geography
GIS 3635 - Discover Africa
GIS 3680 - Scotland: The Land and People
GIS 4480 - Tourism and Development: Caribbean
GIS 4612 - East Asia
GIS 4645 - Reform in China
GNM 1242 - Mapping the World's Natural Resources
GNM 2116 - Cities of the World
GNM 2475 - Global Environmental Issues
GSS 1236 - Go Global
GSS 2134 - Global Issues
GSS 2142 - US-China in 21st Century
GSS 2339 - Tourism and Sustainability
GSS 2361 - Human Trafficking
GSS 2368 - Global Community
GSS 2635 - UN Experience- International Study Tour (Model UN)
GSS 3218 - Our Whisky World
GSS 3234 - Human Rights in a Global Perspective
GSS 3274 - Democratization in Latin America
POLS 2160 - Introduction to Comparative Politics
History and Culture Courses
This concentration explores the history and culture in various countries or regions from an interdisciplinary perspective.
ANTH 1100 - Introduction to Anthropology
ANTH 2152 - Language and Culture
ANTH 2238 - Anthropology Fieldwork in South Africa
COMM 3303 - International Communication
GAH 1090 - The History of Paris
GAH 1257 - The Art of Italy
GAH 1370 - Chinese Culture
GAH 1630 - World Civilizations to 1500: Food, Environment, and Humans
GAH 2211 - African and Asian Literature
GAH 2216- Puerto Rican History & Culture
GAH 2284 - The History of Paris
GAH 2330 - Theory and Practice of Language
GAH 2363 - Puerto Rico, Society, and Culture
GAH 2364 - Understanding Iraq
GAH 2404 - Bollywood Cinema: Past & Present
GAH 2406 - Philippine Culture and History
GAH 3127 - Modern Scandinavia in Literature and Film
GAH 3230 - French New Wave Cinema
GIS 3342 - Latin American Study Tour
GIS 3640 - US and Islamic World
GIS 3673 - Understanding Global Learning
GIS 3686 - Disability Rights Around the World
GIS 4606 - Costa Rica Cultural Study Tour
GIS 4655 - Greece Field Study: Discover
GIS 4660 - Grief & Loss
GSS 2246 - Introduction to the Middle East
GSS 245 - South Africa Now
GSS 2626 - International Culture
GSS 3104 - Language and Power
GSS 3612 - Culture and Mental Health
HIST 2140 - History of India
HIST 2146 - Indian Ocean History
HIST 2149 - Conflict and Change in India
HTMS 3132 - Hospitality and Tourism
LANG 2140 - Spanish Reading Knowledge I
LANG 2141 - Spanish: Reading Knowledge II
LANG 2142 - Mapping Hispanic Cultures I
LANG 2143 - Mapping Hispanic Cultures II
LANG 2144 - Spanish for Health and Human Services I
LANG 2145 - Spanish for Health and Human Servics II
LANG 3240 - Advanced Oral and Written Expression in Spanish
LANG 3242 - Spanish and Global Health
LANG 3256 - Hispanic Literature & Flim
LANG 3257 - Proficiency Methodology In Spanish
LANG 3258 - Applied Linguistics in Spanish
LANG 3259 - Latin American Theatre
LANG 3260 - Colombia: Society & Culture
LANG 3640 - Teaching Methodologies & Practices
LITT 2306 - Cultures of Colonialism
LITT 2309 - Medevial Women Writers
PHIL 2109 - Ancient Greek Philosophy
PSYC 3230 - Cultural Psychology
Political Economy and Contemporary Issues Courses:
This concentration focuses on the economy, money, the environment, business, and current issues using a multidisciplinary and international approach.
AFRI 3125 - West Africa Now
ANTH 2136 - World Perspectives on Health
CRIM 2211 - Terrorism
ECON 3655 - International Trade
ECON 3670 - International Economic Development
ECON 3675 - International Money and Finance
ENVL 4300 - Environmental Issues
GAH 2207 - Environmental Histories
GIS 3639 - Immigration and Immigrants
GIS 4671 - Contemporary African Business and Society/Study Tour
GSS 2319 - Global Justice
GSS 3234 - Human Rights in a Global Perspective
MGMT 3112 - International Business Management
MGMT 4100 - Manager in the World Economy
POLS 2170 - Introduction to International Politics
POLS 2274 - US Foreign Policy
POLS 3313 - International Order
POLS 3662 - International Political Economy
POLS 3658 - Politics in Film & Literature
SUST 2100 - Environmental Sustainability
SUST 3325 - The Global Environment, Health & Justice
Additional Information
---
If you have any questions about the minor, then please contact coordinators:

Coordinator:
Lauren Balasco
609-652-4743
Lauren.Balasco@stockton.edu