Project Submission Form
A bid is a contract to complete the work, so please understand that bidding on a project means you are committing to complete the project as described by the State Department. While your students are working on the project, you are ultimately responsible for delivering the promised work to the State Department.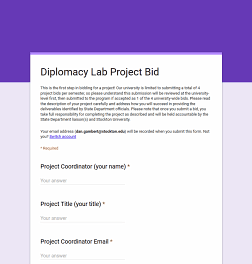 Project bids consist of a 200-word description for how you will complete your project next semester. You should also include your own relevant expertise and research experience and how you will incorporate students (What level students? Will the project be incorporated into an existing class? Will you supervise an Independent Study for credit?). The research is expected to take place throughout the semester and involve students, though it is important to note that your State Department liaison will rely on your expertise and ability to deliver a high-quality project. In other words, you are responsible for delivering the final project by the stated deadline. Some projects are more extensive than others so you should read the project descriptions carefully to understand their scope as you consider submitting a proposal. There is no room to negotiate the final deliverable.
Please submit your initial bid using the electronic form below, then the coordinator will contact you with sample bids and/or requests for clarification or revision. Once all bids are received, reviewed, and finalized, they will be submitted together before the deadline. Stockton is limited to submitting 4 bids per semester. Should we receive more than 4 bids/semester, you may be contacted to ask about considering submitting your bid as an alternate (we are allowed to submit up to 4 alternate bids). We usually do not go over our allotment of bids.
Please submit your project bid for initial review below: