Past Projects
Analyzing Youth Engagement in the Netherlands Amidst Virtual Fatigue due to the COVID-19 Pandemic
Dr. Tina Zappile, Associate Professor and Chair of Political Science, supervised this project in collaboration with Eileen Tizol, Marketing Director and Stacey Clapp, Director of Digital Engagement, and undergraduate students Tori Robbins (POLS & COMM) and Erin Kee (POLS). The Stockton team worked with the U.S. Embassy in The Hague to develop strategies and social media campaigns to increase engagement with youth in the Netherlands. Click here to access the reports: Part 1: Social Media Strategies and Best Practices, Part 2: Social Media Analysis & Trends in the Netherlands, Part 3: Social Media Campaigns.
Impact on the Blue Economy
This project was carried out in Fall 2019 by Elizabeth Lacey, Associate Professor of Marine Science and Tait Chirenje, Professor of Environmental Science, Geology and Sustainability, and Sustainability and Marine Science students. Click on the image below for their final report, and click here to access the portion completed by Dr. Lacey and Isabelle Zoccolo.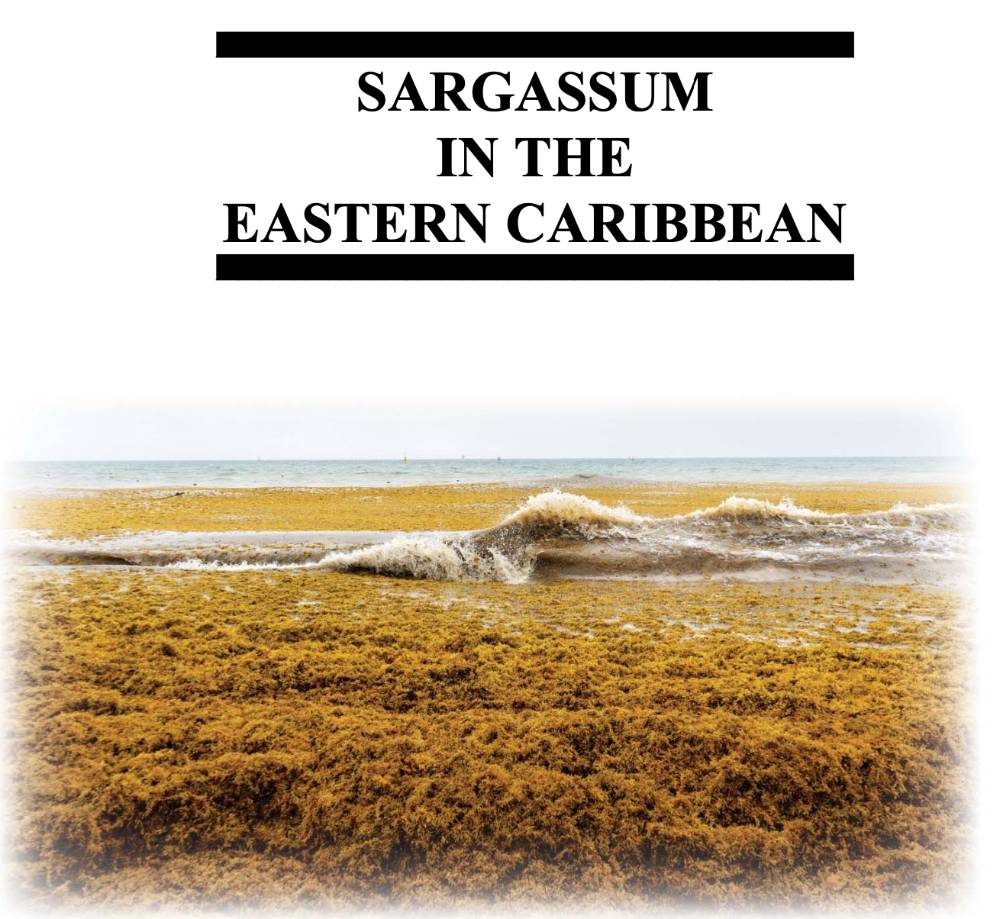 Who Runs the World? Girls (& Women) in STEM
Kaite Yang, Assistant Professor of Psychology, led this project with and Psychology undergraduate students in Spring 2019. Click below to access the final presentation, with the full paper accessible here.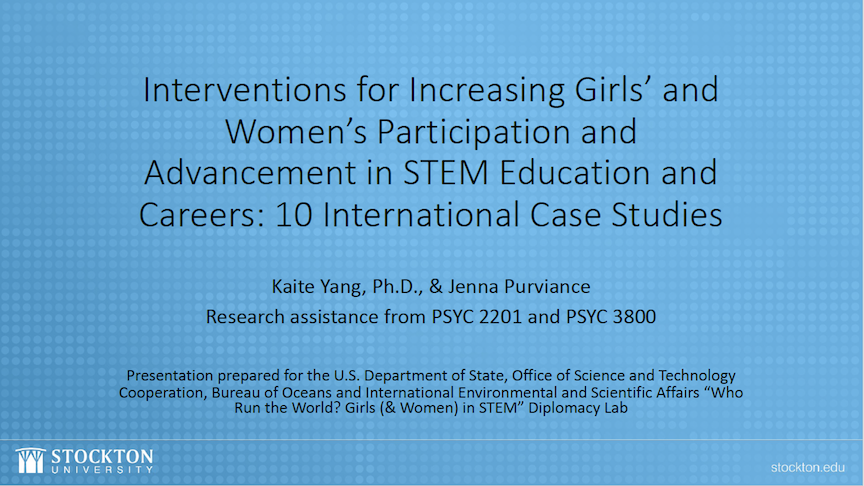 Explain a Complicated Process – Passport Website Instructional Videos in Spanish
This video project was led by Jessie K. Finch, Assistant Professor of Sociology, and Merydawilda Colón, Executive Director of Stockton Center for Community Engagement, Production Services, Sociology/Anthropology students, and community members. The video was made available on the State Department You Tube channel.
Economic underpinnings of violent extremism: A cross country exploration of repeated survey data
Led by Dr. Ramya Vijaya (Professor of Economics), this project was published in a top peer-reviewed journal World Development in 2018 along with Economics undergraduate students Anthony Wilent, Jessica Cathcart, and Ryan Fiorellini. Click the image below to access their published paper: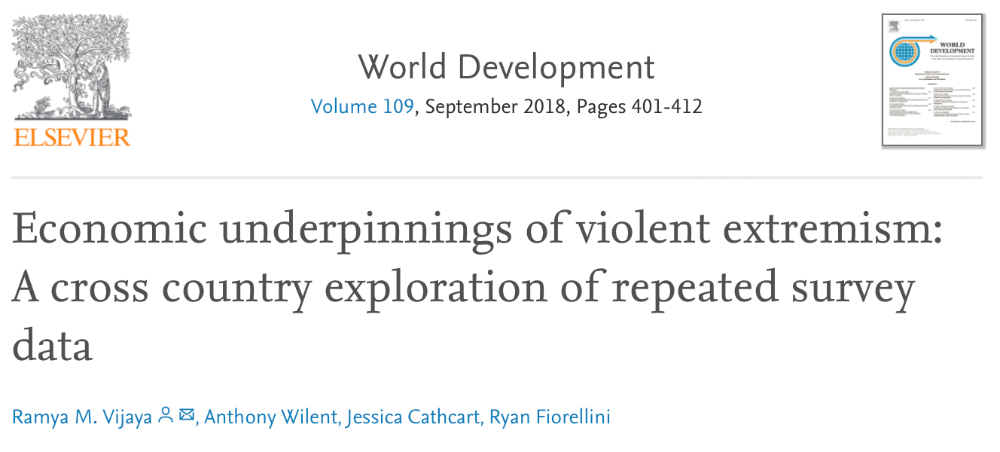 Within 7 years, refugees are self-sufficient and contributing to the U.S., on average
Led by Dr. Ramya Vijaya (Professor of Economics) and Economics undergraduate students Monica Miller and David Fletcher. Click here to access their Monkey Cage article featuring their research.
The Influence of Student Activism on Domestic and Foreign Policy
Completed by Elisa von Joeden-Forgey, Associate Professor of Holocaust and Genocide Studies.
Marine Policy at the Bottom of the Planet
Supervised by Dr. Elizabeth Lacey, Associate Professor of Marine Science, and Mark Sullivan, Associate Professor of Marine Science with their students.
Celebrating 70 Years: The History of U.S. Bilateral Assistance to Nepal
Completed by Associate Professor Tina Zappile and Political Science students with a draft report available here.