Stockton News - Friday, Nov. 9, 2018

WHAT WE'RE TALKING ABOUT
Honoring our Veterans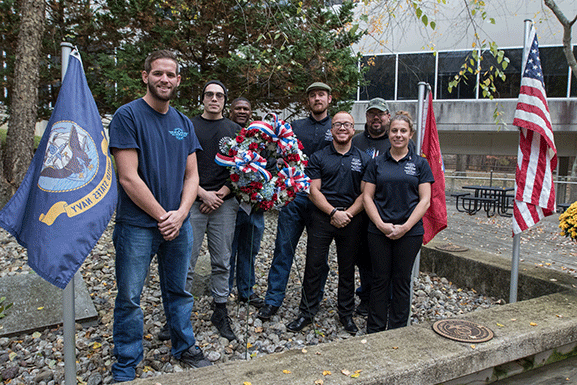 "As we express our gratitude, we must never forget that the highest appreciation is not to utter words, but to live by them." -- John F. Kennedy
Wishing a Happy Veterans Day to all who have served in our Stockton community. Thank you for your service.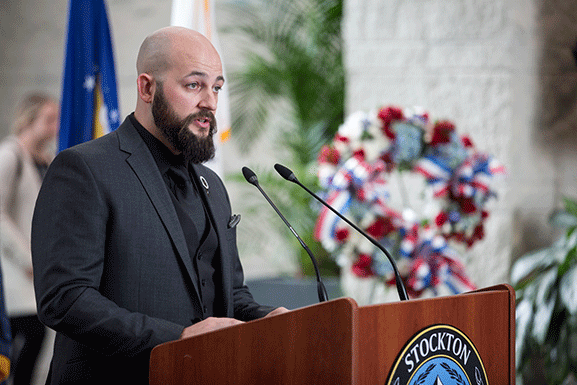 Stockton University and The Office of Military & Veteran Services hosted a week of activities to commemorate Veterans Day. Pictured above are Stockton student veterans at the Veterans Day celebration on Nov. 9 at Veterans Park. Below Stockton's Student Veterans Organization President Ryan Luurtsema speaks at the celebration. Check next week's edition for full coverage
---
Murphy Writing Program Celebrates 25 Years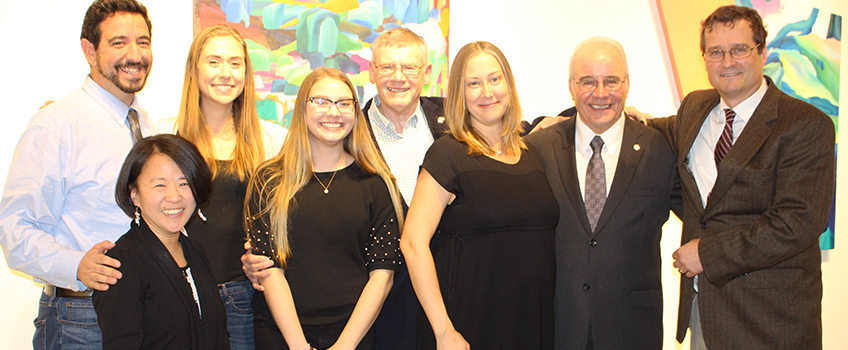 On Nov. 7, Murphy Writing program celebrated its 25th anniversary with a reception at Stockton University, the home of the program for the last four years..
---
Luke Serves as Scientist of NOAA Deep Sea Exploration off Puerto Rico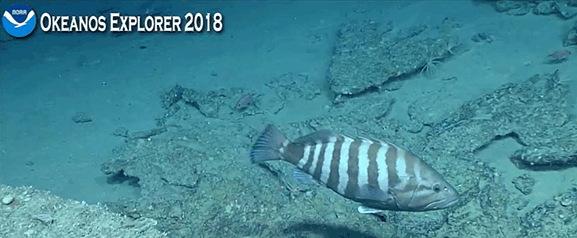 Tara Luke, professor of Biology, is serving as a shore-based scientist for the National Oceanic and Atmospheric Administration's (NOAA) exploration of undescribed waters off Puerto Rico and the U.S. Virgin Islands.
STOCKTON UNIVERSITY ATLANTIC CITY
Master of Social Work Program Celebrates 10th Anniversary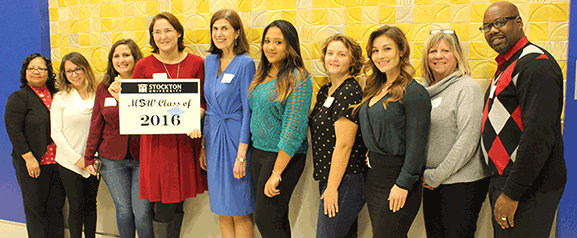 On Nov. 5, the Master of Social Work program celebrated its 10th anniversary at now Stockton University with a reception at its new home, the Stockton University Atlantic City Academic Center.
---
Take a Shuttle
Shuttle service is now offered seven days a week to and from Stockton University Atlantic City. Both the Galloway campus and Stockton Atlantic City provide free transportation for faculty, students and staff with their Stockton ID.
SPOTLIGHT ON
Stockton School of Business Hosts NBEA Conference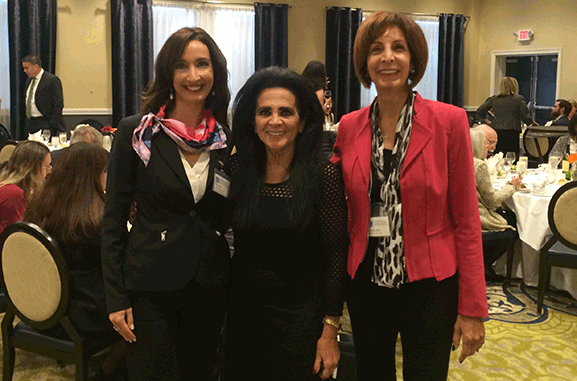 The School of Business at Stockton University hosted the Northeast Business and Economics Association (NBEA) Annual Conference from Oct. 25-27 at the Seaview Hotel.
Amit Mukherjee, associate professor of Business Studies, Marketing, was the conference chair, and Naz Onel, assistant professor of Business Studies, Marketing, was the proceedings editor for the event. The conference drew over 140 participants, mostly business school professors from the Northeast region of the United States. Provost Lori A. Vermeulen delivered the welcome remarks. Matthew Doherty, executive director, Casino Reinvestment Development Authority (CRDA), presented the keynote speech, "Atlantic City-Poised for a Promising Future."
"This conference hosted by the School of Business allowed Stockton faculty to engage with the wider academic community of business school faculty and outside practitioners throughout the Northeast and elevate the distinctiveness of Stockton University," Mukherjee said.
Pictured above from left, Onel; Audrey Wolfson Latourette, Distinguished Professor of Business Studies, Law; and Jennifer Barr, professor of Business Studies, Marketing.
---
Stockton Receives Recycling Recognition from DEP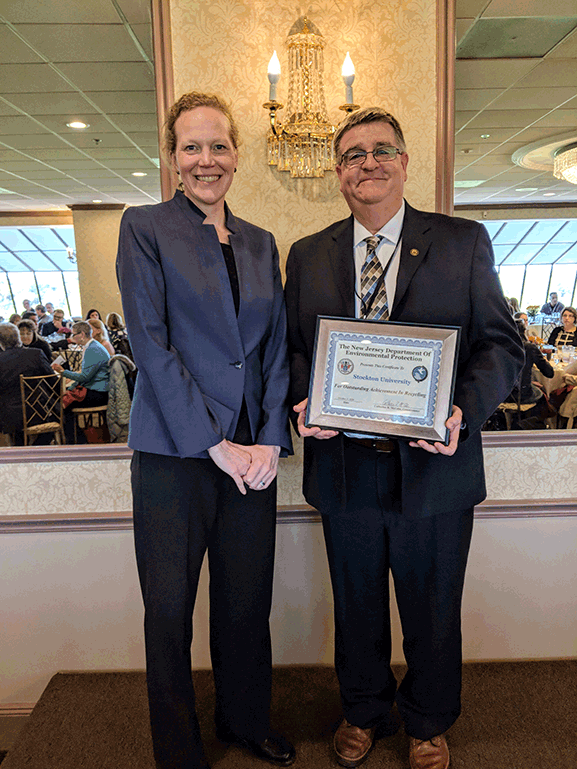 The New Jersey Department of Environmental Protection recently honored Stockton in the "Institution" category for the University's recycling efforts. Stockton recycles bottles, cans, paper and corrugated cardboard, food waste, wood, metal, tires, yard waste, concrete, cooking oil, motor oil, lamp bulbs and street sweepings. Noted highlights included: the University's participation in the annual RecycleMania college campus recycling competition and achieving a 41 percent recycling rate for the 2017 competition; the creation of a "Trading Post" in February 2017 for students to trade or purchase gently used items to help reduce waste; and the commitment to purchase recycled materials, composting materials and more.
John Fritsch, director of Facilities Management & Plant Operations, right, accepted the award from Deputy Commissioner Debbie Mans at the 38th Annual Association of New Jersey Recyclers Symposium and Luncheon held Oct. 17 at the Jumping Brook Country Club in Neptune.
---
Karavackas Receives Master of Laws from Lancaster University
India Karavackas, director of the Office of Global Engagement, successfully completed her Master of Laws in Diplomacy and International Law with Distinction at Lancaster University in the United Kingdom. She completed the program through part-time study via distance learning.
"During the pursuit of my Juris Doctor, I was on track for a career in international law but graduated during the worldwide recession in the 90s. There were few jobs available outside of litigation; I went off track and never followed through. It's nagged at me ever since and I felt that if I had one dying regret, it would be that I didn't gain more knowledge, either through experience or schooling. So I decided to pursue the Master of Laws. It was challenging and took over my personal life, but was worth every sacrifice," Karavackas said.
---
NJECC Sweepstakes Winner: Claudine Keenan
Congratulations to Claudine Keenan, dean of the School of Education, for winning last week's Stockton New Jersey Employees Charitable Campaign (NJECC) sweepstakes. Keenan "made a wave" and is being rewarded with $50 gift card to Jo-Jo's Pizza & Restaurant in Galloway and a $10 gift card to Casciano Coffee Bar in Hammonton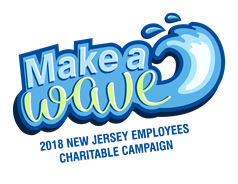 The statewide campaign runs through Dec. 31. Every week, all Stockton employees who have donated through the campaign will be put into a drawing for a sweepstakes prize.

If you plan to make a gift through payroll deduction, you can register and donate through the NJECC online giving portal or fill out a paper pledge form. If you plan to make a one-time donation, please fill out a paper pledge form. Email stocktonnjecc@stockton.edu or stop by Human Resources (J115) to request a paper pledge form.
FRAME-WORTHY
Out of this World Experience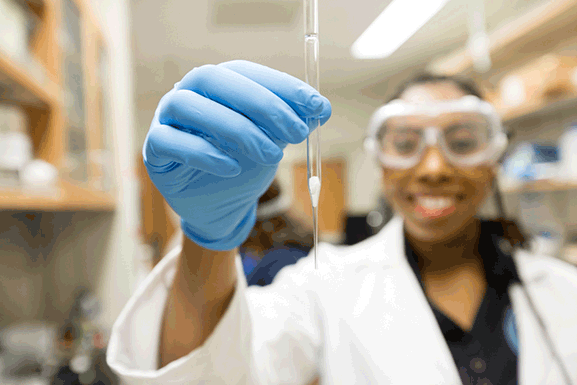 What if patients with cancer and diabetes could take a longer lasting dose of medication with minimal side effects in the absence of dosage spikes that occur from non-uniform capsules? Drug capsules for controlled release anti-cancer drugs and insulin cannot self-assemble with uniform shape on Earth, but there's a chance they can in outer space. Stockton University researchers sent an experiment to outer space to see if such a drug capsule could be created.
---
Birthday Fun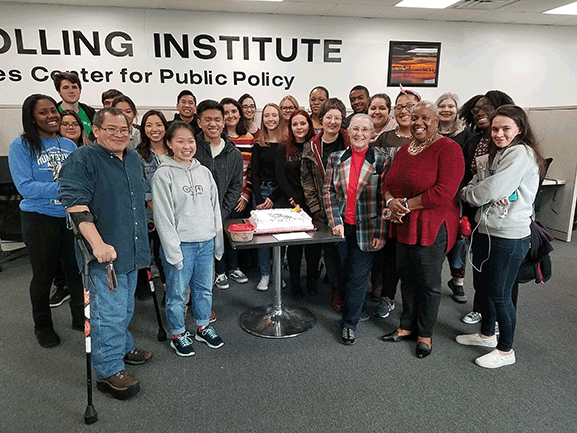 Cricket Cohen, Stockton Polling Institute monitor (pictured in plaid jacket to right of cake), and staff celebrated her 70th birthday with treats before the calls began on Oct. 30. For the past five years, Cohen has been with the institute, which is made up of students and community members of diverse ages. John Froonjian, senior research associate of the William J. Hughes Center for Public Policy, took the photo.
---
Hello, Fall!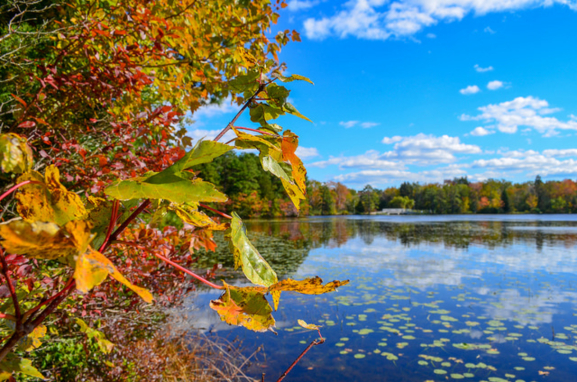 Fall finally arrived to campus and around Lake Fred this month. The University community and wildlife welcome the seasonal change and palette of colors.
WHAT'S TRENDING #STOCKTONU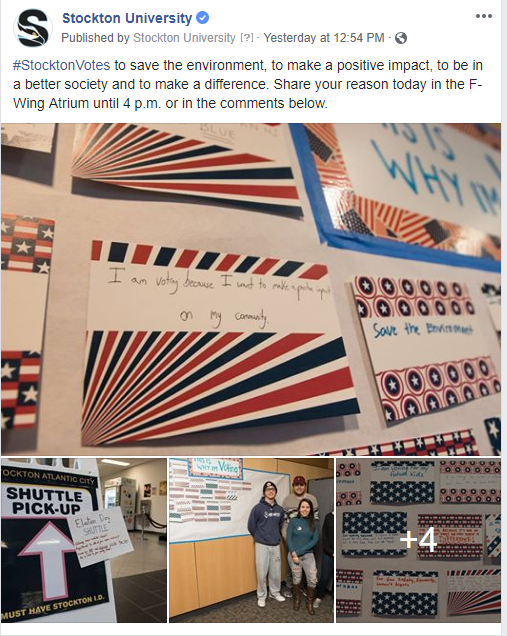 Facebook:#StocktonVotes to save the environment, to make a positive impact, to be in a better society and to make a difference. Photos captures the spirit of voting on campus at Stockton on Nov. 6.
---
Twitter: The American flag now flies over the #StocktonAC campus alongside the New Jersey and Stockton University flags. Ryan Luurtsema, Dylan Carr, and Kirsten Chervenak, representing the Stockton Student Veteran Organization (SVO), led a flag raising ceremony.
OSPREY NOTES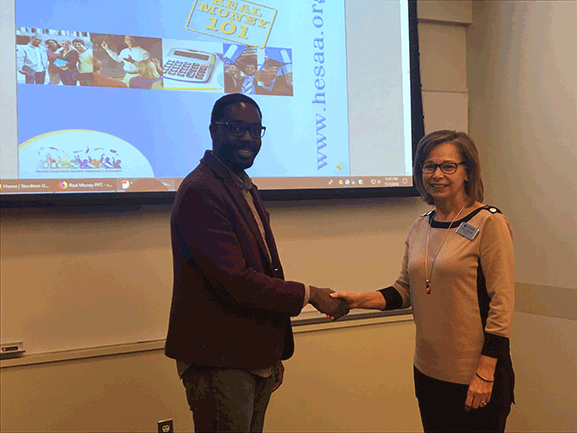 Do you have students who are looking for financial aid assistance? The Office of Financial Aid is hosting "FAFSA Fridays" every Friday now through Dec. 7 from 10 a.m. to 12:45 p.m. in front of the E Wing library to assist
students with the financial aid process.
The Office of Financial Aid hosted "Real Money: Banking and Budgeting," a financial literacy presentation given by Randall Kates (pictured left) of HESAA (Higher Education Student Assistance Authority) on Nov. 7, for students, staff and faculty. Those in attendance learned the basics of budgeting and financial preparedness. Nancy Martorano (pictured right), assistant director of Financial Aid, organized the presentation.
---
The Women's, Gender and Sexuality Center hotline (609-849-8473) is available 24/7, 365 days a year for victims of sexual assault, stalking or dating violence. Trained and confidential "Osprey Advocates" can assist students with resources and options available to them.
FROM THE SIDELINES
Desmond Named NJAC Player of the Year; Five All-Conference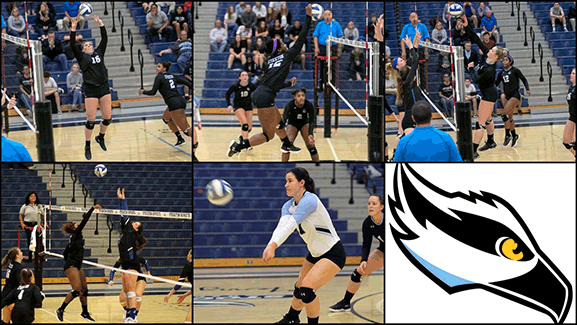 Five Stockton University volleyball players were voted NJAC all-conference for the 2018 season. Leading the way was senior Allie Desmond who was chosen NJAC Player of the Year and selected to the NJAC First Team for her play.
---
Gilligan Voted NJAC Goaltender of the Year; Three NJAC First Team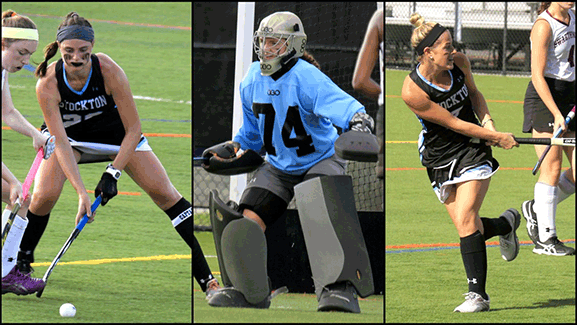 Three Stockton University field hockey players were selected to the NJAC First Team for the 2018 season, with one garnering a major award. All three Ospreys earned all-conference distinction for the first time in their careers.
UPCOMING EVENTS
Saturday, Nov. 10 – Free Veterans Day Concert by the Bay Atlantic Symphony. For tickets go to stocktonpac.org. Ticket availability is limited. Call the box office at 609 652-9000.
Friday, Nov. 16–American Conference on Diversity's 2018 Diversity Issues in Higher Education Conference
Tuesday, Nov. 27 & Wednesday, Nov. 28 – Annual Faculty/Staff Appreciation Day Sale is scheduled for Nov. 27 and 28 when faculty and staff enjoy 30 percent off regularly priced merchandise (excluding technology, clearance and frames) at Galloway and Atlantic City campus bookstores.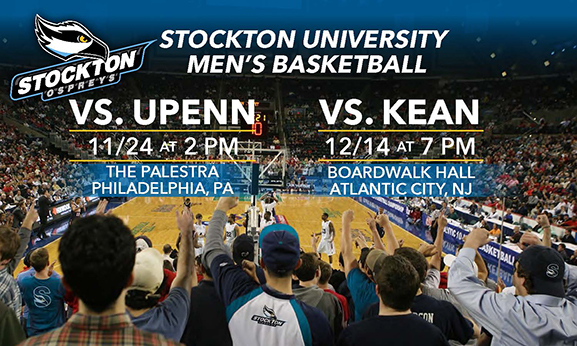 Mark your calendars: Don't miss an opportunity to come out and cheer on your Ospreys at 2 p.m. on Nov. 24 at The Palestra in Philadelphia, and at 7:30 p.m. on Dec. 14 at Boardwalk Hall in Atlantic City
The Office of the Secretary of Higher Education is hosting a series of regional forums on higher education in New Jersey. RSVP for the event(s).
Forum on Higher Education, Industry and the Economy
Tuesday, Nov. 13, 2018, 3-6 p.m.
Middlesex County College, West Hall, Parkview Room
2600 Woodbridge Ave, Edison, NJ 08837
Forum on College Access and Affordability
Monday, Nov. 19, 2018, 3-6 p.m.
Rowan University, Chamberlain Student Center Ballroom
201 Mullica Hill Road, Glassboro, NJ 08028
Forum on Promoting Student Success in Higher Education
Tuesday, Nov. 20, 2018, 3-6 p.m.
Rutgers University – Newark, Paul Robeson Campus Center, Essex Room
350 Dr. Martin Luther King Jr. Blvd., Newark, NJ 07102