Murphy Writing Celebrates 25th Anniversary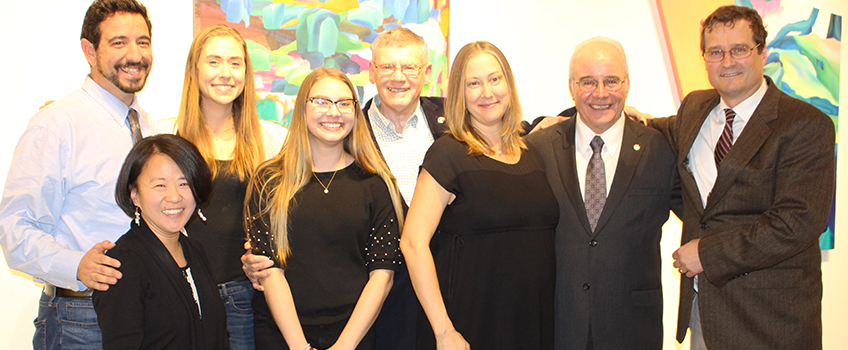 Galloway, N.J. _ The Murphy Writing program began 25 years ago in Peter Murphy's living room.
On Nov. 7 it celebrated its 25th anniversary with a reception at Stockton University, the home of Murphy Writing for the last four years.
Murphy described the workshops as a community full of ordinary people, who are all different from each other.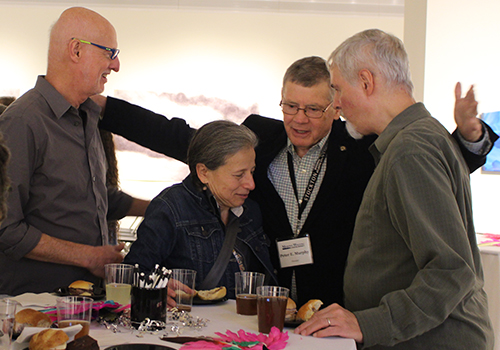 "We run workshops for ordinary people and we create a community that supports each other," he said. "That is why people keep coming back."
Murphy created the workshops when he realized there was never enough time in the average person's life to sit down and write. As a teacher at Atlantic City High School, he had started renting a hotel room one weekend a month to write. Seeing how well this worked, he invited others to join him. Within 10 years, as many as 200 people from all over the country attended each of his getaways and workshops.
"There is a buzz when you are creating something," Murphy said. "We are lucky in this country to have the freedom to do it."
Workshop participants shared the impact Murphy, and his daughter Amanda Kumpas, have had on them and their writing.
Jamie Walters, a senior writing student who was a former intern for Murphy Writing, thanked Murphy for giving her a creative outlet. After taking a poetry class taught by Murphy and poet Stephen Dunn, Walters said she knew she would forever be a part of Murphy Writing.
"Murphy Writing inspires us to follow our ideas and to write boldly," Walters said. "It weaves together a supportive community, in Stockton University and out of it…And it gives many of us the courage to think of ourselves as writers."
Stockton President Harvey Kesselman said it is people like Peter Murphy who make Stockton a distinctive and unique place to learn.
"We are committed to the arts because of people like Peter Murphy," Kesselman said. Thank you for 25 years and thank you in advance for the next 25 years."
Jin Cordaro, an adjunct faculty member at Stockton, went to her first Murphy Writing workshop in 2008, and was immediately hooked.
"Not only do they provide opportunities and prompts to practice our craft for muscle memory, learn new methodology, and focus our creativity, but they provide the welcoming environment full of support and engaged peers that is vital to the life of any writer," said Cordaro.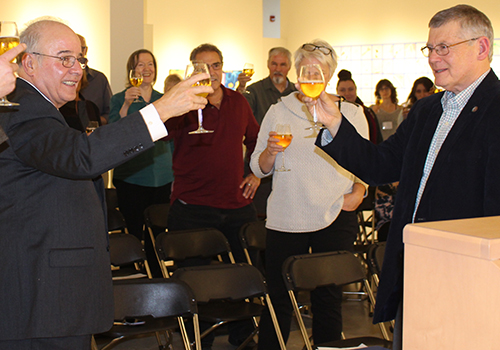 Dean of General Studies Robert Gregg, noting that he was following instructions from Murphy to write a poem that emulates Thomas Hardy's Channel Firing, offered his comments in verse, beginning with:
Murphy Writing exemplifies our ethos
- the Stockton Idea, the Stockton glue –
It takes people wherever it may find them,
and lets them explore the world anew.
While writers' colonies like Iowa and Bread Loaf,
make seasoned writers sit in a queue
Murphy welcomes absolutely everyone,
and lets them show what they can do.
Adjunct faculty member and Murphy Writing participant, Joe Costal ended the program with a humorous and heartfelt toast, comparing the writing process to creating an "art baby" and Murphy as a parent who helps nurture that baby.
Costal said when he was feeling anxious, afraid of what he might write, the Murphys walked him to a table, handed him a pen and a bag full of chocolate, and told him everything would be okay.
"There are all the things we allow to get in the way (of our writing),"' he said. "Instagram, our day jobs, our children. Then you meet the Murphys."
Quoting Oscar Wilde, Costal said, "Art is the most serious thing in the world, done by the least serious people."
View a gallery of photos from the event on flickr.
Reported by Chelsea Doherty
# # #
Contact:
Diane D'Amico
Director of News and Media Relations
Stockton University
Galloway, N.J. 08205
Diane.DAmico@stockton.edu
609-652-4593
609-412-8069
stockton.edu/media