Discover Marine Life with Tara Luke During NOAA Deep Sea Exploration off Puerto Rico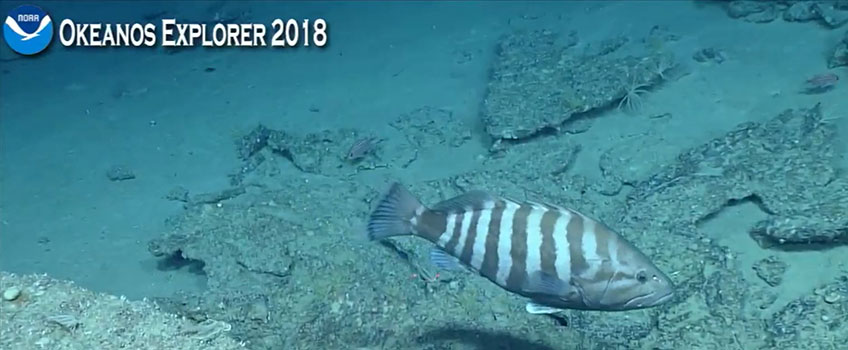 Discover deep sea marine life in real time with Tara Luke, professor of Biology, while she serves as a shore-based scientist for the National Oceanic and Atmospheric Administration's (NOAA) exploration of undescribed waters off Puerto Rico and the U.S. Virgin Islands.
The NOAA Ship Okeanos Explorer dropped the Deep Discoverer, a remotely-operated vehicle (ROV), into the Caribbean Sea Oct. 31. From her computer in New Jersey, Luke is participating in daily ROV dives where she is identifying species and collaborating with other scientists worldwide to collect baseline data on a North Atlantic habitat unseen by humans.
The ROV can dive as deep as 6,000 meters, and its nine high definition video cameras offer up-close views of species that are rarely seen let alone recorded. Sonar technology will also be deployed to map geologic features and the seafloor.
The Caribbean Sea is home to commercial fishery species, includes protected essential fish habitats and is an area of active tectonic activity subject to earthquakes and landslides.
The community can watch the expedition via a daily livestream, 8-4:30 p.m. ET through Nov. 19, to witness discoveries as they happen alongside scientists.
"What I enjoy most about these expeditions is the opportunity to discover new species, some that no one has ever seen before and share this with other scientists and the general public alike," explained Luke.
Her service on half a dozen NOAA missions has taken her virtually to the deepest spot on the planet, the Marianas Trench, and submarine canyons along the New England seamount chain.
Locally, Luke studies artificial reefs that attract colonies of coral, mussels and fish such as tautog and sea bass. She looks at the genetic diversity of corals and microorganisms to predict their ability to withstand change. As a post-doctoral researcher, she dove 2,512 meters below the ocean in Alvin, the U.S. Navy's manned deep-ocean research submersible operated by Woods Hole Oceanographic Institution.
Stockton University's Marine Field Station offers students the opportunity to drive an ROV and use sonar for mapping the seafloor, shipwrecks and hazardous marine debris for removal. Luke's participation in the Okeanos mission provides additional opportunities for students and the community to connect with a global effort to document the ocean for informed decision making and conservation.
"Knowing what's out there and being able to identify species helps us document biodiversity," she explained.
Luke will be using her Twitter account, @TaraLuke1, to share updates throughout the mission. The tweets below offer a glimpse of day one's discoiveries off Vieques Island.
Reported by Susan Allen
Corals, fishes, and echinoderms 287 m deep east of Vieques Island #Okeanospic.twitter.com/OKyqS4ar7P

— Tara Harmer Luke (@TaraLuke1) October 31, 2018
Interesting brittle star on an octacoral, more corals, and an interesting crab 277 m deep east of Vieques. #Okeanospic.twitter.com/inZREI3QvI

— Tara Harmer Luke (@TaraLuke1) October 31, 2018
A good one for #Wormwednesday A pretty big "Fire worm" type polychaete 10-12 cm long! #Okeanos from Vieques Island, Puerto Rico! pic.twitter.com/jYWOlAcIdm

— Christopher Mah (@echinoblog) October 31, 2018