Stockton News - Friday, Feb. 8, 2019
WHAT WE'RE TALKING ABOUT
Unity Day Fosters Learning, Listening, Understanding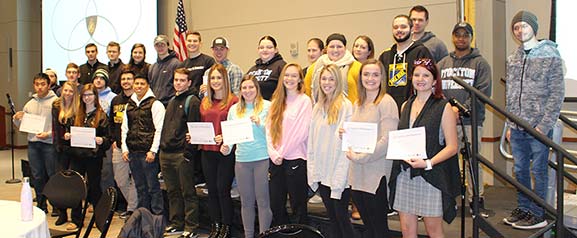 Stockton University's inaugural Unity Day on Feb. 5 featured workshops and discussions dedicated to studying, discussing and understanding the world in which we live and the people with whom we share it.
Unity Day grew out of 2018's United Against Hate Day as an opportunity to listen, learn and talk with people of different cultures, genders and points of view.
Organized by the Office of Institutional Diversity & Equity, the daylong event included discussions and workshops on topics ranging from ageism to racism, social justice, economic inequality, sexual harassment, women in politics and same-sex marriage.
---
Stockton Signs Agreement with Rowan College at Gloucester County
The presidents of Stockton University and Rowan College at Gloucester County have signed a new dual admission and transfer partnership that will help students make a smooth transition from the two-year college to Stockton's bachelor's degree program.
The Transfer Pathways agreement builds a strong relationship between Stockton and Rowan College at Gloucester County by offering multiple opportunities for students to seamlessly pursue associate and bachelor's degrees at the two institutions of higher education.
---
Have a Seat in Student-Designed Chairs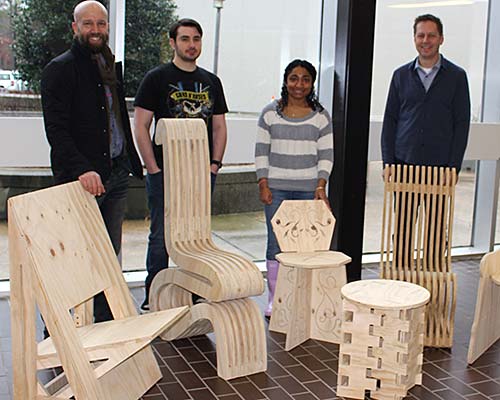 Students in Associate Professor of Art Jedediah Morfit' s class "The Designed Object" were charged with not just designing a chair, but also building and assembling it, using the University's CNC router.
"They had to take it from a flat design, to a foam core model, then a full 3-D product in plywood," Morfit said. "And then they had to assemble it
STOCKTON UNIVERSITY ATLANTIC CITY
'Second Saturdays in Atlantic City' Happening Tomorrow
Calling all Stockton University alumni! Don't miss tomorrow's "Second Saturdays in Atlantic City," sponsored by the Office of Development and Alumni Relations, from 11 a.m.-1 p.m., with professional photographer Nick Valinote '91. Valinote will demonstrate some photography techniques that will let you leave the class able to take incredible photographs you won't believe came from your phone. The workshop is free, includes lunch and is held in the Academic Center of Stockton University Atlantic City. Register for tomorrow's workshop, open specifically to Stockton alumni and their families and friends.
For more events happening at Stockton University Atlantic City, visit the online calendar.
---
Check out this Facebook post that has all the information you need to grab some delicious pizza at Carluccio's Pizza at Stockton University Atlantic City!
SPOTLIGHT ON
Stoler, Students Help Tell Stories of Streams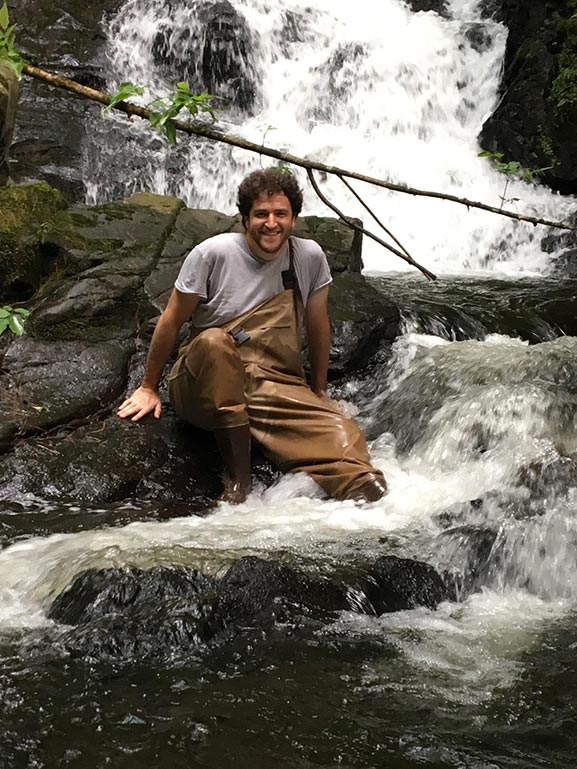 Rivers and streams are not just beautiful bodies of water, they also tell us stories. Alice Belskis '21, Joshua Alcoba '20 and Tahesia Reid '20 working with Aaron Stoler, assistant professor of Environmental Sciences (pictured right), are learning those stories as they investigate stream ecology at his field sites in the Adirondack Mountains.
"We go up for two days at a time, drive over 200 miles, and explore the food web of streams. Some of the sites are in the middle of towns and noticeably affected by humans whereas other streams are in the most picturesque, resplendent and pristine areas," Stoler said. "It is an excellent chance for students to get out of the relatively flat terrain of New Jersey and experience environmental science up close." Back at Stockton, Stoler has students sort through hundreds of samples, identifying thousands of insects, and analyzing that data using geographic information systems.
FRAME-WORTHY
Reflecting on Lake Fred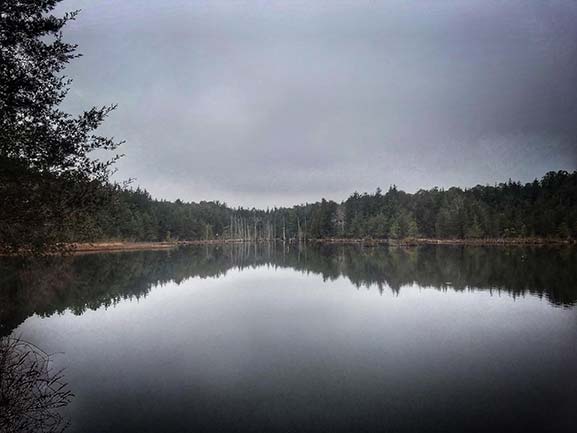 The majority of Lake Fred was thawed out on Feb. 7, after unseasonably warm temperatures paid us a visit this week. Serene and still, the lake captured the reflections of the pines perfectly.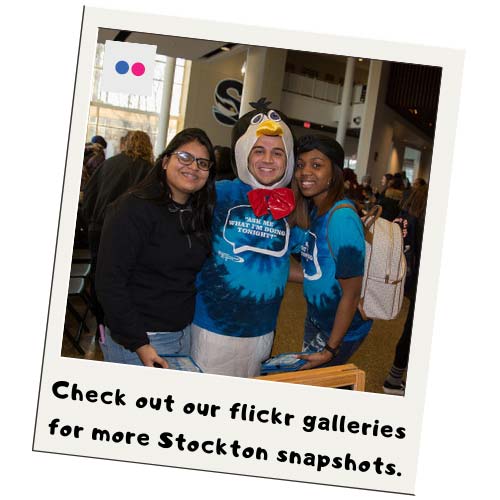 WHAT'S TRENDING #STOCKTONU
Facebook: Alyssa Cross is unstoppable in her journey to earning a Literature degree with a concentration in Secondary Education. Not even an unexpected surgery kept her from attending class. From her hospital bed, Alyssa used technology to remotely attend Amy Ackerman's "Instructional Technology for K-12 Teachers" class at the #StocktonAC campus.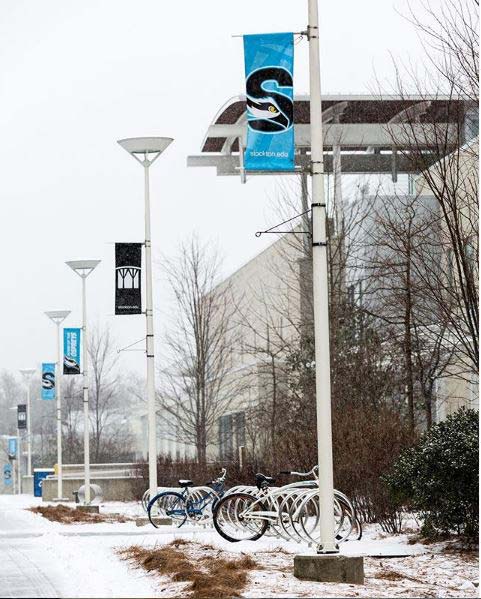 Pictured above: Flurries last Friday and temps in the 50s on Tuesday were teased in this Instagram post.
FROM THE SIDELINES
Desmond & Cross Country Team Collect NJAIAW Honors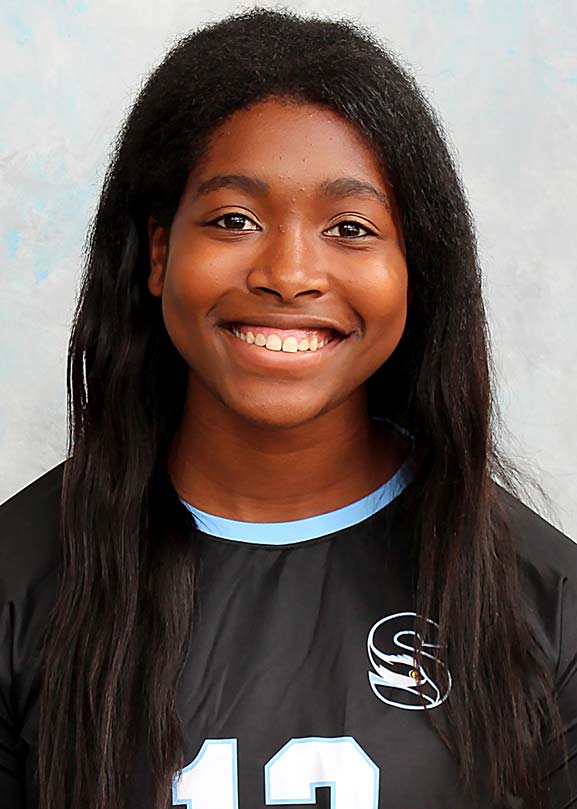 Stockton collected two awards from the New Jersey Association of Intercollegiate Athletics for Women (NJAIAW) at its 27th annual National Girls & Women in Sports Day luncheon, which took place on Feb. 4 at Seton Hall University. Senior Allie Desmond, a starter for the Osprey volleyball team, was recognized as Stockton's NJAIAW Woman of the Year, an award based on athletic excellence, academic success and community service. For the second time in five years, the women's cross country team earned the NJAIAW Team Academic Award.
The Press of Atlantic City featured the honors.
---
Donzanti Sets New School Record in Women's Basketball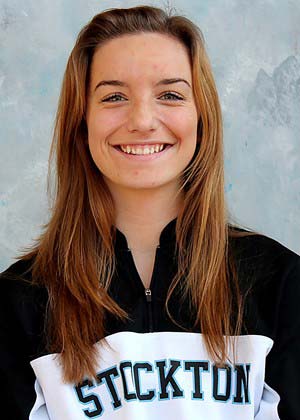 Freshman point guard Emily Donzanti set a new school record with 125 assists on the season during a Feb. 6 women's basketball game against Kean University. Donzanti entered the game with 117 helpers, one shy of the mark of 118 by Rosina Rachuba in the 1999-00 season. The rookie dealt the record-tying and record-breaking assists during the second quarter. Donzanti finished with eight dishes plus 11 points and four rebounds.
---
Calloway Gains New Outlook at NCAA Convention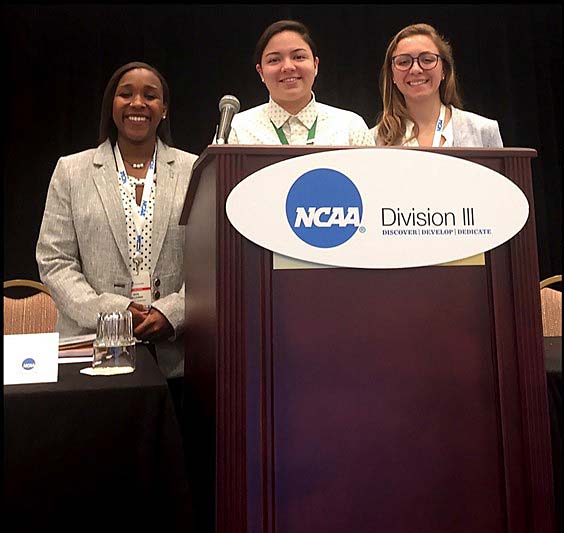 Niya Calloway, a junior Communication Studies major and goalkeeper for Stockton's field hockey team, attended the 2019 NCAA Convention in Orlando, FL last week as part of the Division III Student Immersion Program. The initiative, which began in 2015, brings 40 ethnic minority students to the NCAA Convention, where they are exposed to Division III, its members and its governance process.
OSPREY NOTES
Comments Sought for Stockton Police Reaccreditation
A team of assessors from the New Jersey State Association of Chiefs of Police (NJSACOP) will arrive on Monday, Feb. 25, to examine all aspects of the Stockton University Police Department's policies and procedures, management, operations and support services. As part of this final on-site assessment, employees and the public are invited to provide comments to the assessment team by telephone or email between 9-10 a.m., Feb. 25, by calling 609-626-3412 or emailing police.accreditation@stockton.edu.
---
Spring Semester FAFSA Fridays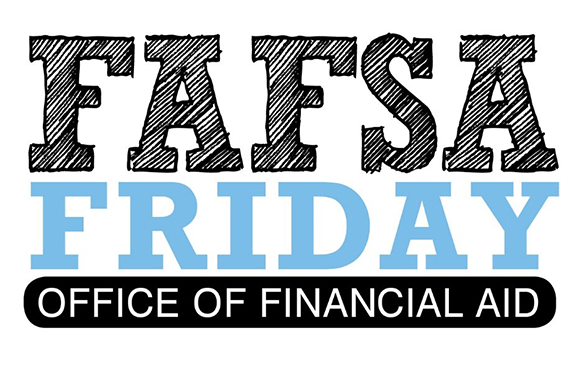 Do you have students who are looking for financial aid assistance? The Office of Financial Aid is hosting "FAFSA Fridays" from 11 a.m.-1 p.m. every Friday, Jan. 25-April 19, in the F114 computer lab to assist students with the financial aid process. Encourage your students to file their FAFSA applications by Stockton's March 1 priority deadline and NJFAMS applications for State aid by April 15.
UPCOMING EVENTS
Stockton Begins Black History Month Celebrations with Flag-Raising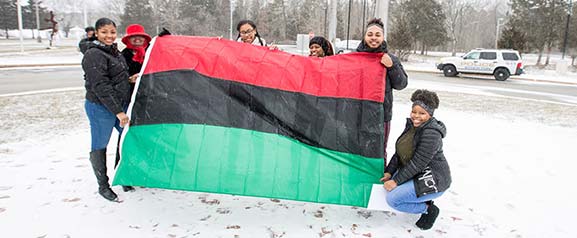 The Unified Black Students Society (UBSS) raised the red, black and green Pan-African flag into a flurry-filled sky on Friday, Feb. 1, to celebrate the start of Black History Month at Stockton University. Read the story that includes a link to more campus Black History Month events, too
Wednesday, Feb. 20 – Board of Trustees meeting
Tuesday, Feb. 26 – Transfer Admissions Day at Kramer Hall in Hammonton
Friday, March 8 – Rowing and Growing with the Ospreys
Upcoming Strategic Plan Open Sessions
The University community is invited to attend the following open sessions to discuss the Institutional Strategic Plan:
Tuesday, Feb. 19, 4:30-5:30 p.m., in HSC-302
Friday, Feb. 22, 3-4 p.m., in the Board of Trustees Room
Monday, Feb. 25, 2:10-3:25 p.m., in Meeting Room 5 of the Campus Center
Thursday, Feb. 28, 4:30-5:30 p.m., in the TRLC
Friday, March 1, 12:45-1:45 p.m., in the Board of Trustees Room
Tuesday, March 5, 3:30-4:30 p.m., in the Campus Center Event Room
If you have any questions, email StrategicPlan@stockton.edu