Spotlight On: Stoler, Students Help Tell Stories of Streams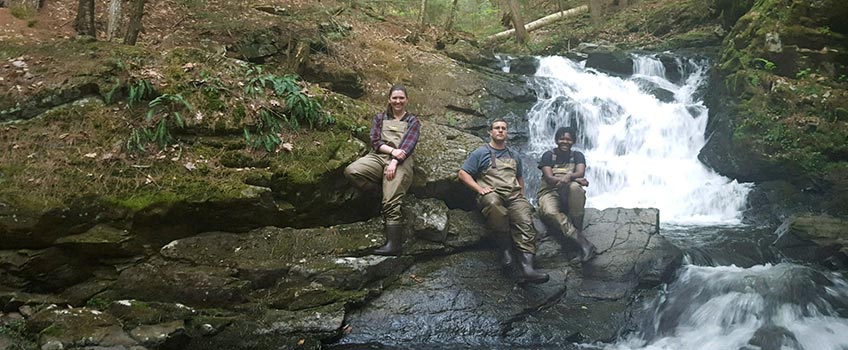 Galloway, N.J. – Rivers and streams are not just beautiful bodies of water, they also tell us stories. Alice Belskis '21 of Ocean City, Joshua Alcoba '20 of Galloway, and Tahesia Reid '20 of Trenton (pictured above from left to right) working with Aaron Stoler, assistant professor of Environmental Sciences (pictured right), are learning those stories as they investigate stream ecology at his field sites in the Adirondack Mountains. Stoler takes Stockton students up to Lake George in upstate New York several times a year where they participate in a long-term study on how stream diversity changes with surrounding human development.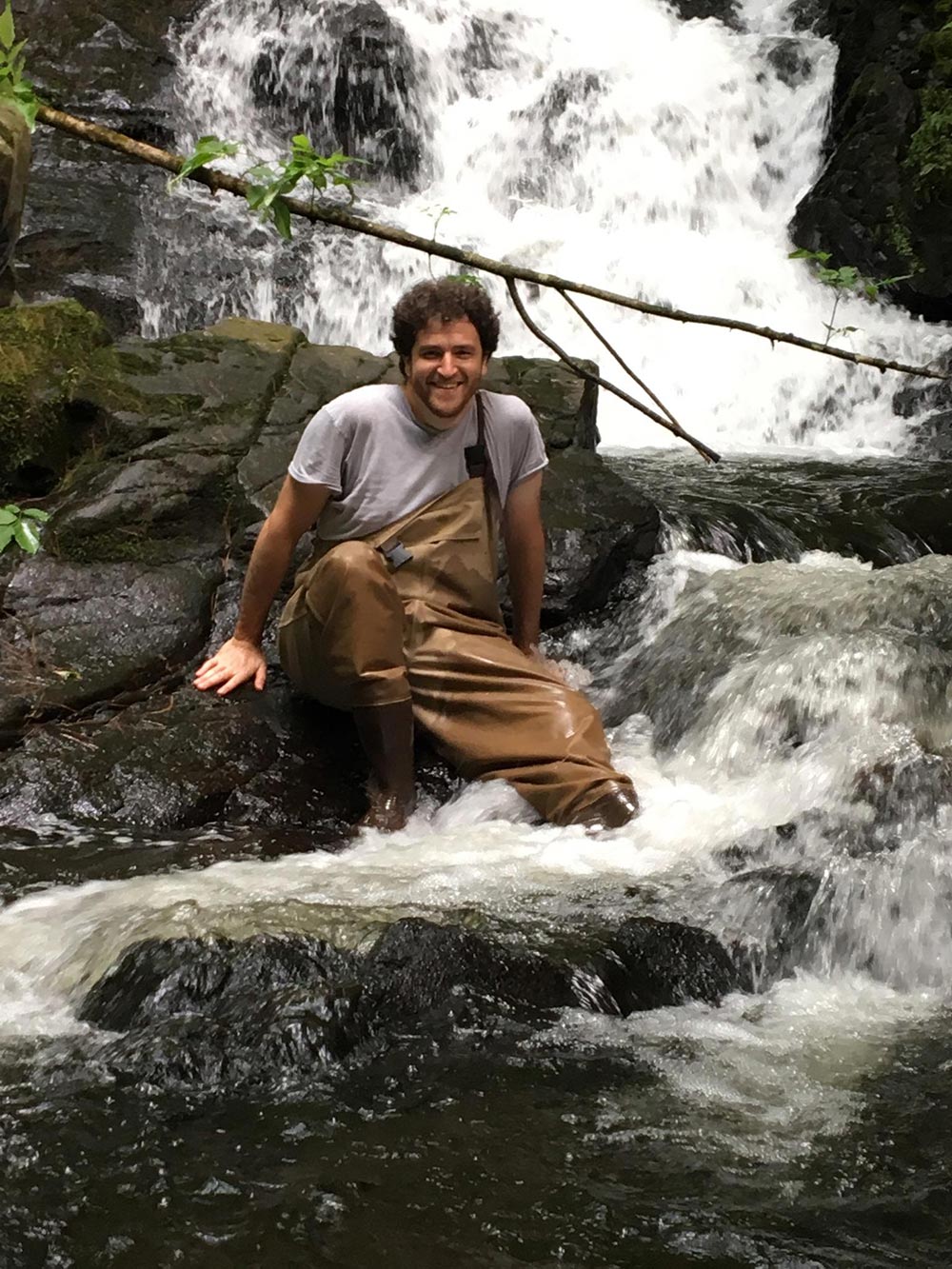 "We go up for two days at a time, drive over 200 miles, and explore the food web of streams. Some of the sites are in the middle of towns and noticeably affected by humans whereas other streams are in the most picturesque, resplendent and pristine areas," Stoler said. "It is an excellent chance for students to get out of the relatively flat terrain of New Jersey and experience environmental science up close." Back at Stockton, Stoler has students sort through hundreds of samples, identifying thousands of insects, and analyzing that data using geographic information systems.
Recently, Stoler co-authored a paper with Scott Tiegs, professor of Biology at Oakland University in Michigan, and researchers from 125 other institutions from 40 countries. The paper explored how climatic factors alter the flow of carbon in and around river-based ecosystems, much like the work he facilitates with Stockton students. This cycling of carbon represents the transfer of energy from one organism to the next in a food web.
This study, sponsored by the Ecuadorian Science Foundation, found that climatic factors, such as temperature and moisture, influenced carbon-cycling rates of river-based ecosystems. Carbon cycling is critical for the functioning of systems across a range of spatial scales, from local food webs to the global climate. The study also suggests that rates of carbon cycling are more dependent on temperature among higher latitudes, where increases in average temperature due to climate change are likely to be more severe.
The paper, which was published in the latest issue of the journal, "Science Advances," noted that the climatic factors that govern decomposition rates are increasingly impacted by human activities. These findings will help researchers establish baselines to quantify environmental impacts to the functioning of ecosystems on a global scale.
"Previous work into this question has been hindered by logistical constraints; mainly, we needed close coordination among many researchers all over the world who would use the exact same materials and follow the exact same methods. The lead author asked people all over the world to place cellulose-rich 'leaves' (actually cotton-strips) in streams at their local field sites," Stoler said. "We set them out in the streams, let them decompose for a month, and then collected them to measure decomposition rate. My contribution to the study included measurements in the Adirondack Mountains, since part of my research entails a long-term sampling effort of streams around Lake George, NY. Counting everyone's contribution, we measured carbon cycling at over 1,000 sites around the world. It was a pretty stunning collaboration."
Reported by Mandee McCullough