Speakers Share Stories, Ideas, at Unity Day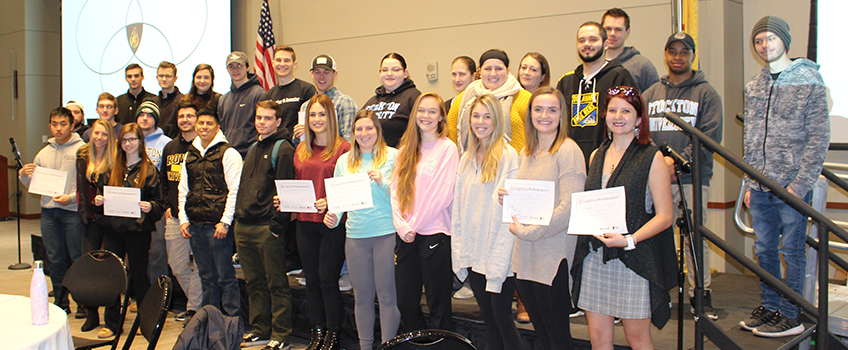 Galloway, N.J. - Stockton University's first annual Unity Day on Feb. 5 featured workshops and discussions dedicated to studying, discussing, and understanding the world in which we live and the people with whom we share it.
Unity Day grew out of 2018's United Against Hate Day as an opportunity to listen, learn and talk with people of different cultures, genders and points of view.
Organized by the Office of Institutional Diversity and Equity, the daylong event included discussions and workshops on topics ranging from ageism to racism, social justice, economic inequality, sexual harassment, women in politics and same-sex marriage. In the spirit of love and unity, Paul Kleba made personalized Valentine's Day cards in the Grand Hall.
"The Planning Committee wanted to sustain a campus environment where we can critically think and recognize multiple perspectives on race, cultures, gender, sexual orientation and other isms," said Associate Professor of Social Work Guia Calicdon-Apostle, a co-chair of the event. "We fashioned these dialogs, lectures and showed a film that demonstrate that unity has a pivotal role in understanding our role in this institution and in human society. From a personal perspective, I come from a belief that humanity has the capacity to collaborate, unite, and form strong human relationships so that it can create a prejudice-free and violent-free world. This belief can be translated into everyday actions that promote unity rather than discord or hate."
"Together We Remember"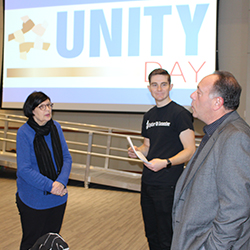 Opening speaker, David Estrin is the Founder and CEO of Together We Remember (TWR), a nonprofit empowering the next generation of leaders. He is the grandson of Holocaust survivors and is making it his mission to end all identity-based violence in the world by spreading the message "Never Again."
"We have to remember humanity at its worst to inspire humanity at its best," said Estrin.
Students joined the discussion by remembering those who fought in World War II. Multiple students in the room had military family members who were affected by the war and shared their stories.
"Ageism: Awareness and Social Justice for Older Adults"
Before the session attendees were first given pieces of paper and crayons and told to draw themselves as "old people."
Lisa Cox, a Professor of Social Work and Research Chair of the Stockton Center on Successful Aging (SCOSA) who moderated the presentation, reviewed the sketches and the commonalities within them: gray hair, canes, wrinkles, and so on, emphasizing the idea that older people are often viewed as useless and decrepit.
Panelists discussed "ageist" habits prevalent in society such as subpar medical attention and "over the hill" jokes, and debunked common stereotypes that older people are "taking" from younger generations, and are nonsexual. They said by becoming more aware of often unconscious biases, they can be reversed.
"The new word for 'retirement' is 'renewment,'" said Elizabeth Elmore, a Professor of Economics and Director of Stockton Center for Economics and Financial Literacy. "Let's be more mindful of our word choices and how they affect others."
Other participants were David Burdick, a Professor of Psychology and Director of SCOSA, and Christine Gayda-Chelder, Assistant Professor of Psychology, Service Chair of Stockton Center on SCOSA, and Coordinator of the Gerontology Minor.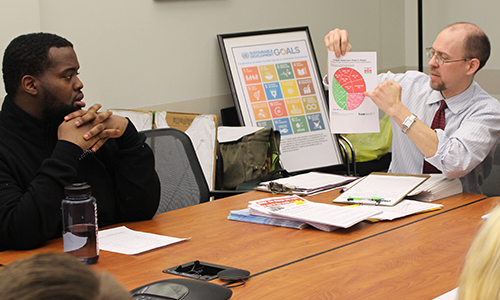 "Lift from the Bottom, Everyone Else Will Do Better"
Andy Cowgill and Kat Wentzell led their own discussion. Representing the Eastern Service Workers Association, the two explored how many people struggle just to make a living.
"Our focus has been to eliminate the false economy between those who are a little bit better off to those who are completely at the bottom," said Cowgill, ESWA Operations Manager.
The organization organizes jacket drives and book drives to collect materials for children who do not have them.
"You can make a difference in any kind of way," said Wentzell.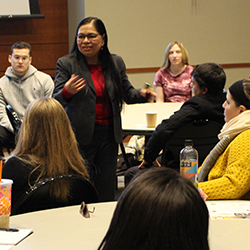 "Unity from the Micro, Mezzo and Macro Perspectives"
Examples of "disunity" can range from the micro level – a family divorce or child abuse, to the macro level, a world war, poverty, and even climate change. Associate Professor of Social Work Guia Calicdan-Apostle led a workshop that examined unity at all levels and talked about principles of unity in different arenas, and how universal unity might be achieved.
She cited the European Union, ASEAN and United Nations as examples of efforts to have political unity. But, she also talked about the challenges of having a unity of religion, or unity of language, when some people are committed only to their own beliefs, without regard that all faiths can unite and all people can communicate with an additional world language. She said people must learn to behave with love and sincerity and have meaningful exchanges.
"But there is still a lack of trust at all levels," she said.
"Your Assignment: Practice Empathy"
Joseph Everett has his own mission. As an adjunct professor at Stockton, he strives to teach his students to have empathy towards one another.
Everett talked about an assignment he had given his class to pair up with someone who had opposite views and opinions as themselves, and still find common values in a healthy conversation.
"I set out to try and teach my Social Work students a lesson on empathy, which was successful and taught additional lessons as well," said Everett.
Students sitting in on the discussion spoke about how actively listening to someone else in a conversation is beneficial, and how having empathy can be profitable in their daily lives.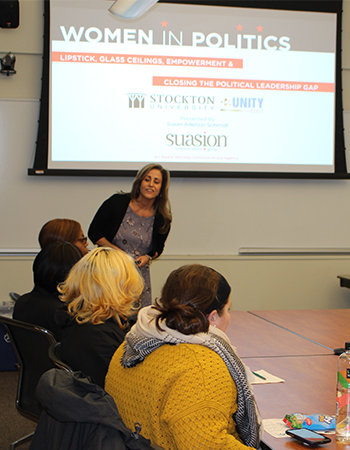 "Women in Politics: Closing the Political Leadership Gap"
Susan Adelizzi-Schmidt, president of Suasion Communications Group, led a presentation highlighting how far women have come in regards to politics and urging politically ambitious women to follow their dreams. Adelizzi-Schmidt showed numerous examples of successful political female figures, and explained how and why they earned trailblazer status.
Adelizzi-Schmidt was the first woman to run for state Senate in her district, and in her session, she also detailed her own experiences in politics, both good and bad. She said she was the victim of numerous smear campaigns, and was even tracked for a period of time by the opposing party. She also faced sexism and misogyny from both politicians and members of her community, and recalled receiving more comments about her lipstick choices and hairstyles than her policies and goals.
"It's important to wear 'rhinoceros skin' when you enter the public domain, especially as a woman," she said. "People will attack you. You must remain strong and always take the high road."
'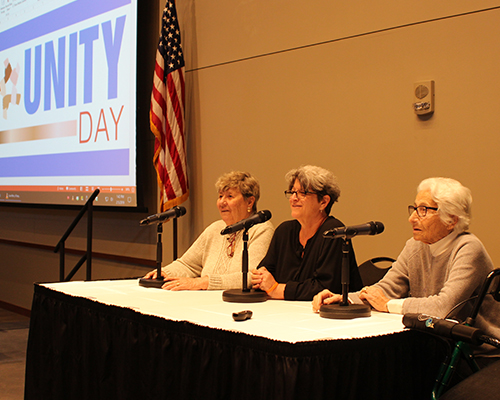 Love Wins' Documentary
Featured speakers Emily Sonessa and Jan Moore lived together and raised Jan's three children in a non-traditional family that no one talked about publicly for years. Their story, and their marriage in 2013 when same-sex marriage became legal in NJ, are the subject of "Love Wins," a documentary by Robin Kampf that tells the Ocean Grove couples' battle for the right to marry after decades of living together.
"I knew as a kid, but it was never talked about," Jan Moore's son Scott says in the film of the relationship between his mom and 'Auntie Em.' "I had the security and love of a family, and that was what I wanted."
Both women are involved with Garden State Equality. They said they find young people today far more accepting than their own generation, some of whom still whisper behind their hands when the couple goes to the local senior center. And they worry about losing what they have gained.
"We are still very much activists," Moore said. "You have to live your own true life."
"Sexual Harassment and Title IX on College Campuses"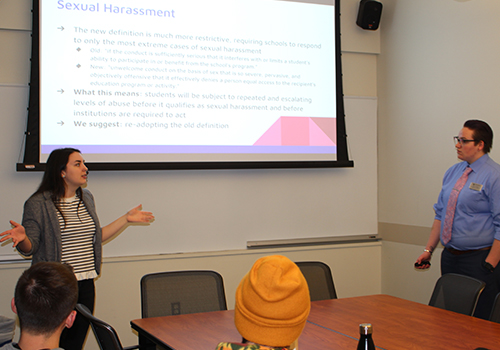 Student Senate President Katie Coburn and Student Senator Lex Franklin hosted a presentation regarding the proposed federal Title IX changes, as well as the Student Senate's response to those changes. According to the U.S. Department of Education, Title IX is a statute that "protects people from discrimination based on sex in education programs or activities that receive Federal financial assistance." Recently, changes were proposed that the speakers believe will make it more difficult for victims to receive justice, such as requiring "clear and convincing" evidence rather than the "preponderance" that was required before. The changes also fail to acknowledge transgender, non-binary, and non-gender-conforming students and their rights.
The Student Senate responded with revisions it believes are fairer to victims of all genders. One of its main ideas was to make the reporting process kinder and less invasive for victims, as many have PTSD, memory loss, and other issues that can be triggered by pressure. One of the potential remedies proposed is to provide victims with sheets they can fill out about the situation from environments in which they are most comfortable, such as their homes, rather than in an educational or judiciary setting.
"We are prepared to fight this if need be," said Coburn. "The Student Senate greatly cares about the wants and needs of the student body it represents."
"Barriers to United States Citizenship"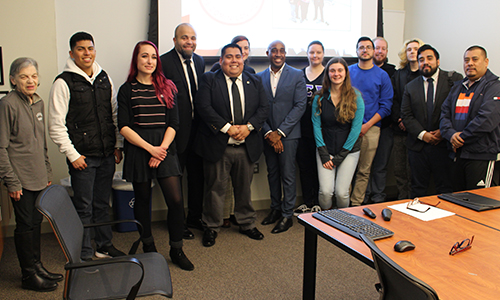 Irvin Moreno-Rodriguez, the Program Assistant at the Sara and Sam Schoffer Holocaust Resource Center at Stockton, and a U.S. Citizenship and Naturalization Class Instructor for La Casa Dominicana NJ, hosted an interactive workshop highlighting the obstacles that immigrants face while attempting to obtain United States citizenship.
Attendees were given a quiz with questions from the actual citizenship test and five minutes to complete it; six out of ten questions correct meant you passed, and anything less meant you failed. During the quiz, Moreno-Rodriguez circled the room, peering over shoulders and making comments about poor handwriting, to simulate the actual test experience. None of the attendees, except for Moreno-Rodriguez's brother who works for the state, got more than three answers correct.
"Immigrants are expected to remember so much information," he said, "and they don't know exactly what they will be tested on until they enter the exam. Most Americans cannot answer these questions correctly … doesn't seem fair, does it?"
"One Person Can Make a Difference"
Mary Johnson, a Senior Historian at Facing History & Ourselves, and Gail Rosenthal, Executive Director of the Sara and Sam Schoffer Holocaust Resource Center at Stockton, posed the question "What IS social justice?" They referred to successful social activists such as poet Maya Angelou and the late Atlantic City attorney James Cooper, who represented African-Americans in Mississippi during the Civil Rights era. They emphasized to attendees the importance of being an activist and a voice for those in need.
"It's incredibly important to be an upstander," stressed Rosenthal, referring to someone who speaks up and takes action rather than just stands by.
"Grassroots Organizing for Social Justice"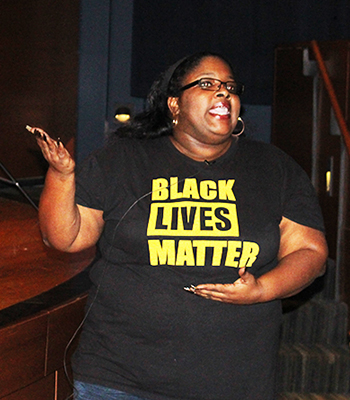 Shevone Torres of Black Lives Matter is looking for a few co-conspirators. By that she means people who will actually do the hard work of fighting for justice, and not just allies who sympathize but then go off to yoga class.
In a discussion moderated by Associate Professor of Biology Ekaterina Seda, panelists spoke about how to join and support a movement, or start one themselves.
"You can build community-based organizations of power," said Heather Warburton, an owner of New Jersey Revolution Radio. She cited meal programs and Code Blue operations as examples of community activism.
Emily Devenney of South Jersey Women for Progressive Change said activism can be very personal and local.
"People just talking to their friends are organizing before they even know it," she said. "Micro-level politics are the key to organizing."
Jennifer Fried North of South Jersey Women for Progressive Change said people need to find their interests, then find others who share it. Her interest in the environment developed after hearing former vice president Al Gore speak.
"Start with yourself," she said. "You don't need to start something new. Find someone who is already doing it."
"We Are What We Value: Finding a Value-Based Roadmap to a United World"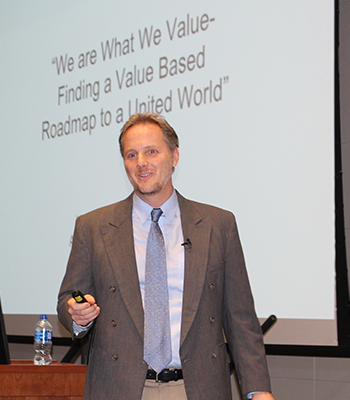 "Idealism matters," closing speaker Kendal Williams said. An associate professor of medicine at the Perelman School of Medicine at the University of Pennsylvania, Williams said as someone who works in health policy, he wonders why the world isn't in a better place.
"We have all the tools to provide health care to everyone," he said. "But we don't have the right values to implement the solutions. That is why ideals still matter."
Williams talked about how values shifted over time to adapt to the economic and political realities of the eras. He cited Martin Luther King, Jr.'s ability to transform values into a practical reality.
"The world is pushing us to have a global viewpoint," he said, citing the impact of climate change and wealth disparity that affect everyone.
"The idea of justice applied universally is the way to become totally human," he said. "But we need to love the ideals more than individual people."
Reported by Kat H. Wentzell, Julia Sus and Diane D'Amico
A gallery of photos from the event is on flickr
# # #
Contact:
Diane D'Amico
Director of News and Media Relations
Stockton University
Galloway, N.J. 08205
Diane.DAmico@stockton.edu
609-652-4593
609-412-8069
stockton.edu/media
.