Marine Science Essential Learning Outcomes (ELOs)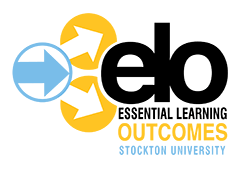 Stockton University's 10 Essential Learning Outcomes (ELOs) combine Stockton's flexible and Stockton's ELO logo distinctive liberal arts education with real-world, practical skills. They guide all Stockton University students from first-year through graduation to the intellectual and marketable talents needed to prepare for personal and professional success in the 21st century. As a set of values shared by everyone in the campus community, students encounter opportunities to develop ELOs in all Stockton majors, career preparation, professional experiences both on and off-campus, and academic as well as social activities.

Program excellence
MARS students demonstrate their mastery of skills and knowledge through lecture coursework and, more importantly, hands-on field and laboratory experiences using the latest advances in marine technology.
Information Literacy & Research Skills
MARS students access primary literature efficiently from a range of sources, critically evaluate the merits and shortcomings of a given study, and place the impact of the research appropriately into the larger context of the field as a whole.



Critical Thinking
MARS students understand the scientific method (ask questions, develop hypotheses, gather data, draw conclusions) and carry out research as part of their program courses and through independent study with faculty.

Quantitative Reasoning
MARS students posses numerical skills along a range of scales that are essential to succeeding in an increasingly quantitative field (i.e., understanding orders of magnitude, reading maps and charts, mastering software, calculating chemical equilibria, assembling statistical models).

Communication Skills
MARS students present the findings of course-related and/or independent research concisely to fellow students, faculty, and professionals in a variety of ways (course group presentations, NAMS research day posters, local scientific meeting oral presentations).

Teamwork and Collaboration
MARS students learn that Marine Science is highly interdisciplinary. In the field, students work together to select sampling sites (often within the Jacques Cousteau Estuarine Research Reserve), choose an appropriate gear, and gather biophysical data in a coordinate fashion.

Creativity and Innovation
MARS students realize the next generation of marine scientists will need to think creativity in order to carve out their niche in a highly competitive field. Students are trained in the most up-to-date methods and technologies to better understand increasingly complex marine systems.

Global Awareness
MARS students understand that conserving marine resources (fish, shellfish for human consumption, but also microbes and marine plants used in biotechnology, manufacturing) and setting aside unaltered habitats for further study are critical for global sustainability.
Ethical Reasoning
MARS students embrace different points of view that exist for managing renewable and nonrenewable marine resources. Conducting sound science and transmitting the results effectively to the general public allows society to make informed decisions on resource use.

Adapting to Change
MARS students recognize the field of Marine Science (similar to our global ocean-atmosphere system) is changing. Students prepare for these shifts through seminars (graduate school, internships, CV writing) designed to prepare them for challenging careers post-graduation.