Coastal Research Center
Located on the Jersey Shore, the Coastal Research Center (CRC) is situated on Nacote Creek, a tributary of the Mullica River/Great Bay estuary. The CRC is set in rustic surroundings and housed by Stockton University's Marine Field Station (MFS). The grounds occupy nearly eight acres of land.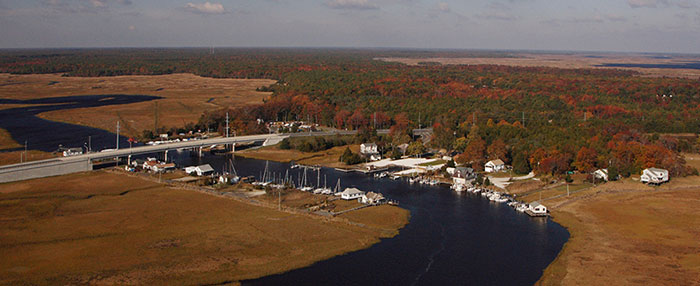 The CRC originated in 1981 to assist the Borough of Avalon, New Jersey, with coastal environmental problems caused by recurring storm damage and shoreline retreat. The CRC functions in large part to perform contract and grant services for various Federal and NJ State agencies, local municipalities, and private corporations or citizen groups. The tasks are quite varied, but always involve some aspect of coastal processes and the impact of human interactions with them. The students with an interest in coastal issues frequently work as science assistants in work crews involved in mapping, surveying or sampling the NJ coastal environment. Stockton graduates have used this experience as a stepping-stone to various State, federal and municipal government agencies and private coastal consulting firms.
In 1986, following oceanfront damage caused by northeast storms and Hurricane Gloria in 1984-85, the New Jersey Department of Environmental Protection commissioned the CRC to develop and run a long-term shoreline monitoring and assessment program. In response, the CRC created the New Jersey Beach Profile Network and established 100 survey sites along the coast. Bi-annual profiles of dune, beach and nearshore topography are measured at these locations to monitor seasonal shore zone changes (www.stockton.edu/crc).
Today, the CRC is the State's designated resource for geotechnical data and studies, is a preferred collaborator on numerous U.S. Army Corps of Engineers projects, and is a critical resource for New Jersey's 43 coastal communities.
The CRC carries out about 20 research projects and service contracts a year, and operates with an annual budget of more than a half million dollars. Work undertaken by the CRC through 2009 includes:


Federal Government Projects
Total Funding $368,553:
U.S. Army Corps of Engineers
Federal Emergency Management Agency


Congressional Special Appropriation
Total Funding $1,164,000:
Dune Storm Vulnerability Assessment Analysis for NJ – Initial appropriation to conduct GIS-based modeling of the New Jersey municipal coastal dunes with the goal to identify weak areas and recommend sites in need of upgrading to withstand a 25-year storm event.

State Government Projects
Total Funding $2,955,521:

New Jersey Department of Environmental Protection
Twice annually survey 100 beach cross sections
Obtain and analyze sediment samples in areas proposed for dredging by NJDEP
Operate and maintain NJBPN website on beach changes in New Jersey
Digitize and geo-reference a series of February 1920 aerial photographs of the New Jersey coast.
Digitize and geo-reference the 1944 Hurricane post-storm photographs of the New Jersey coast.
New Jersey Department of Transportation
Dredge material management for the four oceanfront counties
Diamondback terrapin habitat enhancement using dredge materials
Analysis of dredged material along the Delaware River with a goal to recycle the sediments in the deposit
Data Management system development to allow both supplies and users of dredged material to coordinate reuse of the sediments generated by repetitive navigational dredging



County and Municipal Government Projects
Total Funding $1,968,956 since 1981 to provide local assistance on beach, dune and inlet channel problems facing the bayshore and oceanfront communities of New Jersey.
The CRC is at the forefront of research groups at Richard Stockton College, and is a leader of coastal geoscience and resource studies in the Mid-Atlantic region. Given its past performance and future potential, the CRC is poised to become Stockton's first stand-alone research institute, epitomizing the College's motto, "Stockton at the Shore."