Starting Research Early
One of the advantages of studying Chemistry at Stockton is the ability to get involved with research early on. There is no better way to see the application of coursework than to get involved in faculty sponsored independent research. There are a variety of ways to get involved including: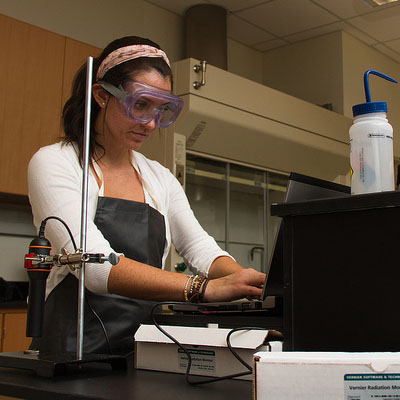 Introduction to Research - CHEM 2510
"Real" laboratory research is often reserved for students in their junior and senior years at Stockton. "Introduction to Research" changes this by actively engaging first and second-year science students in cutting-edge research. We use advanced instrumentation in the laboratory to explore several real-world research projects in areas such as analytical and environmental chemistry. We work to develop the skills necessary to be successful in research, including: data analysis, library research, reading scientific literature, written communication and oral presentations. The course takes an integrative approach to give students a unique and exciting introduction to scientific research. There are opportunities to continue exploring research through independent studies and internships beyond this course.


Independent Studies
Chemistry faculty members sponsor independent studies for students to get involved in research. Students are encouraged to explore the chemistry faculty and their current research interests and speak with them individually about available projects.
E-Forms (Independent & Internship)