P.S.M. in Environmental Science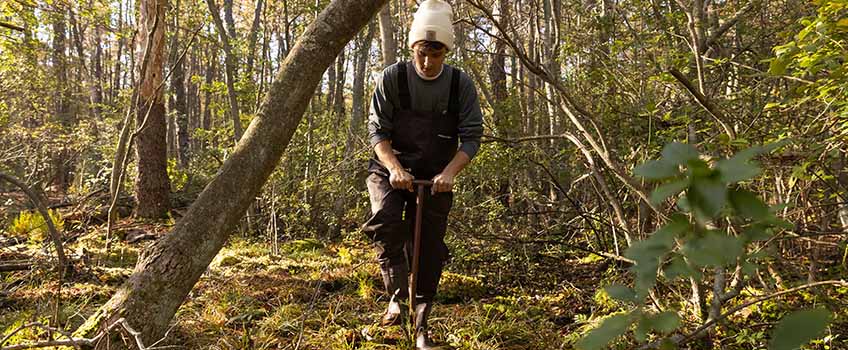 The Professional Science Master's (PSM) in Environmental Science offers working professionals and qualified undergraduates an education that is multidisciplinary and applications-oriented, preparing graduates for professional advancement in the business and regulatory world.
The PSM is built around a solid core of required technical and nontechnical courses that provide common baseline knowledge for all students. This core is supplemented by a broad selection of electives tailored to an individual's specialty area. In combination, the core and associated electives form a curriculum that can easily adapt to the needs of individual students. A capstone research project in collaboration with a faculty mentor and a professional in the corporate or government sector allows students to apply their coursework and experience to real-world problems.

Click here to watch the recording of our Virtual P.S.M. in Environmental Science Information Session
---
About the Program
The PSM in Environmental Science program is structured to be completed in two years and emphasizes substantial flexibility in course scheduling (night classes, weekend and summer field work). Undergraduate students interested in a five-year BS/ PSM accelerated dual degree option can pursue that option; undergraduate transfer students may also apply for the dual degree with their transfer application.
The program requires 36 credits for completion, including a capstone project. The curriculum consists of eight core course requirements and four electives. Core course requirements include five science courses, two professional courses and a capstone project. The entire core course sequence will be offered within two years during the Fall, Spring and Summer terms. The remainder of the curriculum consists of electives, at least five of which are offered over a two-year sequence.
Students meet regularly with their assigned advisor to plan and evaluate progress in their studies
Curriculum
P.S.M. in Environmental Science
Students with a bachelor's degree who wish to earn a master's degree will complete 36 credits from a menu of courses (see curriculum below).
PSM Curriculum - 36 credits
Core Courses- 24 credits

Science Courses

ENSC 5101 Ecosystem Ecology

ENSC 5202 Environmental Quality

ENSC 5301 Land Use Planning

ENSC 5201 Watershed Management

ENSC 5302 Applied GIS

Professional Courses

ENSC 5401 Project Management

ENSC 5402 Professional Writing

ENSC 5600 Capstone Project

Elective Courses- 12 credits

Elective courses should be chosen in consultation with your advisor. The electives offered in this program are dynamic. New courses are developed while established courses are eliminated.

Environmental Modeling

Restoration Ecology

Wetlands Ecology

Field Methods

Surface Water Hydrology

Groundwater Hydrology

Soils, Sediments & Landforms

Environmental Pollution

Alternative Energy

Environmental Health

Resource Sustainability

Environmental Economics

Environmental Law/Regulation

Public Health

Environmental Policy/ Planning

Environmental Philosophy

Water Quality

Coastal Zone Management

Remote Sensing

Environmental/ Business Ethics
For course descriptions, please visit The University's Course Catalog.

Student Learning Outcomes
Upon completion of the program, graduates should be able to:
Work effectively in multidisciplinary, cross-sector teams to envision policy approaches to addressing environmental problems as they exist in the real world.
Demonstrate the ability to listen as well as present information clearly, logically, and critically, both orally and in writing.
Read, understand, and critically analyze the ideas presented in published texts (print and digital) and journal articles.
Write reviews and reports or orally present on current topics in Environmental Science, including critical evaluation of research using cutting-edge practices, including an appreciation of the uncertainties, limitations, and values inherent in those ideas.
Anticipate the global and social justice implications of environmental and other new knowledge and technological interventions and propose strategies for making outcomes more equitable. Identify and reconcile the differential impact across race, age, gender, class, etc)
Admissions Criteria
Application Deadline
While graduate admissions selection committees review applications until the start of the semester, by applying prior to the Priority Deadline, you can ensure that your transition to Stockton is as smooth as possible: you will be invited to the New Student Orientation Event, and have access to priority registration which means you may have more options for monthly installments of a payment plan, as well as greater options for class selection.
Priority Deadlines
Fall: July 1
Spring: December 1
Prerequisite Requirements
A baccalaureate degree from a regionally accredited institution of higher education with an environmentally-related major (e.g., Environmental Science, Marine Science, Earth Science, Chemistry, Biology, or other related majors);
Minimum college/university cumulative GPA of 3.0.
To be considered for admission to the PSM program, applicants must submit the following prior to the deadline:
Click here to start your application.
Application fee: $50 (non-refundable), submitted with your online application
Graduate application essay
Three current letters of recommendation sent electronically via the Online application
Resume
Official transcripts from all colleges/universities attended (including Stockton) should be emailed, mailed, or dropped off directly to the Office of Graduate Admissions:

By mail:
Office of Graduate Admissions, N-Wing 007a
101 Vera King Farris Drive
Galloway, NJ 08205-9441

Electronically:
gradschool@stockton.edu

To review international applicant deadlines and admission criteria, please click here.
Dual Degree Option
The Accelerated BS/PSM program is an intensive five-year curriculum that offers students the opportunity to earn both a Bachelor's and Master's degree in Environmental Science. Students take enough courses to meet all requirements for the undergraduate BS (Environmental Science) and then transition into the PSM program in their "senior" year, the fourth year of study. This program is designed as a terminal degree for students who want to obtain advanced skills that will prepare them for the workplace. Students interested in research leading to a doctoral degree should consider more traditional programs and are advised to enroll in the BS in Environmental Science, and take basic and applied science courses that prepare there for a broad range of research opportunities typical of a conventional graduate program.
Students may apply for early, conditional admission to the accelerated BS/PSM program as a freshmen and as late as the beginning of the second semester of their "junior' year.
Transfer students may apply alongside their application for admission to Stockton. They are considered for admission on a case-by-case basis, depending on prerequisites met and the likelihood of completing upper-level undergraduate ENVL courses by their second year. Exceptional transfer students who do not have prerequisites may be conditionally admitted in consultation with their advisors. These students may require more time to meet the requirements of the BS/PSM. Only students with a minimum cumulative GPA of 3.5 will be considered.
**Interested dual degree students must apply through the Office of Enrollment Management.
Frequently Asked Questions
---