M.A. in Counseling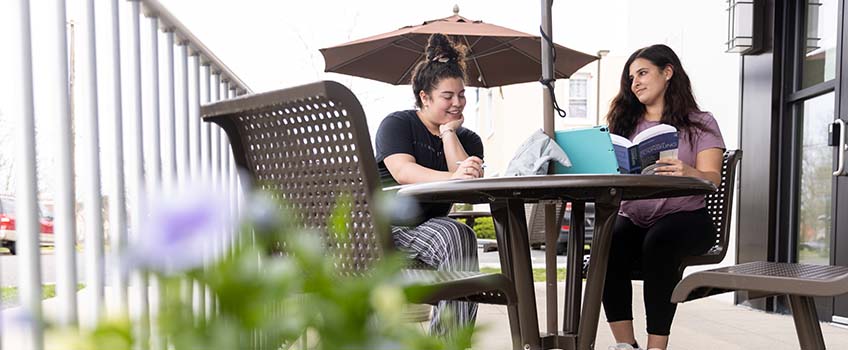 Stockton University's Master of Arts in Counseling program is designed to educate students about best practices in mental health and human services and train students in the skills necessary to work with clients in a variety of settings, such as hospitals, social service agencies, residential treatment centers, community mental health centers, and other organizations
Our program prepares individuals to provide evaluations, referrals, and counseling services to help people prevent or remediate personal problems, conflicts, and emotional crises. Our curriculum includes instruction in human development, psychopathology, individual and group counseling, personality theory, career assessment, patient screening and referral, observation and testing techniques, interviewing skills, professional standards and ethics, and applicable laws and regulations.
Accreditation update: The Master of Arts in Counseling program is seeking accreditation from Council for Accreditation of Counseling and Related Educational Programs (CACREP). Here is our program's status. Stockton was one of three institutions that received a CACREP Grant to assist with the accreditation process. The program coordinator, Dr. Sara Martino, was featured on their website.
---
About the Program
Program Objectives
Academic Objectives:
The Master of Arts in Counseling program aims to educate students regarding best practices in counseling. Curriculum focuses on the eight core areas delineated by CACREP standards: professional counseling orientation and ethical practice, social and cultural diversity, human growth and development, career development, counseling and helping relationships, group counseling and group work, assessment and testing, research and program evaluation.
The objectives for the program are specifically:
To provide meaningful educational experiences to prepare graduates with foundational skills, critical thinking ability, and dedication to the counseling profession,
To prepare graduates for employment, licensure, and certification by meeting the standards set by the appropriate accrediting and licensing agencies,
To inspire graduates to become advocates for their clients and leaders in their profession,
To encourage patience, sensitivity, and understanding in the delivery of counseling services to diverse communities,
To prepare graduates for a commitment to ethical professional practice, and
To prepare students to use research as a guide for identifying effective counseling techniques (Chwalisz, 2003).
Professional Objectives:
National certification: Graduates of the program are qualified to take the National Counselor Exam (NCE), which is administered by the National Board of Certified Counselors (NBCC). Passing the NCE exam qualifies graduates as a Nationally Certified Counselor (NCC). See the section on Accreditation below to verify the proposed program's eligibility for CACREP accreditation.
State licensure: Graduates who have passed the NCE are qualified to apply for licensure in the State of New Jersey as a Licensed Professional Counselor (LPC) after an additional 4,500 hours of supervised experience. This license allows them to work as counselors in non-profit organizations, for profit organizations, or in private practice in New Jersey.
Curriculum
Students must complete 60 credit hours satisfying the criteria outlined below with passing grades of C or better in all courses. All students must also satisfactorily complete a 100-hour practicum and two 300-hour internships. Due to the interpersonal nature of the discipline, it is expected that all core courses will be delivered in face-to-face format, although some courses may be offered as hybrid classes.
Counseling skills will be an introduction to basic clinical skills designed to prepare students to begin working at practicum sites. Students will be required to complete a 100-hour practicum during the second semester of the program, including 40 hours of direct service with clients (individual therapy or group therapy, for example). This experience can take place in a group or private practice which is separate from social work practicum opportunities. They will also complete two semester-long internships consisting of 300 hours of client-related work during the third and fourth semesters of the program. These internships should both take place at the same site and will include group supervision by faculty as well as supervision with an on-site supervisor. Each semester of internship will include 120 hours of direct client contact and 180 hours of indirect client services.
Year 1- Fall Semester-15 credits
Year 1- Spring Semester- 15 credits

COUN 5110 Pre-Practicum
COUN 5115 Theories of Counseling
COUN 5120 Psychopathology
COUN 5125 Ethical and Legal Issues
COUN 5205 Foundations of Clinical Mental Health Counseling

COUN 5135 Assessment and Testing
COUN 5140 Statistics and Research
COUN 5210 Multicultural Counseling
COUN 5215 Group Counseling
COUN 5900 Practicum

Year 2- Fall Semester-15 credits
Year 2- Spring Semester-15 credits

COUN 5130 Lifespan Development
COUN 5220 Couples and Family Therapy
COUN 55xx Elective
COUN 55xx Elective
COUN 5901 Internship I

COUN 5225 Career Counseling
COUN 5230 Addictions
COUN 55xx Elective
COUN 55xx Elective
COUN 5902 Internship II

Elective Courses

COUN 5520 Counseling Children and Adolescents
COUN 5521 Play Therapy
COUN 5522 Counseling in the Criminal Justice System
COUN 5523 Aging in Counseling
COUN 5524 Counseling Women
COUN 5525 Counseling in School Settings
COUN 5530 Health Psychology
COUN 5540 Crisis Intervention
COUN 5550 Prevention Strategies in Schools and Communities
COUN 5560 Foundations of Clinical Supervision
COUN 5565 Modern Day Clinical Approaches and Interventions
For course description, please visit the University's Course Catalog.
Practicum/Internship Resources
Admissions Criteria
Application Deadline
Fall 2023: Deadline February 1, 2023
Prerequisite/Matriculation Requirements
Baccalaureate degree from a regionally accredited institution of higher education
Minimum undergraduate GPA of 3.0
Incoming students must have prerequisite skills and knowledge in statistics and experimental psychology as well as at least one course in either child development or personality psychology. These matriculation requirements can be met by courses taken at the undergraduate or graduate level with earned grades of B or better.
Admissions Requirements
Application fee: $50 (non-refundable), submitted with your online application
Graduate application essay
Three letters of recommendation sent electronically via the online application
Graduate Record Examination (GRE) scores sent electronically to school code: 2889

Scores must have been taken within the last 10 years
GRE requirement is waived for those applicants with a cumulative GPA of 3.51 or higher, and is also waived for master's degree holders.

Resume
Official transcripts from all colleges/universities attended (including Stockton) should be e-mailed by the institution or clearinghouse, mailed or dropped off directly to the Office of Graduate Admissions:

By mail:
Office of Graduate Admissions, Campus Center Suite 101
101 Vera King Farris Drive
Galloway, NJ 08205-9441

Electronically:
gradschool@stockton.edu



To review international applicant deadlines and admission criteria, please click here.
Frequently Asked Questions
---