Master of Business Administration (MBA)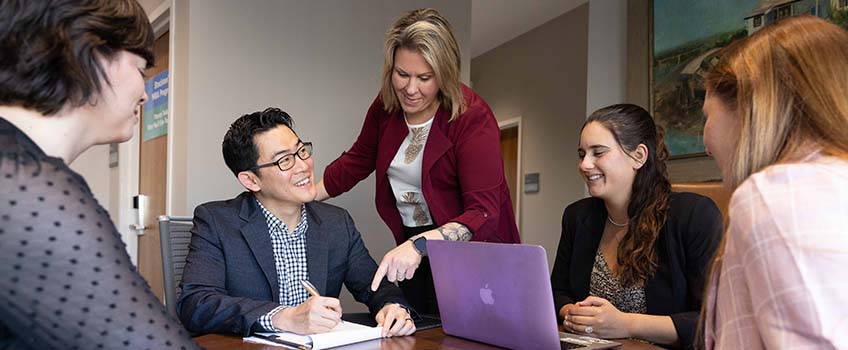 Business is constantly changing and the Master of Business Administration (MBA) program at Stockton is designed to focus on our students mastering today the skills and knowledge that they can use immediately and in the future.
The program is designed for individuals seeking to expand their skills in the areas of management, accounting, marketing, and finance.
At Stockton, you will find computer labs, small class sizes, library resources, and career services beneficial to your educational experience. The research, teaching, and service of our faculty are additional assets that our Master of Business Administration program offers you.
---
About the Program
Stockton University offers an MBA program that is rigorous, marketable, affordable, and close to home. Our small classes (usually no more than 20-25 students) meet once a week in the evening, at our Atlantic City Campus.
In our MBA program, you can prepare to progress in your career, enhance your opportunities at work, and maximize your value to an organization. The goals of the program are to help students develop critical thinking skills and to provide an expanded awareness of the complex political, social, economic, and global environments in which all organizations and individuals must function.
The program is designed to prepare you for professional careers in management of businesses whether you are an individual with previous experience or someone who seeks a career change.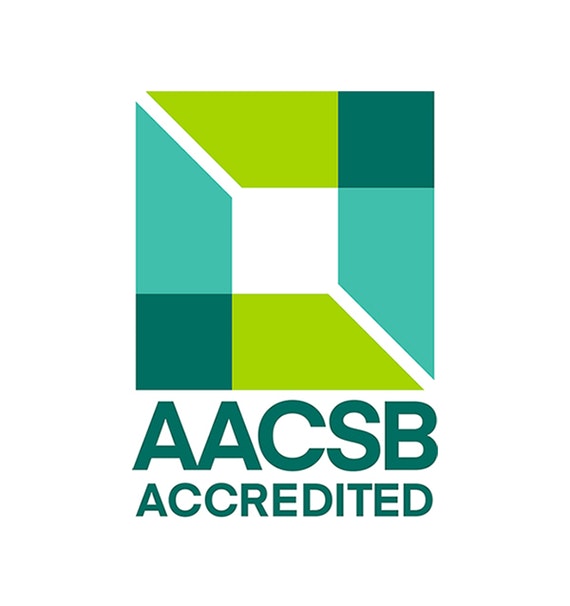 Stockton University's School of Business has earned accreditation by the Association to Advance Collegiate Schools of Business (AACSB), an international body whose accreditation has been earned by less than 5 percent of the world's business programs.
Curriculum
The MBA program is 36 credits (12 courses). Students can choose between a general MBA or a MBA with a concentration:
The general MBA allows students to select among 4 electives in any concentration.
Each concentration allows students to specialize by focusing at least 3 of their elective classes in a concentration area.
The classes are taught by our full-time faculty or by professionals with extensive experience in their respective fields. Ninety-five percent of the faculty hold terminal degrees in their disciplines and many have business experience as well. View the Stockton Bulletin on the left for a full listing of our faculty.
Curriculum Worksheet
For detailed curriculum information on the MBA program, please refer to the Academic Bulletin.
Undergraduate Prerequisite Courses
Financial Accounting
Macroeconomics or Microeconomics
Statistics
Operations Management
Introduction to Management
Above requirements can be met by successful completion of corresponding undergraduate courses and/or by the submission of portfolios documenting a proficiency level of skill and knowledge gained through previous academic or work experience.

If you have not yet fulfilled the prerequisite requirements and are interested in taking these courses conveniently online, visit the guidance sheet.
Curriculum- 36 graduate credits
*(downloadable document above)

MBA Common Core Courses and Capstone: The common core is composed of eight courses.

BSNS 5205 Accounting Analysis For Managers

BSNS 5215 Management: Theory, Practice & Vision

BSNS 5220 Applied Marketing Management

BSNS 5225 Applied Financial Analysis

BSNS 5230 Business Decision Analysis

BSNS 5245 Business Information Systems & Technologies

PLAW 5250 Employment Law and Ethics

BSNS 5505 Capstone: Business Strategy and Policy

MBA Elective: Students will choose their additional MBA elective(s) from any of the business courses that are at the 5000 level and above. Below are some recommended concentration courses, although any 5000 level course in the requisite concentration area meets the concentration elective requirement for the requisite concentration. It is recommended to contact the MBA Director or your preceptor for guidance in choosing electives for the concentrations.

(**General MBA track students: Students will choose a minimum of four electives from among the following acronyms: ACCT, BSNS, BUSA, ECON, FINA, MGMT, MKTG, or PLAW. With prior permission of your preceptor, students may also take up to two graduate courses from other Stockton programs.)

MBA Elective (3 credits, 1 course)

**MBA Electives (12 credits, 4 courses)

MBA Concentration Electives: To fulfill the requirements for a concentration, students will choose 3 elective courses from those in the concentration area of their choice. Students will choose their additional MBA elective(s) from any of the business courses that are 5000 level and above. It is recommended to contact the MBA Director or your preceptor for guidance in choosing electives for the concentrations.

Financial Forensic Investigations:
ACCT 5340: Understanding Corporate Fraud
ACCT 5410: Fraud Analytics
ACCT 5450: Financial Forensic Investigations

Marketing:
MKTG 5418: Research Methods for Marketing Decisions
MKTG 5415:Digital Marketing and Web Analytics
MKTG 5505: Customer Behavior in a Digtial World

Business Analytics:
BUSA 5232: Business Analytics for Managers
BUSA 5235: Big Data and Machine Learning
BUSA 5236: Advanced Business Data Management

Hospitality Tourism and Event Mgmt:
HTMS 5110: Hospitality and Tourism Research Methods
HTMS 5112: Current Issues in Restaurants, Resorts, and Event Mgt.
HTMS 5114: Hospitality entrepreneurs and Leadership
HTMS 5116: Hospitality Analytics for Decision Making

Finance:
FINA 5305: Financial Statement Analysis
FINA 5340: Portofolio Management
FINA 5345: Financial Institutions and Risk Management
FINA 5346: New Ventures
FINA 5348: Managerial Economics
For course descriptions, please visit The University's Course Catalog.
Graduates will understand, be able to apply, and will work toward integrating and evaluating, basic knowledge of:
management, marketing, information technology, finance, business operations, accounting, business law, and strategic management;
the unique contributions made by diversity in organizations; and
perspectives and techniques of strategic thinking for managing organizations.
Graduates will evaluate, integrate, and synthesize management information.
Graduates will frame organizational problems from a variety of functional and stakeholder perspectives in an integrative and interdisciplinary manner.
Graduates will evaluate and select appropriate models, methodologies and technologies for effective problem solving under all conditions.
Graduates will think strategically about the organization in a global, economic, environmental, political, ethical, legal and/or regulatory context.
Graduates will be able to deliver professional individual and/or team oral and written reports utilizing appropriate technology.
Graduates will be able to recognize and evaluate ethical dilemmas in the business environment.
Graduates will learn to work collaboratively to produce a professional work product.
Admissions Criteria
Application Deadline
While graduate admissions selection committees review applications until the start of the semester, by applying prior to the Priority Deadline, you can ensure that your transition to Stockton is as smooth as possible: you will be invited to the New Student Orientation Event, and have access to priority registration which means you may have more options for monthly installments of a payment plan, as well as greater options for class selection.
Priority Deadlines
Summer: March 15
Fall: July 1
Spring: December 1
Prerequisite Requirements
Successful completion of prerequisite courses (see Curriculum tab)
Minimum undergraduate GPA of 3.0
To be considered for admission to the MBA program, applicants must submit the following by the deadline:
Click here to start your application.
Application fee: $50 (non-refundable), submitted with your online application
Graduate application essay
Three current letters of recommendation sent electronically via the online application.
Testing requirement (waived for students with a GPA of 3.0 or higher)
Resume
Official transcripts from all colleges/universities attended (including Stockton) should be mailed, emailed, or dropped off directly to the Office of Graduate Admissions:

By mail:
Office of Graduate Admissions, N-Wing 007a
101 Vera King Farris Drive
Galloway, NJ 08205-9441

Electronically:
gradschool@stockton.edu



To review international applicant deadlines and admission criteria, please click here.
Dual Degree Options - B.A., B.S./MBA and NOW OFFERING HTMS/MBA!
The Accelerated Dual Degree Program will prepare students for professional careers in business. One of the principal goals of the programs is to help students develop critical thinking skills and to provide them with an expanded awareness of the complex political, social, and economic environments within which all organizations and individuals must function.


The Curriculum
Accelerated Dual-Degree Program offers students...
The opportunity to complete both their undergraduate and MBA degrees in about 5 years.
The program is geared towards academically motivated Stockton Business and Hospitality majors with a GPA of 3.5 or higher.
Heavy precepting will be the key to success in this program. Students must be deliberate about what courses can help them meet their goals.
The opportunity to start taking MBA classes in the senior year.
The program of study for the accelerated Dual-Degree Program will include:
17 Undergraduate Business Courses
8 General Studies Courses
4 At-Some Distance Courses
12 Graduate Courses
Fast Facts
Degree Offered: BA and MBA or HTMS and MBA
Program Length: In about 5 years
Financial Assistance: Graduate Assistantships and scholarships are available
For more information on the Accelerated Dual Degree Program, please contact the Accelerated Dual Degree Coordinator, Dr. Naz Onel at naz.onel@stockton.edu.
Stockton University's MBA program offers students with a variety of opportunities to study across the globe. Such opportunities include:
Dual-degree MBA program with National Chiayi University, Taiwan – allows students to spend a semester taking MBA classes in Taiwan.
Faculty-led programs – short term visits to other countries following a class at Stockton.
Study Abroad Programs – semester long or summer visits to study in other countries.
To learn more about these global opportunities, and how to apply, please contact the MBA program Chair.
Frequently Asked Questions
---