Promoting Diversity in Undergraduate & Graduate Research Education
About the Initiative
The Office of Diversity and Inclusion, the Educational Opportunity Fund Program (EOF), and faculty members in the School of Natural Sciences and Mathematics, the School of Health Sciences, and the School of Social and Behavioral Sciences collaborate to introduce and encourage undergraduate students to engage in research with their faculty via the Yale University Edward A. Bouchet Conference, a two-year high impact practice (HIP) opportunity.
In the first year, selected students attend the Yale University Bouchet Conference where they interact with a diverse group of accomplished doctoral students who present their research. These doctoral students are inducted into the Bouchet Society at the Conference. In the second year, the same EOF students have an opportunity to return to the Bouchet Conference, but only if they are engaged in undergraduate research with Stockton faculty and the student submits and research proposal accepted for presentation at the Conference.
Applications to the Yale Bouchet Conference will go live in January 2022. For more information please contact valerie.hayes@stockton.edu.
---
Past Bouchet Conference Attendees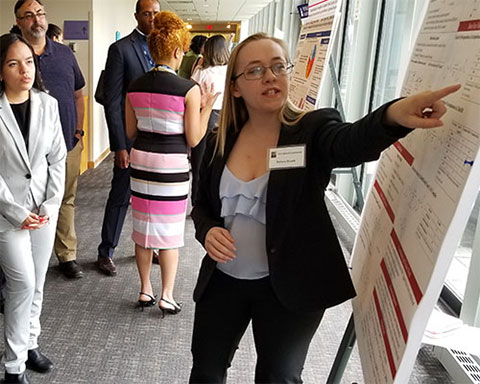 Tiffany Roach, Stockton '19 is pictured presenting a research poster at the Yale Bouchet Conference while an undergraduate student. Tiffany was an EOF student who was among the first cohort of students to attend the 2017 Yale Bouchet Conference. Source: Students Receive 2019 EOF Graduate Awards - News | Stockton University
2018
"Synthesis of Nickel Catalysts for Transfer Hydrogenation"
Authors: Tiffany Roach, Marcus Miller, Michelle Schmitz, Valkyrie Leach, and Steven Kalman.
Presenter: Tiffany Roach
"Quasi-Ethnographic Interviews and Experiences of the South Jersey Hispanic Community"
Authors: Jessica Perez and Amee Shah
Presenter: Jessica Perez
"Interactive Globalization Practice: A New Portal to Improving Race Relations"
Authors: Emily Descano and Amee Shah
Presenter: Emily Descano
Why Undergraduate Research?
Higher education has seen significant gains in student diversity, with rates of participation for students from historically underrepresented groups increasing more quickly than the rate of overall college enrollment. The gains are uneven, however, and historically underrepresented students still have lower retention and completion rates, with a risk of dropping out of college before earning a bachelor's degree. As a result, research-based doctoral programs are less diverse (2017 Stockton Initiative to Promote Diversity in Graduate Research Education final proposal; Okahana, Allum, Felder, & Tull 2016).
Promoting diversity in undergraduate and graduate research education underscores the importance of mentoring students, particularly those from diverse backgrounds, so that they can perceive graduate education as a viable and appropriate next step in their careers, a career that could potentially involve research and teaching at the university level.
The Path to the Professoriate or Research Career Continues as an Undergraduate Student
Undergraduate research is one of several high impact educational practices identified by the American Association of Colleges and Universities. Stockton recognizes its role in encouraging undergraduate students to engage in undergraduate research and introducing them to the pursuit of a doctoral education and research as one of many options after college. As part of Stockton's pipeline program for future faculty, Stockton encourages undergraduate students to pursue research with their faculty, present their research at conferences and symposiums, and develop their interests in pursuing a research doctorate.
---
Additional Resources