Ike Ejikeme, '18 Joins CCDIE as Alumni Representative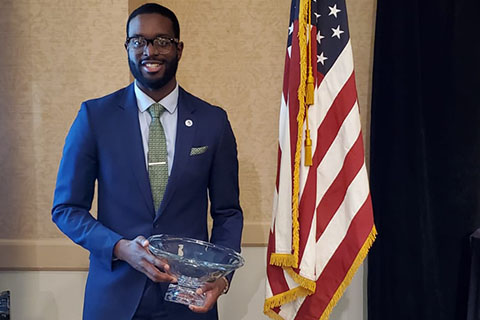 Ike Ejikeme, '18, has been appointed the first alum to serve on the Campus Committee for Diversity and Inclusive Excellence, joining the group this spring.
After transferring to Stockton, Ejikeme went on to be an active member of the university community, including serving two years as a student member of the Board of Trustees (where he was the first graduate student, first transfer student, and second African American in university history to hold this position). He graduated in 2018 with a dual B.A./M.A. in the Criminal Justice Homeland Security track.
Ejikeme was president of the Alpha Alpha chapter of Iota Phi Theta Fraternity, Inc., where he founded the "I-Phi" Charity Food Drive, which donates its proceeds to the Atlantic City Rescue Mission and the Eastern Service Workers Association. In 2015, he was named the Stockton NAACP Chapter's Outstanding Male Leader of the Year. Following this, in 2016, he received the Stockton University Greek Leader of Distinction award. And most recently, in 2019 Ejikeme was a William J. Hughes Center Honoree, receiving the Distinctive Alumni Leadership Award.
Shortly after graduation, he moved to Washington, D.C., and began working for The Department of Homeland Security's Security and Fraud Division, where he has worked for both the Fraud Detection and National Security Directorate and the Background Check Unit. He has received a special recognition award and Director's Commendation for his leadership and accomplishments during his time with the agency. He is currently pursuing his Doctorate of Science in National Security Policy with a concentration in International Operations.
Ejikeme is passionate about higher education, diversity and inclusion, and providing mentorship and guidance to those in need-specifically young African Americans and people of color. He looks forward to the opportunity make positive contributions to the CCDIE.
University Retention Working Group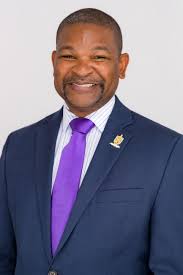 Ejikeme also joins alumnus Scott Francis, associate vice chancellor and president of the East Carolina University Alumni Association, as alumni members of the University Retention Working Group. President Kesselman commissioned this group in fall 2019 to strengthen Stockton's institutional strategies to support student retention.
The existence of persistent equity gaps in student success outcomes among students and the COVID-19 pandemic and its disproportionate impact on Black, Latinx and students from under-resourced backgrounds require intentional strategies to identify and close equity gaps within our student community while enhancing our overall retention and student success outcomes. Therefore, the current focus of the University Retention Working Group is on closing racial equity gaps in student success outcomes.
The Board of Trustees and University's Commitment to Diversity, Equity, Inclusion and Social Justice at Stockton, the emphasis on Inclusive Student Success in the 2025 Strategic Plan and the Office of the Secretary for Higher Education's focus toward closing equity gaps among college students in the NJ State Plan for Higher Education reinforce the value of our focused efforts.