Ike Ejikeme '16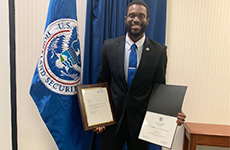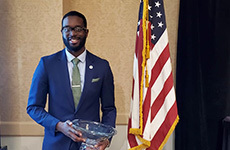 Ike Ejikeme is a student leader who chose Stockton twice: once for his Bachelors in Criminal Justice and again for his Masters. Learn more about Ike's journey outside of Stockton and how he became an influential leader in his community.
What does your typical day-to-day look like?
I live in Washington, D.C., and work remotely right now for Homeland Security. I started about a week after graduation in May of 2018. I got a friend to drop me off and moved to D.C., pretty much uprooting my life in New Jersey.
From that day to now, I go to work at 6 am, now 4 am so that I can complete my eight hours at 12 pm. I've always been an early bird, so this is a good arrangement. I pretty much work at my own pace on different cases and, if I accomplish certain metrics, I can make up my own schedule.
I do, however, miss being in the office and can see myself in a hybrid model where I commute some days and stay at home other days.
Ike Ejikeme (2016)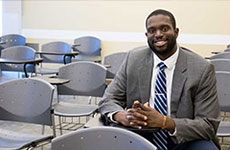 Why did you choose Stockton?
I always reach these points in my life where I feel as though it's time to begin a new chapter. By the time I was 19 years old, I felt as though I had accomplished everything I set out to do in the environment I was in; I sought out more in life and needed new challenges. I chose Stockton because I was accepted into the Master's Program and it was the best opportunity for my future. I guess you can say the rest is history!
Did you expect it to be like how it is now when you first graduated?
When I first graduated, I was still going to the office and commuting. I would catch a train across the bridge from D.C. to Arlington, Virginia. It's kind of like the train from Jersey City across the Hudson River to New York City. I was doing that for a while to accumulate my PTO and, since I was a new hire at the time, didn't yet have the opportunity for telework (working remotely) for those first two years. Once I started working on a hybrid schedule, COVID happened, and I went completely remote. From March 2020 to now, I've only been to the office one time to get printer ink.
What advice would you give students that are trying to become leaders like you, themselves?
Student leadership is really Stockton's ethos. When I look back at my four years, all the most beneficial things that I learned were from being a student leader and being involved on campus. I was an Admissions Ambassador, Student Senator, part of the Polling Institute, and worked as a Graduate Coordinator for the Campus Center Office of Event Services, and I served as a Student Trustee on the Board of Trustees. What that really did for me was enable me to sharpen my interpersonal skills, learn from different people, and showed me the discipline that is needed in professional roles.
My favorite quote by Michael Jordan says, "Limits, like fear, is often an illusion." When I was young and I would tell people that I would one day like to live in Washington DC and work in the Federal government, not everyone saw my vision. Some people thought my dreams were too big, and it was hard for others to imagine that level of success was achievable. But because I always believed in myself, I never allowed anyone to discourage me. I knew I could achieve my goals. I knew that there truly were no limits to my potential. So, even when I was unsure of what the future held for me, I unequivocally believed that if I kept trying, I would find a way.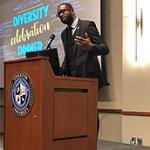 What is your next goal? Do you see yourself coming back to the nest or another university for graduate school?
Right now, I'm pursuing my Doctorate in Civil Security at New Jersey City University (NJCU). The focus of my degree is National/Global Security with a regional focus in Africa. Tentatively, I should be done by 2024, so I'm at that mid-point. It's been very, very fulfilling being that I work in that field, and I like being able to focus my research on something that is specific to my interests and field of experience. Being in an academic setting has revitalized my desire to learn and grow.
This program has been one of the most fulfilling academic journeys I've been on, and it's because it's a scholar-practitioner-based program. All my colleagues in my cohort are working professionals: we have people in IT (instructional technology), military, law enforcement, private sector entities, and federal, state, and local government. We all bring unique perspectives and have diversity, not just in race and gender, but in fields of experience. As a professional who has been in the field for so long, it's been important to share those experiences and to learn from others. This is an opportunity, for me, that really aligns with my values and I'm really grateful for that.
Are you open to mentoring students?
I have had students reach out to me in the past and I always try to engage because I know how it is to be the one seeking that out. I remember always wanting mentorship and it was challenging because sometimes society can somewhat feel cutthroat with some people asking for a co-sign of something in exchange for their time.
It was discouraging because, as a student, I found myself at a disadvantage when I just wanted to find someone who believed in me enough to help guide me to my goals.
Despite having that experience, I always believe in helping others. I believe in the phrase "lift as you climb". So, even though I am busy right now due to being a full-time student and full time professional, I am always open to talking to students. Don't be afraid to reach out to me on LinkedIn. I will always try my best to help if I can.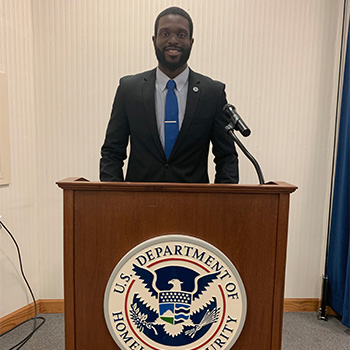 ---